Optics can play a large role in any hunting venture, and in some cases they are crucial. I know from experience that there have been times when I've left the binoculars at home, and then ended up verbally assaulting myself for doing it. Stowing your binoculars away in your pack is almost as bad. Having to remove your pack and dig for your binos just isn't efficient. And, that's why the bino bivy was created! Also known as an optics harness, they come in many shapes, designs, and sizes. I never thought in a million years that I'd be running a chest pack, but it's the best solution that I've found for keeping my optics high, tight and within easy reach. One of the newest designs for 2020 that I'm really excited about, is the Mountain Optics Harness by Sitka Gear.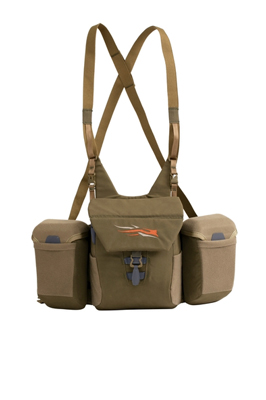 The MOH isn't Sitka's first offering of this type, but it appears to be their best thus far. The name Sitka is synonymous with a systematic approach to everything. And the MOH is definitely a full system, with modular adaptability to keep your optics, game calls, bear spray and other necessary items close at hand. The brilliance of this system is in its modularity, and the possibility for personalization. You can run things stripped down to bare bones, for maximum simplicity. Or you can add side pockets with the aid of Molle compatible webbing, allowing quick access to all necessary items (bear spray, calls, fire starter, license/tags, map, wind check, rangefinder, GPS, phone, etc.). The design is well thought out in fit and function, with silent one-handed operation, rounded corners, and brushed face fabric. Everything about the MOH screams: "THIS IS FOR BOWHUNTERS!"
Here's a rundown of the key features:
One handed operation
Magnetic flap opening
Quiet brushed polyester face textile
Modular side pockets
Molle compatible chassis
Zippered stash pockets on back
Quick release binocular attachment
Internal lens cloth
Colors: Subalpine Optifade, Open Country Optifade, Pyrite
MSRP: $149
By taking one look at any of the product photos, it's easy to see that this is a home run. And it obviously was, because the first production run was already spoken for shortly after the MOH was loaded up onto Sitka's website. This caused them to remove the product page from their website all together, before things got out of hand. But they expect to have the MOH back up on the website and to be taking orders by July 1st. We'll just be cautiously optimistic and say that they'll be available sometime in July. So, keep your eyes tuned to Sitka's social media feeds, and be ready to get your own Mountain Optics Harness just in time for hunting season! And while you're at it; don't forget to let them know that you heard about the MOH from your friends here at TBM, and that we sent you.