Advertising
Get your company name and products in front of our dedicated traditional bowhunters today!
     In addition to advertising in our print publication, we now offer the opportunity to advertise on Tradbow.com. It is important to consider both mediums as they tend to reach a different audience looking for items they need for traditional bowhunting.
     Our print publication has been around for 30 years, providing a way to get your advertisement into the hands of dedicated bowhunters and target archers. Over the years, we have expanded our online reach to include a demographic that may not see your advertisement in the print magazine.
     Traditional archery is growing at a rapid pace and we aim to be the premier source of inspiration, motivation and education for those readers in both print and online platforms.
On the Market is a FREE product placement column in Traditional Bowhunter® Magazine. Submit your new products today to be included in an upcoming issue of our print publication.
TERMS: 200 words or less. 3″W x 5″H image at 300dpi in CMYK format. No pricing. Be sure to list company contact info, including address, phone and web/email.
REGULATIONS: All advertising is subject to Publisher approval, and the Publisher reserves the right to reject any advertising. No fraudulent or misleading advertising, or advertising containing ATVs, GPSs, compound bows, sights, releases, crossbows, or expanding and/or punch-tip broadheads will be accepted.
What's Coming Up? Dec/Jan 2020

Small Game Issue:
Every issue has a specific theme throughout. The Dec/Jan issue will talk about small game animals that many of our readers love to hunt in their off seasons. This would be a great opportunity to advertise your Judo and small games heads. Another great category to advertise would be your "winter project" products you sell!
Animals that are specifically mentioned*: Frogs * Rodents * Coyotes * Rabbits * And more!
* Content is subject to change at anytime at the discretion of the editorial staff.

Skin a Cat—Boots:
This column highlights products and personal opinions of the various authors each issue. This issue will be dedicated to boots and footwear. If you happen to sell hunting boots, or any of the below brands, then I highly recommend you target your ad to this topic!
Brands that are specifically mentioned*: L. L. Bean • Schnee's • Oboz • Saloman • Muck Boots • Simms (waders) • Cabela's X-4 • White • West Coast Boots • Irish Setter • Danner • Chippewa Snake Boots • Hoffman Pack Boots • Steger mukluks, • Neos over boot waders • Red Ball Waders
* Content is subject to change at anytime at the discretion of the editorial staff.

Main Topics:
Dall sheep • Whitetail deer • Fixed crawl shooting method • Roosevelt Elk
* Content is subject to change at anytime at the discretion of the editorial staff.

Equipment & Notes:
Almost every story and article we publish has an author who uses name-brand items. Here is a list of some specific products, equipment and tools the authors used in this issue.*
These products are in addition to the Skin a Cat column on boots.
• Jack Kempf bow • Wing Gull bows • Duke Savora bows • Raptor archery shafts • Grunt tube • Primos can call • Code Blue estrous scent • Bear Fox bow • Bearpaw gloves • Bear Alaskan bow • Summit climbing stand • Judo heads • Snuffer heads • Gold Tip shafts • Ferguson shafts • HTM blunts • Zwickey heads • Snaro • Bear Razor heads • Morrell target • High Lift jack • Olympus camera • Robertson Stykbows • Zeiss • Cat Quiver
* Content is subject to change at anytime at the discretion of the editorial staff.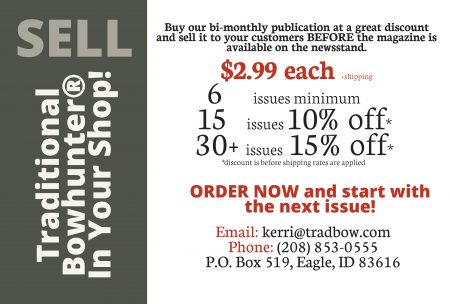 Classified Ads
Classified ads and their payments are due by the close date of each issue the ad is scheduled to run. Email kerri@tradbow.com to confirm each ad and full payments prior to close dates. Close dates are listed in the Media Kit when you request your copy of our current rates.
New Insertion Orders
New print insertion order require first payment due no later than the close date of the first issue the ad is going to be published.