Advertising
Get your company name and products in front of our dedicated traditional bowhunters today!
     In addition to advertising in our print publication, we now offer the opportunity to advertise on Tradbow.com. It is important to consider both mediums as they tend to reach a different audience looking for items they need for traditional bowhunting.
     Our print publication has been around for 30 years, providing a way to get your advertisement into the hands of dedicated bowhunters and target archers. Over the years, we have expanded our online reach to include a demographic that may not see your advertisement in the print magazine.
     Traditional archery is growing at a rapid pace and we aim to be the premier source of inspiration, motivation and education for those readers in both print and online platforms.
---
Do you have a NEW product?
Looking to have an item featured with Traditional Bowhunter® Magazine?
Want to reach more potential customers?
---
Email our Advertising Team today! We have a team of product testers waiting to test and review your products!
---
REGULATIONS: All advertising is subject to Publisher approval, and the Publisher reserves the right to reject any advertising. No fraudulent or misleading advertising, or advertising containing ATVs, GPSs, compound bows, sights, releases, crossbows, or expanding and/or punch-tip broadheads will be accepted.
What's Coming Up?
February/March 2021 Editorial Schedule

Adventure Issue:
Every issue has a specific theme throughout. The Feb/Mar issue will talk about adventure hunts and more.
This would be a great opportunity to advertise your safari guides, exotic guided hunts, equipment, and any other products to ensure your customers are prepared for the upcoming season.
Animals that are specifically mentioned*: Aoudad, CO moose, mountain goat, whitetail, small game, mountain lion, TX hog, and more!
* Content is subject to change at any time at the discretion of the editorial staff.

To Skin a Cat—Hunting Packs:
This column highlights the products and personal opinions of the various authors in each issue. This issue will be dedicated to hunting packs and our contributors' thoughts and opinions of particular brands and features. If you happen to sell hunting packs then this is your time to target your ad!
Brands that are specifically mentioned*:
* Content is subject to change at any time at the discretion of the editorial staff.

Main Topics
Hunting Aoudad
Interview with Matt Schuster
Rocky Mountain goats
History of Saxton T. Pope
Hunting small game in New Zealand 
Recipe from Margie Nelson: Elk Shanks
David Peterson: philosophy of the past and present hunter and gatherer.
And More!
* Content is subject to change at any time at the discretion of the editorial staff.

Equipment & Notes:
Almost every story and article we publish has an author who uses name-brand items. Here is a list of some specific products, equipment, and tools the authors used in this issue.*
These products are in addition to the To Skin a Cat column.
Bear Razorheads • Thunderhorn longbow • Victory V Force Carbon shafts • Wes Wallace recurve • Traditional Only shafts • Grizzly broadheads • Hoyt recurve • Stalker Coyote longbow • Carbon Express arrows • Muzzy broadheads • Easton FMJ • Magnus Buzzcuts • Sawyer insect repellent • DoTerra insect repellent,
* Content is subject to change at any time at the discretion of the editorial staff.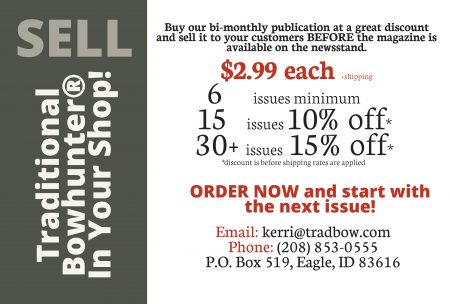 Classified Ads
Classified ads and their payments are due by the close date of each issue the ad is scheduled to run. Email kerri@tradbow.com to confirm each ad and full payments prior to close dates. Close dates are listed in the Media Kit when you request your copy of our current rates.
New Insertion Orders
New print insertion order require first payment due no later than the close date of the first issue the ad is going to be published.