Traditional Bowhunter Photo Gallery
Upload your favorite pictures of camp life, your bow, or your latest animal hunted. Click on an image to enlarge it.
*These photos are for our website ONLY. We don't automatically submit them for the print magazine. For instructions to submit to the print magazine see the article Traditional Harvest Photos.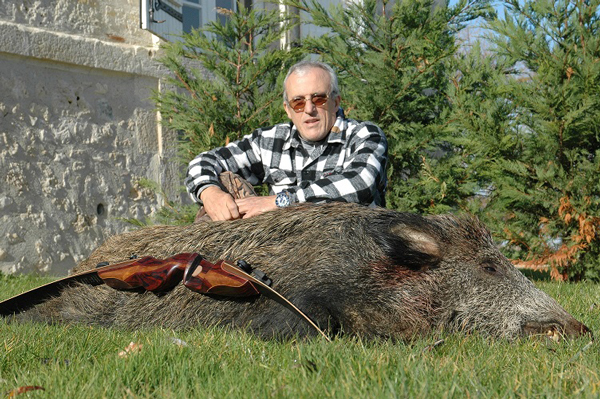 J.Pierre Cucchietti from Tourrettes sur Loup
Nice wild pig. Very testy.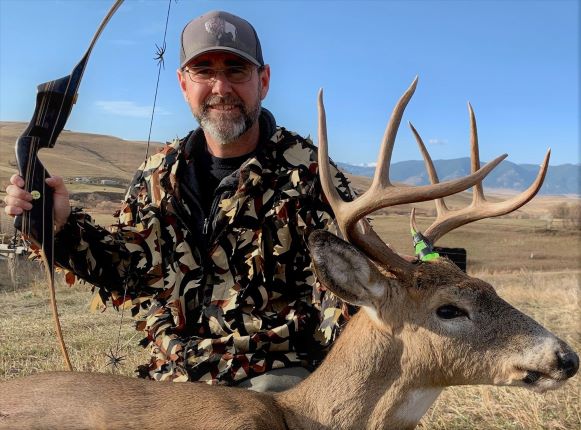 Josh Morgan from Sheridan, Wyoming.
This whitetail buck was taken with his #45 Black Widow PSA.  The arrow was an Easton FMJ tipped with a 175 grain  Woodsman Elite broadhead.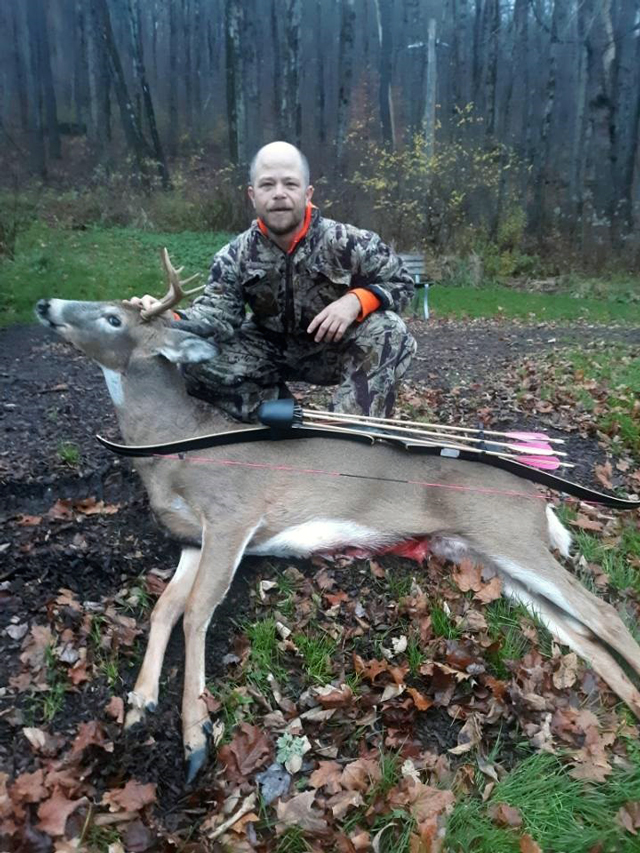 Kevin Etzkorn, from Rochester, NY
First deer with tradbow. Shooting a 62 in 55lb Big River Recurve with a Magnus broadhead and cedar arrows.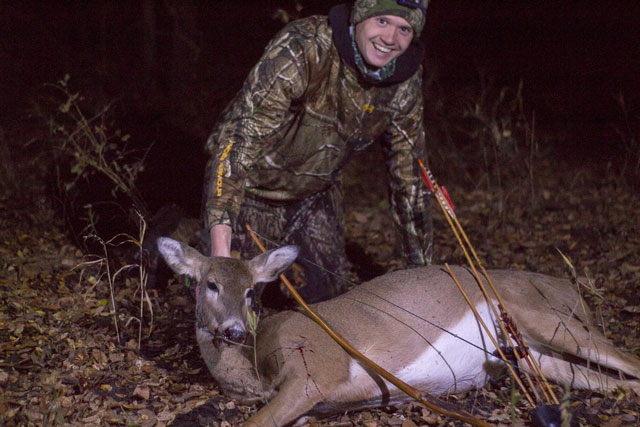 Kramer Ammons, Wichita KS
I shot this doe on public land with an Osage orange bow that I made myself. This was a wonderful hunt that I got to enjoy with my wife, who also filmed the hunt! It is a special deer and truly a trophy because this area seems to be heavily over hunted on public land. I will have this memory forever!!!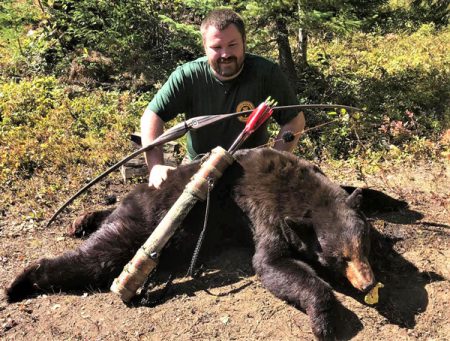 Rob Jones with a fall 2018  chocolate phase black bear taken in Ontario.  St Joe River Torrent Longbow,  True North Arrows and Ace Archery Broadheads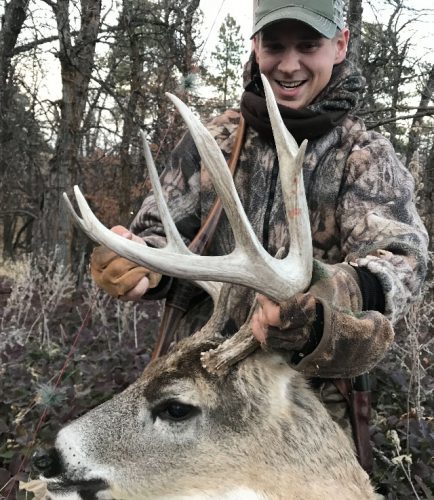 One Arrow Mike from Washington state, using a woodsman 125g broadhead, douglas fir shaft and reflex deflex longbow. My wife sent me on an 8 day whitetail deer hunt to South Dakota because I sacrificed my blacktail deer and elk hunt to build our home.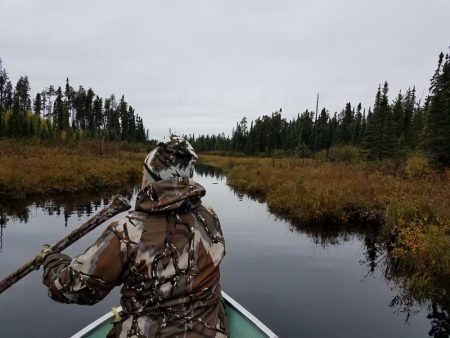 David Balowski from Bronson, MI
Tracey paddling up a creek looking for Moose in Ontario.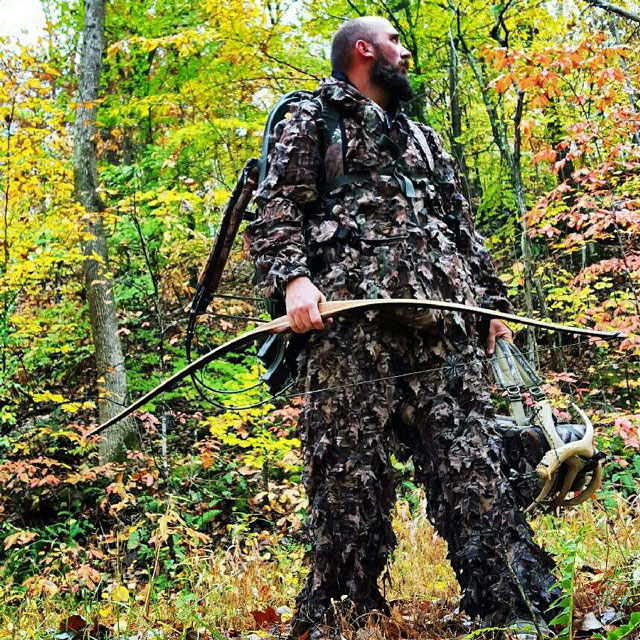 Jeremy Adkins from Charleston, WV
On my way to a favorite public land spot.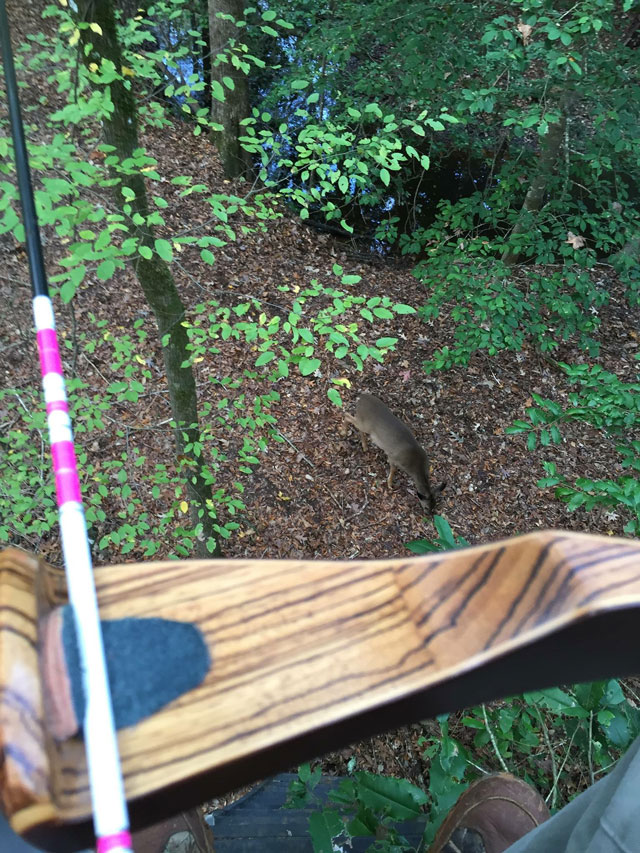 Matt Toms from Bienville Parish, LA
Watching a young doe, just a few weeks out of spots.  I believe this was late October of the 2015-2016 season.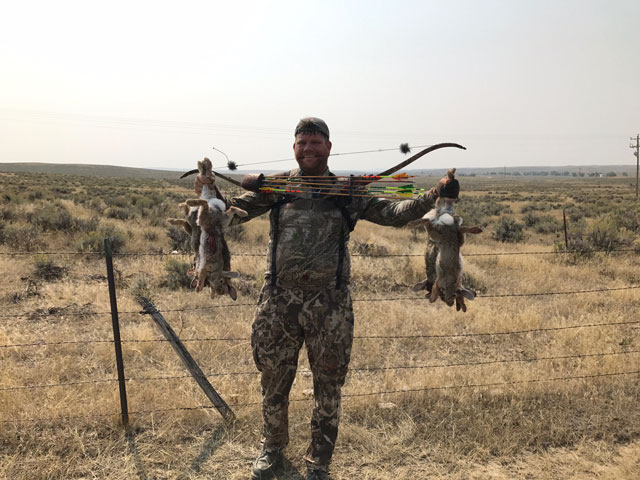 Dustin Newer from Piedmont, OK
Got distracted on a recent Wyoming mule deer hunt!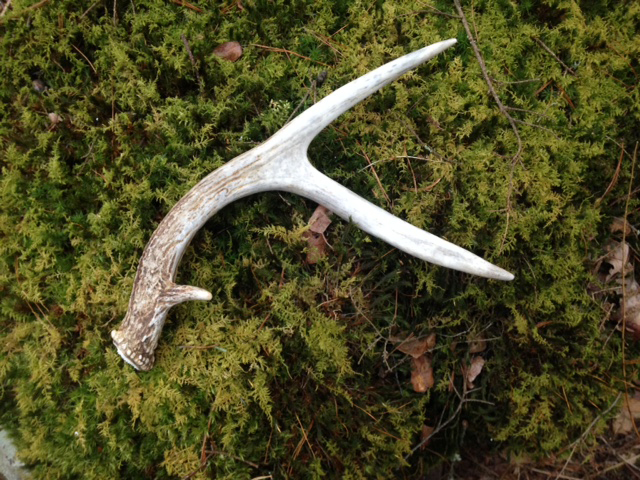 David Coulter from Henryville, PA
A shed I found and placed on a convenient mossy stump.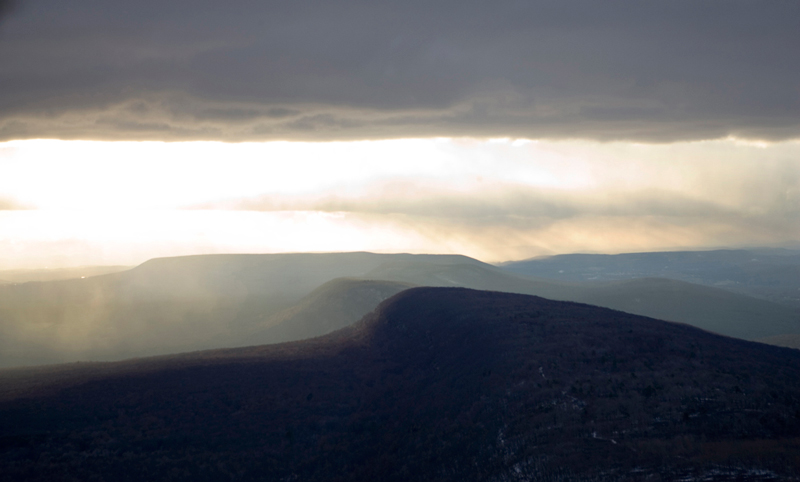 David Coulter from Henryville, PA
This is an aerial view of Mount Minsi, the Pennsylvania side of the Delaware Water Gap geologic formation, just south of Delaware Water Gap, PA. I took this a while ago, but I just love that view looking down the old mountain range that defines the Poconos.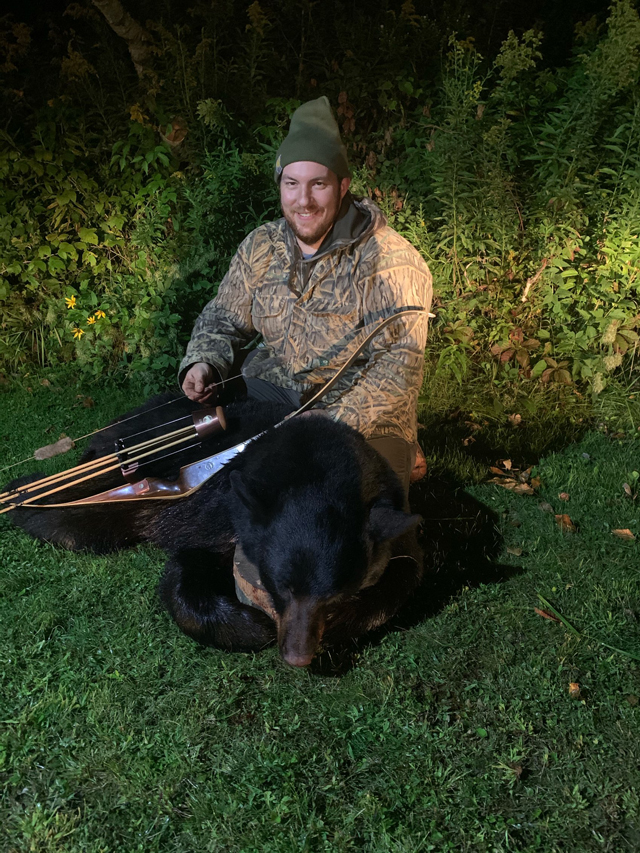 Sam Hughes, from Boyceville, WI
Sam shot his first bear ever, a Dunn County Wi 230 lb. black bear shot with  57# 1962 Bear Kodiak, 725 grain Gold Tip tipped with single bevel Grizzly.  11 yard shot 40 yard recovery.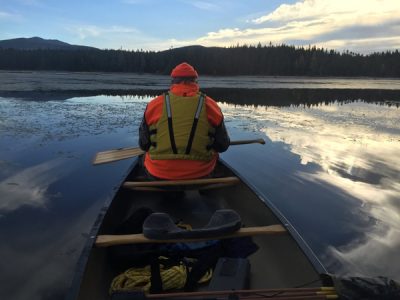 Charlie Ek from Duluth, MN
Photo Details: Barry Carr, my partner on our 2016 moose  hunt, watches for them on East Inlet in New Hampshire.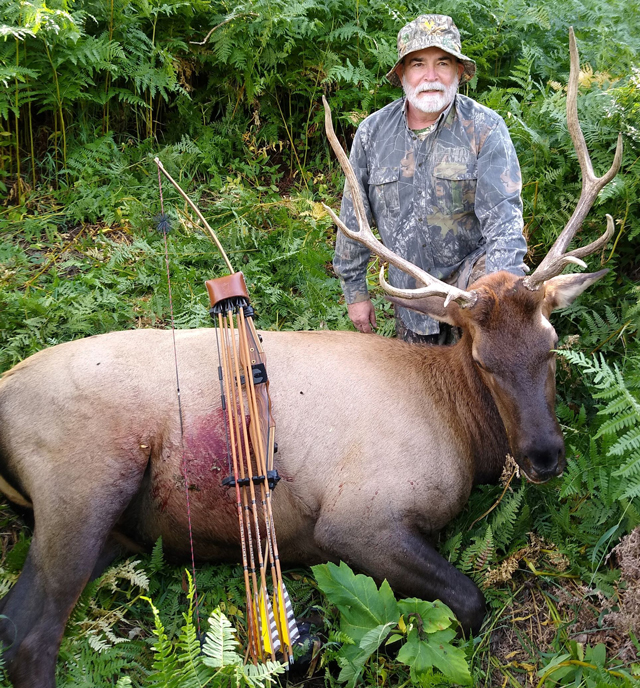 Lance DeVooght, Eastpointe, Michigan
My first elk ever! Taken with a 54# JV Outback longbow, made by my friend James Vanover of Fenton MI, and a Woodsman broadhead. The hunt was near Craig CO, on September 1, 2019.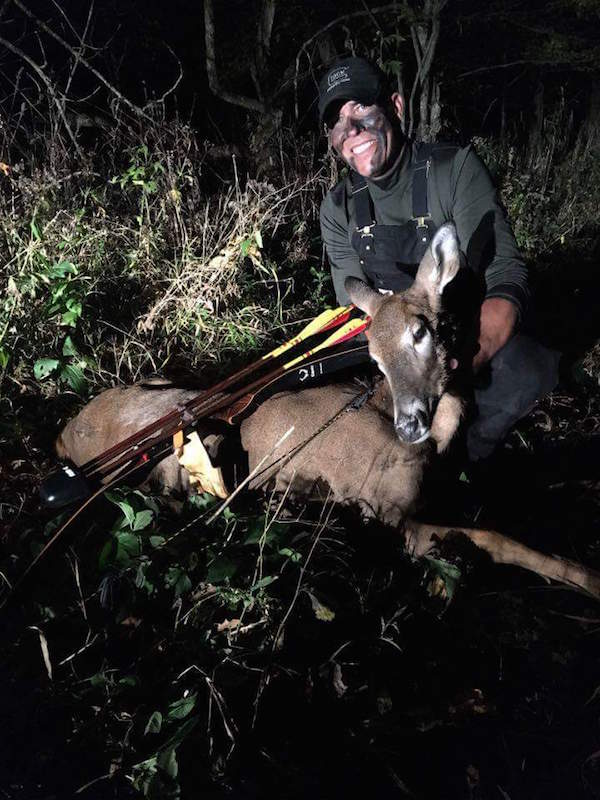 Thomas Hyde, Guttenberg, IA.
Wonderful afternoon and beautiful Iowa whitetail!  20yds, shot from the ground.  Jeffery Classic, Cabela's cedar traditional arrows, Wensel Woodsman broadhead.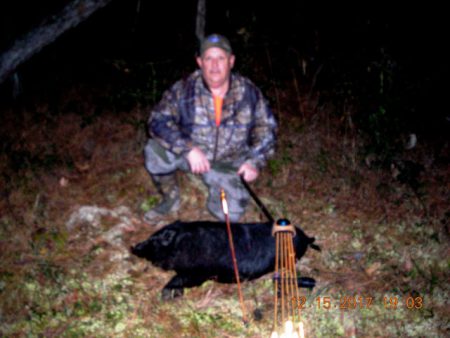 Philip Cox Benton, Louisiana
Java Man Helms Deep recurve 51@28″; Gold Tip arrow with 175 gr. Simmons Tiger Shark broadhead.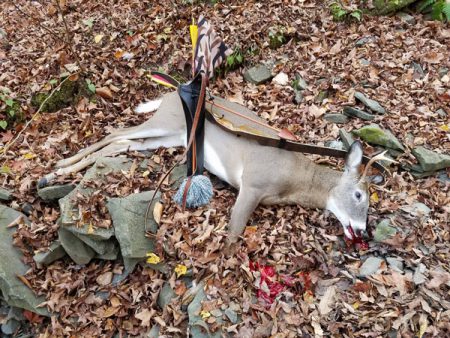 Charlie Pearsall, from Port Crane, NY.
2017 whitetail.  Red Wing Hunter bow, Mowoc Dot broadhead and Douglas fir shaft.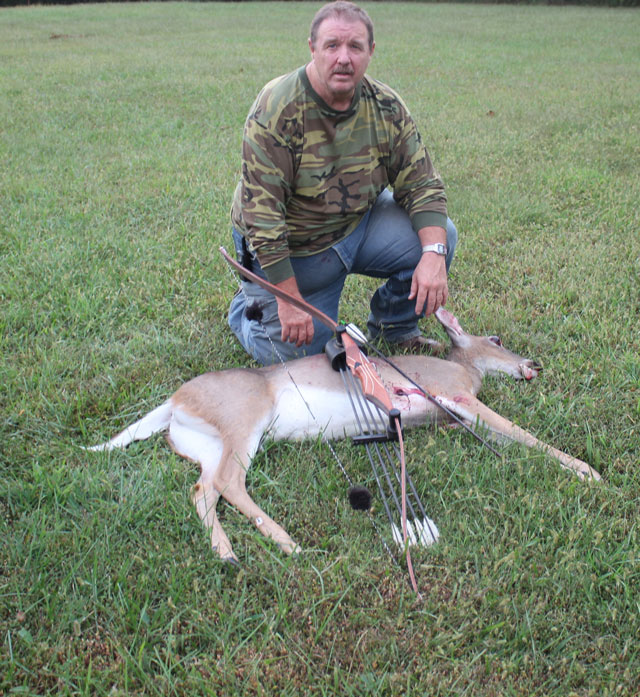 James Greenway from Stella, MO
First deer of the season with my Diamondback Archery Venom longbow.  62″ #50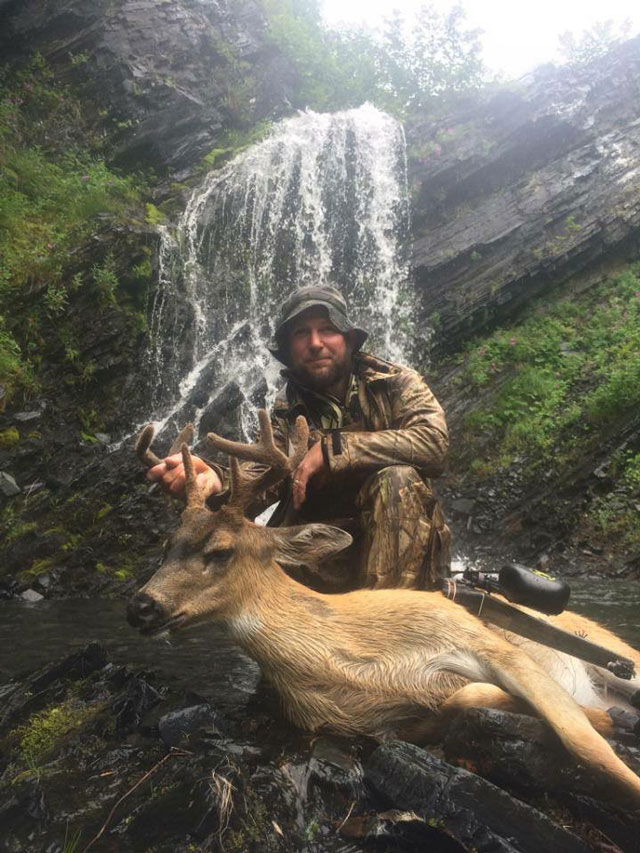 Chris Blaskowski from Stevensville, MT
Sitka blacktail 2016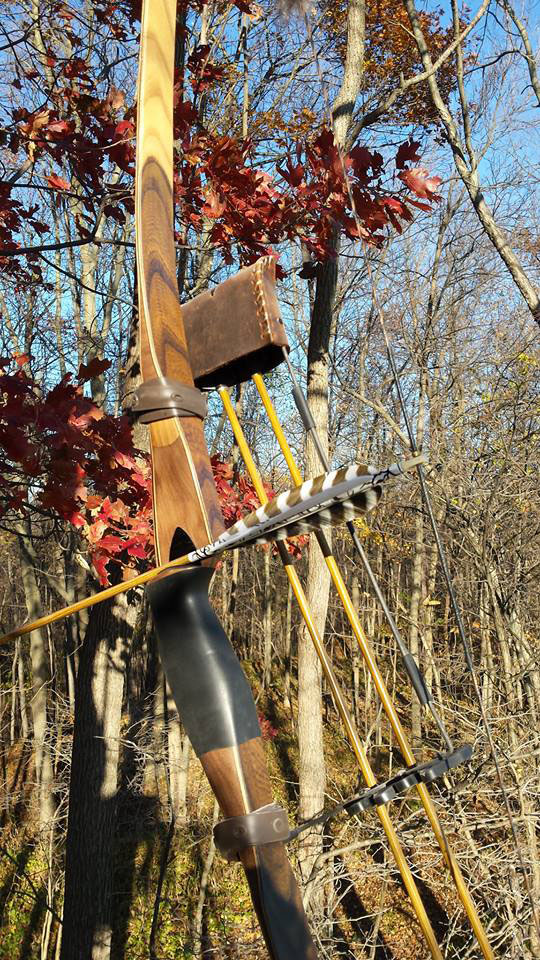 David Balowski from Bronson, Michigan
Dreaming of bow season. This is a tree stand picture from 2016. Ready for deer season 2017. Just two weeks away!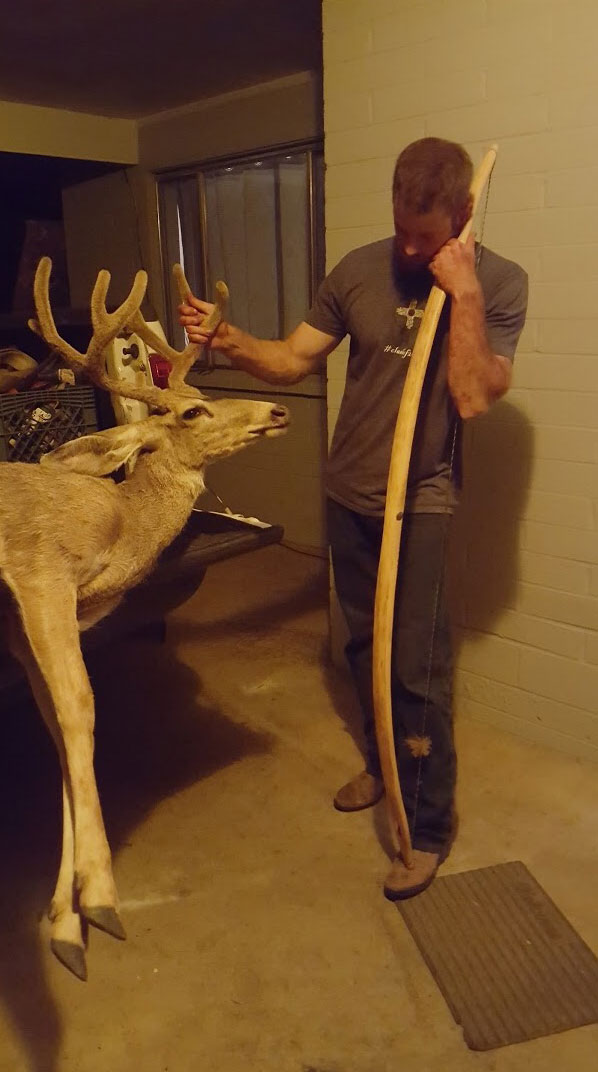 Zachary Larsen, from Globe, Arizona.
Spot and stalk September desert mule deer with a 68″ 60@29 homemade shaggy bark juniper selfbow, surewood shafts and grizzly broadheads.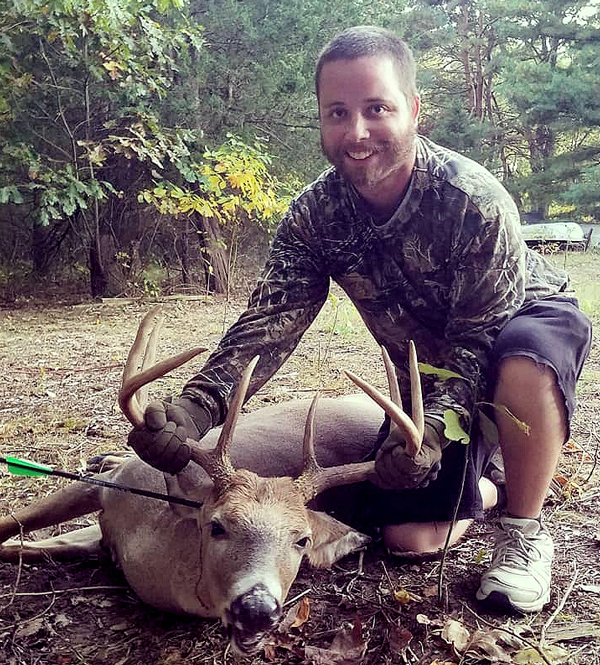 Bill Leoni from Stevensville
Bill dropped this beautiful 8 point buck in his tracks with a well placed shot in the ear.
Blake Smith, Cody, WY
Shiras moose taken in Wyoming with a Yellowstone Custom Bow, Gold Tip Shaft and Grizzly broadhead.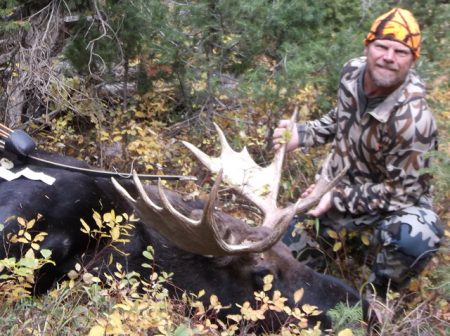 Joshua Morgan of Sheridan, Wyoming
Great morning in Wyoming! 45 pound Black Widow recurve, 520 grain FMJ with a Wensel Woodsman broadhead.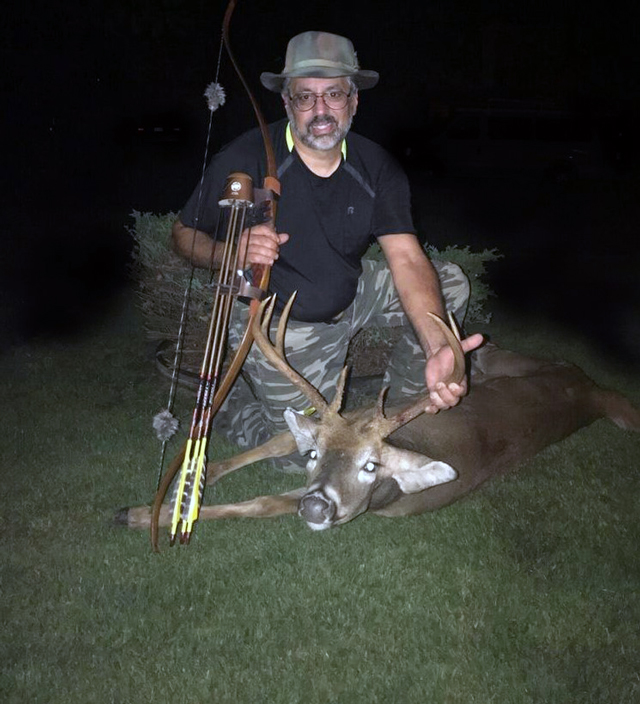 Frankie Liguori, Bethlehem PA
Opening day in PA. After 45 years of bowhunting I'm still lovin' it. Great Northern Ghost bow and Bear Razorhead.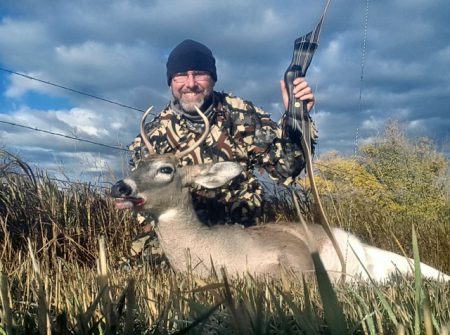 Joshua Morgan, Sheridan, Wyomiong
45 pound Black Widow shooting a 525 grain arrow tipped with a Grizzly single bevel.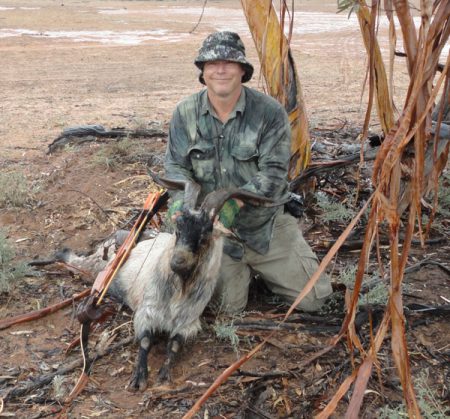 Paul Mascoll from Riddells Creek
Feral Goat, Pooncarie outback – May 2017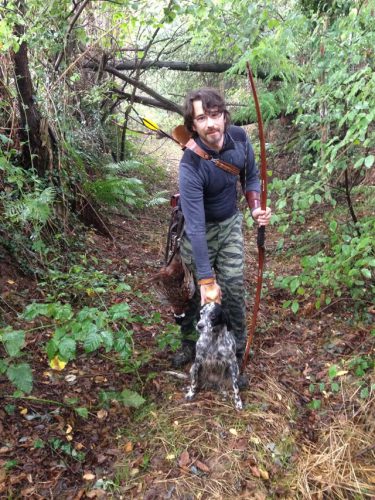 Alessandro Fodera from trezzo sull'adda Milan ITALY
Alessandro and his dog Nike bowhunting pheasant public land in Italy. Howard Hill 60 lb. bow and 720gr. cedar arrow.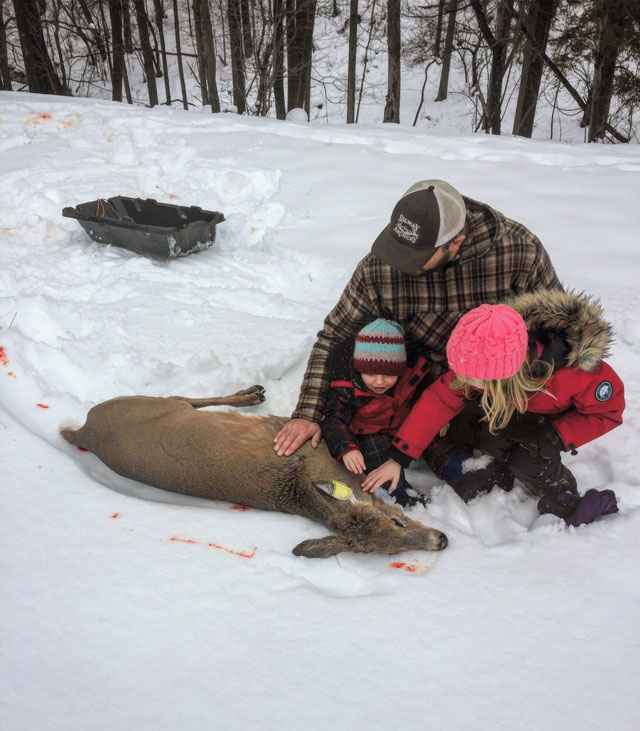 Max Turczyn from Goderich, Ontario
My most memorable hunt. Saying "thank you" with my kids.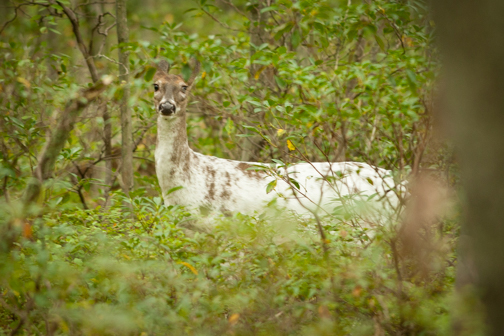 David Coulter from Henryville, PA
Piebald deer a few miles from home. This was one of four piebald deer that were together.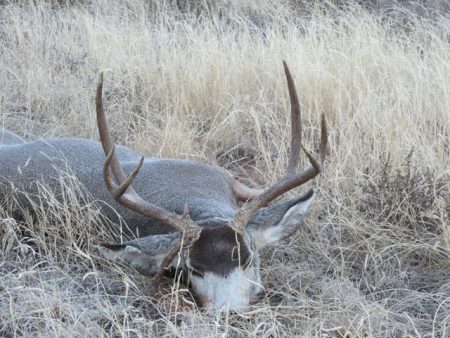 R2, from Amarillo, TX
One of my Texas mulies.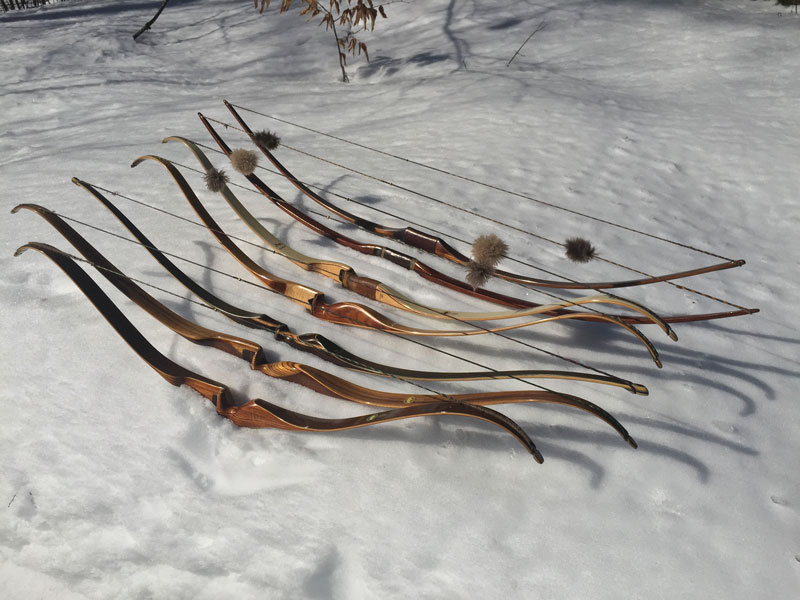 Charles Ek from Milton, NH showing "the herd". From the bottom up:
'66 Bear Kodiak Magnum, 52#
'60 Bear Kodiak De Luxe, 60″, 48#
Morrison Dakota, 58″, 55#@27″
Dave Paxton Talon Swift, 60″, 55#
'58 Bear Kodiak, 60″, 58#
'43 (not a typo!) Buck Doran selfbow, 66″, 48#, made for my father
'96 Dave Paxton Talon Classic, sassafras and made for PBS banquet that year, 64″, 60#