Archery ranges and outdoor events have been re-opening across the country. It's a safe bet that most us have been jonesing to get to the range, and shoot some 3D courses! Kifaru International's latest release comes just in time with their new Field Quiver.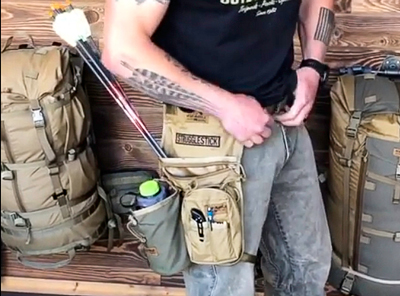 Kifaru describes this new offering as a "modular American made field quiver that you can customize based on your shooting needs." A quick look at the product photos and list of features is enough to increase the pulse of any archer. Designed to meet shooter's needs of all skill levels, it's a fully ambidextrous design that includes a removable leg strap. The arrow pocket has two sewn in loops to isolate arrows, or to accommodate arrow tubes. A zippered pocket keeps your shooting possibles within easy reach. Constructed of 1000D Cordura ensures that this quiver will last for years of use with field points, blunts, judos and bunny busters, however, the quiver is NOT intended to be used with broadheads. The staff at Kifaru likely all shoot bows of some sort, because an archer's mind was definitely at task here. They've accounted for every scenario and piece of gear that any traditional or modern bow shooter could ever encounter or need. You'll notice the large Molle panel with PALS webbing that virtually encompasses the entire quiver body. This is to make use of accessories like Kifaru's Gen 2 Water Bottle Pouch and Gen 2 Mini Belt Pouch, or any other Molle compatible accessories that you might favor.
You can order the quiver by itself, or pre-loaded with the water bottle pouch and Mini Belt Pouch. Kifaru's specifically designed Field Quiver Belt is reinforced with Scuba webbing to keep the belt from collapsing over time, and to keep the quiver flat against your hip. It also can be ordered with the quiver as part of a kit, or can be purchased separately.
Kifaru expects to be shipping orders after July 4th. We suspect that the Field Quiver will be a definite hit, and will be in great demand. If you don't want to miss out and be stuck with a lengthy back order, we'd suggest that you get your order in immediately. And be sure to tell the folks at Kifaru that your friends at TBM sent you!
Here's a rundown of the details:
Dimensions:
Field Quiver Panel: 10"/ 25cm W x 16" / 40cm H
Zippered pocket: 10" / 25cm x 10" x 25cm
Belt loop opening: 1 ¼"
Weight
Quiver Panel: 6.4 oz / .18 kg
Quiver Panel with Belt: 12 oz / .34 kg
Quiver Panel, Belt, Gen 2 Mini Belt Pouch, and Gen 2 Water Bottle Pouch: 1 lb 2.4 oz / 52 kg
PALS grid (4 x 6 channels) accepts a multitude of Molle or Dock and Lock pockets, including Kifaru's water bottle pouches, and belt pouches.
Includes optional leg strap.
The Deluxe version comes with Gen 2 Water Bottle Pouch and Gen 2 Mini Belt Pouch of the same color.
Field Quiver Belt: Small: 32" – 42" / Large: 38" – 52".  *Be sure to account for wearing over clothing when ordering.
Colors available: Coyote Brown and Ranger Green.
Pricing:
Field Quiver only: $45
No belt, Deluxe (includes Gen 2 Mini Belt Pouch and Water Bottle Pouch): $108
Small or Large Belt, Deluxe: $133