What I put in my pack depends on where, what, and when I am hunting. Above are the basic items I load up when I am hunting elk and mule deer out West.
Left to right top row are game bags, notebook and pen, water bottle, Jetboil, and bow kit. The bags are used to keep blowflies and vespid wasps from attacking meat while packing quarters out. I always carry a notebook and make field notes and drawings while hunting. I usually stay out all day when hunting our West, and the Jetboil is used to make coffee, tea, instant soup, or bullion when I stop for lunch or just need to take a break. Bow kit is explained elsewhere. I also carry a Canon G1X camera with an extra battery, but I used it shoot these images, so it's not in the image.
Second row, an emergency blanket, wool beanie, rope, and Katadyn water filter. I have been stuck out in the woods far from camp when both rain and snow with freezing temperatures have blown in. At times, I can find shelter under a subalpine fir, but more often I am caught in the open. This lightweight blanket shields me from the elements, and reflects heat. The wool cap comes in handy at these times as well. Rope can be used to lash meat to my pack, or myriad other uses. Where I hunt elk and deer, water is very scarce. Every time I come upon a seep, I top off my water bottle, as the next water may be miles away. The larger water bottle is also handy to flush the cavity of a critter.
Third row contains my mini first aid kit, compass, LED flashlight, and a second knife. I also carry a map of the area I hunt, and always make note of landmarks.
Last row, a pair of wool gloves, headlamp, 6" mill bastard file and handle, an arrow grabber, and carbide sharpener. I always pack an extra light, as well as batteries, as most days I don't get back to camp until well after dark, and having a backup lamp makes sense. Taking apart an elk can dull knives in a hurry. I always carry a belt fixed blade horizontally on my belt, and pack another heavy blade in my pack. Not shown is a takedown ceramic "steel" that I use to keep the knives sharp while butchering.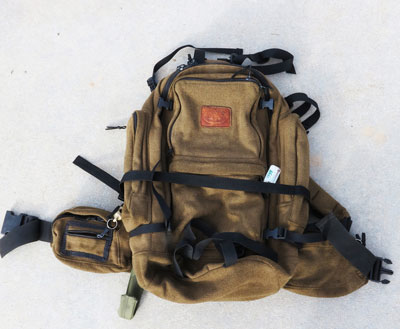 Pack: Although I have several hunting packs, my all-time favorite is this wool Bison Gear Lemhi model with added hip belt pockets. I had this one custom made back in 1997 and it has hauled out elk and moose quarters, deer, pronghorn, and the hindquarters of a sheep in Colorado. It's pretty bulletproof with an internal frame, but somewhat heavy when compared to some of the newer packs out there, like KUIU. Attached to the pack, inside and out, are a bow holder, wind indicator, thermometer with wind chill chart, and a microfiber cleaner for my binoculars and/or reading glasses. This is my go-to pack for Western hunting as well as hunting Alaska and Canada. Other hunts, like stands or blinds for whitetail and bear, pronghorn, or short-day hunts, I use a Cabela's Whitetail pack, which is lighter and smaller.
In addition, I always add two Backcountry bars or Luna protein bars, a grapefruit or apple, jerky, and some hard candy…sometimes a sandwich…to keep me fueled up during the day. Depending on when, where, and what I am hunting, I will add a coat, raingear, extra food, sleeping bag and lean-to tarp shelter for overnight on the tail, and long underwear that I can either put on or take off as the weather dictates.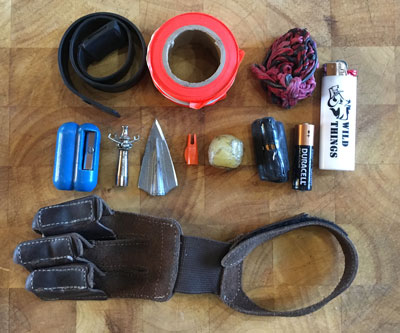 Bow Kit: I have always called it a bow kit for lack of a better name, but in this bag are an extra Great Northern bow quiver strap, flagging tape, extra bowstring, lighter, Whiffen Taper Tool (the best ever made as far as I'm concerned), extra Judo and broadhead, an extra nock, hot melt glue, extra batteries for lamps, and a spare shooting glove. I have always loved the Black Widow glove with the cordovan finger overlays, and buy five at a time.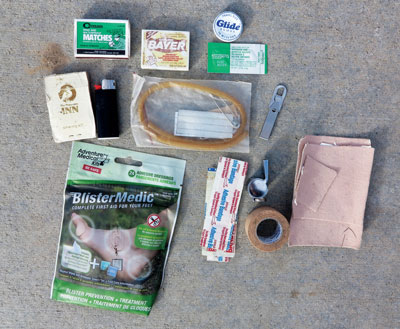 First Aid Kit: Obviously, one cannot carry every item afield to cover all emergencies, so I whittled my kit down to the bare necessities that, hopefully, will get me back to camp where I have a full-blown first aid and suture kits. Mine contains wind- and waterproof matches, aspirin, antiseptic gel, dental floss, sewing kit, extra Bic lighter, tourniquet, varied safety pins, tweezers, blister kit with extra moleskin, Band-Aids (I have larger pads for major wounds as well as sterile gauze not shown), whistle, and medical tape. And yes, I have used everything in it except the tourniquet, and hope I never have to!