Terry Harris, of Alabama, has taken on a magnificent project to commemorate traditional archery and raise funds for two worthy organizations. He has circulated a beautiful Howard Hill longbow to many of today's "torchbearers of traditional archery." The bow, aptly named The Tradition Lives On, will be raffled off, along with a booklet containing information on each signer, and a beautiful plaque. The date for drawing the winner of The Tradition Lives On signature bow is June 2nd, 2018, at the 2018 Howard Hill Southeastern Classic.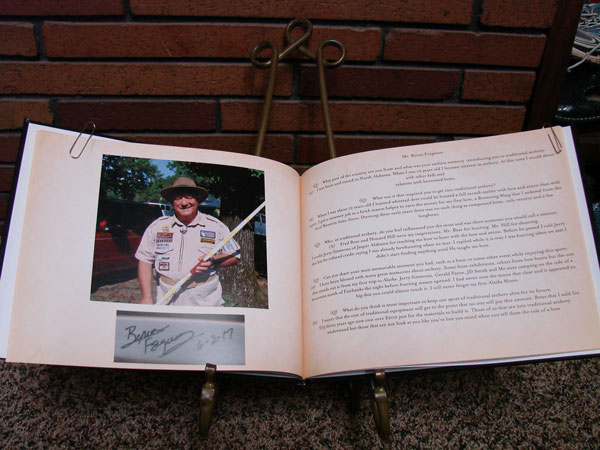 The plaque reads as follows: In the spirit of those traditional archery legends, such as Howard Hill, Fred Bear, Ben Pearson, Glenn St. Charles and others, the signatures on this bow represent some of the best at keeping this tradition going. Keeping a tradition alive is important for teaching the next generation about a particular or shared past. These traditions are beliefs or behaviors that are passed down from one generation to the next. This has proven to be true within the brotherhood of traditional archery. Thus, the importance of these individuals who have signed this bow, titled "THE TRADITION LIVES ON."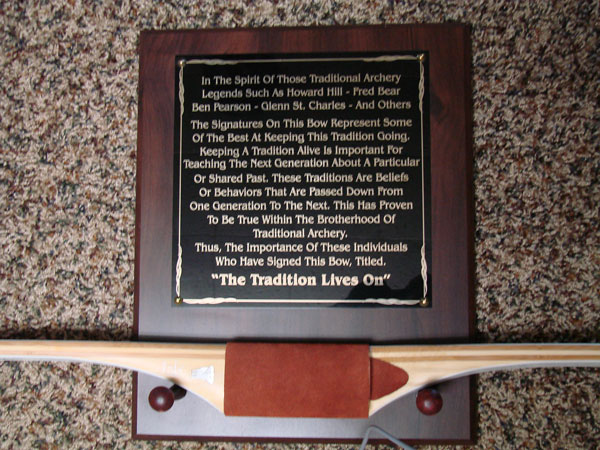 Half of the proceeds will go to a local Boy Scout Camp that Terry's been donating to for the past several years. Areas of this camp have been used as an archery course during traditional archery events such as the Howard Hill Southeastern Classic and the Pre-Spring Arrow Fling. Over the years Terry has managed to raise over $42,000.00 for the camp.
The other half of the proceeds from this bow will go to Children's Harbor, an organization that helps chronically ill children and their families cope with their illness. They have a camp in southeast Alabama where the child and their family can go free of charge.
The raffle is going on now, and the tickets are $5.00 each. You can purchase tickets through PayPal using this email: archertw@bellsouth.net, or by check or money order made out to "American Traditional Archer" and sent to:
Terry Harris
2117 Farley Road
Hoover, AL 35226
Good luck to all participants, and a big thanks to Terry Harris for taking on such a great project. This is sure to be a collector's item and treasured for years to come.