Like most bowhunters, I started out small; a hand-me-down recurve, a few scattered arrows, and limited knowledge passed down from my dad and an uncle. My dad was a traditional bowhunter, but back in the early '70s it seemed that everyone was. Although he wasn't a great hunter, he gave me a good foundation to build on. He taught me the importance of conservation, self-reliance, and learning that there was more to hunting than just the shot. My interest in bowhunting grew, and so did my collection of hunting gear. I had been hunting for 15 years when I reached the pinnacle of my dependence on gear that did everything I was able to do on my own.
I woke up early on a mild October morning and peeked outside. The breeze was slow and steady, and the sky was overcast. My clothing bag was packed and lying next to my boots and bow case by the back door. I grabbed the items and threw them into the backseat of my pick-up truck, but before I could leave I had to load a few more things. I was a younger man, and in decent shape, but I still went into the garage and took down from the rafters my "super heavy duty, mag-wheeled game cart" and loaded it into the bed of my truck. Then I grabbed my "portable" self climbing treestand, and dropped it into the bed of the truck. I picked up my pre-packed day pack, and tossed that into the front seat. I was finally on my way.
It was still a good hour before sunrise when I put on my hunting clothes. The synthetic material of the scent locking overalls felt like putting on a plastic bag. My thick rubber boots felt overly heavy and tight as I pushed against the ground, trying to get them on.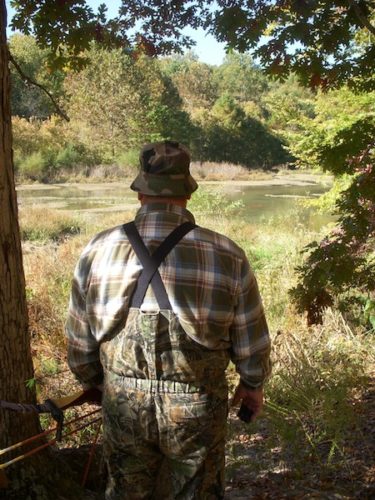 I felt the spray of the cover scent hit my face, neck and hands, leaving a tacky residue. I strapped on my gear; day pack on my back, bow in my left hand, treestand slug over my left shoulder and hanging on my right hip. After only a few minutes of slowly ascending up the trail, I felt the strap of the stand digging into my shoulder. I wondered what I would do if I ever had to take a shot. I felt sweat building under my hat and in my rubber boots. As I reached the ridge line that I wanted to hunt, I felt the day pack sticking me in the back. The padded straps proved useless against the weight of the gear inside. Funny, I didn't think the pack was all that heavy when I put it in the truck. All I had in there was a pair of binoculars, a range finder, a long rope, a short rope, a field dressing kit, a trail camera, doe-in-heat scent, doe-in-a-dating-mood scent, a rattle bag, grunt call, bleat call, sunglasses, GPS, an LED flashlight that took AAA batteries, a hand warmer, an extra seat cushion, and a D battery. When I finally reached my hunting spot and climbed the tree with the stand, I could feel my heart and lungs working overtime. I knew I had to settle down before sunrise.
I hunted all morning and did not see one deer. I was sure it had nothing to do with all of the noise I made trying to use a squeaky metal treestand. Not only did I miss seeing a deer, I also missed a beautiful morning in the woods. I was so concerned with GPS coordinates and views through the rangefinder that I neglected to see the colorful fall woods awaken right in front of my eyes. The early afternoon was drawing near and my hunt was coming to a close. I decided to shoot an arrow, probably just out of boredom. I put the rangefinder on a dead, rotted stump 32 yards away. I felt the hard plastic grip of my compound bow in my hand. The slick, thin carbon arrow felt light and non-existent as I nocked it. My synthetic jacket stretched as I placed the cold metal of my release against my cheek. I mindlessly, robotically gazed through a peep sight and into a florescent pin, then I felt the tension disappear in my right index finger. An instant later, a plastic vane appeared in the center of the stump. I felt a second of gratification, but not much accomplishment.
As I drove home, I thought of the time when I first got into bowhunting as a kid and looked at the pictures of my dad and uncles hunting in the Shawnee National Forest. I remember admiring the old canvas tents, the recurve bows hanging in a tree alongside back quivers filled with wooden arrows. I was jealous of the hunters, dressed in their army surplus pants, buffalo plaid flannel shirts and wool jackets, sitting around the campfire. It was a very unpretentious way to hunt. The more I drove, the more I thought, and the more I thought about it, I realized that bowhunting had become a chore. The pounds of metal, the nuts and bolts that made up stands and game carts, became an anchor that held me back from enjoying my old passion. I decided that in order to move ahead I had to look back; I needed to find the tradition. I knew I wanted to be a traditional bow hunter, and not just a guy hunting with a bow.
I cut the season short that year to start my new adventure. In December I got a new recurve from Santa, and in January I started building my first set of cedar arrows. By March I was standing 15 yards away from a bag target, getting my instinct back. That spring and summer I spent as much time in the woods as I could with my bow, always scouting, always roving and stump shooting. I practiced every shot with the intensity that would be required to hunt on the ground. I studied distance, knowing that my instinctive eye was going to be my rangefinder. I found skills that were lost and I honed abilities that were dulled by years of complacency and reliance on technology. When I bought my archery permit late that summer, I was ready to put my newly acquired traditional skills to the test.
It was a mild October morning, about an hour before sunrise, as I walked along an old mining road. This was the first time I hunted with my bow since the previous October. The road still had soft, green grass and I moved quietly and effortlessly through the woods. My shoulders not strained by straps, my back not stressed by heavy awkward gear, I was able to reach my destinations alert, calm and ready to hunt. I settled into a pile of fallen timber, facing into the wind, and looking down a trail that headed to a land bridge. It was a place I had scouted often. I moved easily in my natural blind, the quiet material of my flannel shirt made no noise as I positioned myself for the drama that was to be played out in the next few minutes. The first thing I noticed was the brown, horizontal line of the deer. The large doe worked down the trail, stopping to feed every few steps. The rush of having an animal so close and not being noticed was pleasing. I felt the soft mud on my left knee as I slowly raised my bow. The contoured wood felt like a part of my hand as I carefully pushed. I took a quick peek and admired the cresting on my arrows one last time before shifting back to the vital area of the deer. The soft wool of my jacket moved as I drew, and I felt the leather glove touch the tip of my mouth. I looked past the broadhead and into the deer, focusing on one hair behind her front leg. Looking back to that morning, I can't remember exactly what I was thinking when I let that arrow go, but I do know it sure felt good to be a traditional bowhunter.