At eight o'clock on a beautiful Sunday morning, members of the Hawaiian Archery Association were preparing for an American Round handicap tournament. One of the shooters, H.J. Green, recounted what happened next.
"We were wondering why the Army and Navy were having such a heavy practice…we had never heard such loud maneuvers before. Around nine o'clock the planes were right over our archery range. About that time a naval officer stopped his car at the side of the range and said all civilians should go home and stay off the streets as we were being attacked by the Japanese."
After those Zeros left Pearl Harbor in smoking ruins and the United States went to war, a tsunami of change swept over the country. The manufacture of civilian goods was nearly shut down as industries changed over to war production, and hundreds of thousands of young men marched off to meet the enemy.
How did these cataclysmic changes affect our sport? Did archery go into hibernation, not to reappear again until the dust over Nagasaki settled? Just one month after the dive-bombers appeared over Ford Island, several editorial views on this question appeared in the American Bowman Review that gave a clear indication about the course of archery's future during wartime.
A.J. Jackson, president of the National Field Archery Association wrote:
"America is at war. How long the war will last no one knows. Our lives, our property, and our sacred honor are pledged to a successful prosecution of that war. Many of our archers are already in the service; many more soon will be. For those who are not called to the front there are many war time duties, not only in the productions of war materials, but in civilian defense. A new call has been made upon all of us for everything that our energy, our minds, our means and our capacities can contribute."
He goes on for several more paragraphs describing the sacrifices, which will have to be made before asking the question: "What of sports during war time?" He concludes:
"What sport more than archery gives one a better opportunity for relaxation of mind and body? An hour or a weekend spent in the woods and fields, stretching unused muscles, expanding the chest and breathing in fresh air, concentrating on your technique and forgetting there is war will freshen your mind and body and send you back to your office or your shop better fitted to do your part in the war emergency.
"There will be fewer steel bows, but the government has made no call on Yew, Osage, lemon wood or hickory. Linen for bow strings will be scarce and more expensive, but there is at present no shortage, and there seems to be an ample supply of steel for piles and broadheads that should serve all our needs. There are plenty of plastics for archery purposes. Priorities have not interfered with the full play of our sport. If the time comes when bow and arrow materials are needed for defense, we will gladly give them up, but that time is not here."
Of course, this observation came just weeks into the conflict, but evidently the writer felt that it's always better to be optimistic. Michelson does go on, however, to predict that the availability (read: "lack") of rubber will affect the ability of archers to travel, be it to the range or the woods. "Above all," he concludes, "we want to avoid war hysteria."
"The question on everyone's lips is 'What can I do to help?' Putting your bows and arrows in cold storage for the duration of the war is a meaningless sacrifice. Don't lay them aside – use them more if they do not conflict with your war time duties. The cheapest health insurance you can buy is the time you take off to condition your mind and body. A body and mind kept fit by your recreations makes you more valuable to your country. Archery, along with other sports for individuals, has a job to do during these strenuous and nerve wracking times. Never let be said that archery is a "slacker" in war time."
One archery material that may have become less available, for the moment at least, was feathers. In the same issue of the magazine a feather supplier by the name of F.H. Schwartz wrote:
"I am quitting the feather business until after the war as I think our country needs every man's service. I wish to thank all of the archers that I have done business with and will look for the same when this war is won. My two sons and I are offering our services at once and hope all archers who have sons feel like I do. I was in the last war and am proud to be in this one in some capacity.
"Again, thanking all of my friends and wishing them a very pleasant ending."
A month or two after the Pearl Harbor attack another article appeared in an archery magazine under the patriotic-sounding heading, "We Are Archers Because We Are Free". The writer goes on to explain how experience with the bow and arrow can benefit the soldier in the field:
"It is interesting to note that archers having mastered the fundamentals of shooting form should have little difficulty in mastering ballistics. The writer knows one archer who took to artillery fire 'like a duck to water'. It is the writer's opinion, with all other factors being equal, that the experienced archer who would elect to toss bombs from an airplane at this time would get better results quicker than the bomb-releasing aviator who had not had archery training."
The editorial continues to stress the idea that archery is an ideal sport to condition both the mind and body for the rigors of conflict, and concludes: "It appears to the writer that now is the time to start a campaign to increase archery's personnel as a contribution to our national defense."
Once the army camps began to fill up with recruits, local archery clubs did just that, offering their sport as a camp activity. A call went out from the Alamo Bowmen of San Antonio, Texas asking "…archery clubs and any individual archer to help us in our present undertaking of sponsoring an indoor archery range in San Antonio for our boys in the service. Many army camps are located here, in all approximately one hundred thousand troops. We are asking archers for donations of bows and arrows and such equipment as is necessary to open the indoor range."
Although some of those servicemen undoubtedly continued on to become bowhunters after the war was over, at least one didn't wait that long. A sergeant stationed on a south sea island wrote about his hunting adventures during lulls in the action. Since he couldn't get any commercial equipment, he made his own bow out of two hickory ax handles which he spliced together in the middle. Arrow shafts were fashioned from the shoots of a bamboo-like tropical plant, and fletching came from the local birds.
His favorite "big game" was large lizards, which were plentiful in the jungle, and he managed to bag quite a few with his primitive set-up. The biggest problem reported was that the bow lost poundage in the humid, tropical climate and had to be shortened periodically to keep its strength up.
Evidently the desire by American archers to provide equipment for servicemen included those "over the pond" as well. British Lt. Col. C.E.Temperley writes from 5 Corps headquarters about the receipt of archery equipment from the Ben Pearson bow company:
"My dear American Archer friends.
"When last in town I called on a friend of mine at Air Force Comforts, got into the elevator and was asked to squeeze into a corner to make room for a number of long parcels. Looked at the labels, saw 'Homer Prouty' and 'Ben Pearson' and knew that I had got on the elevator with gifts for the R.A.F. boys. Was I excited? I was!
"We unpacked the lot in the office and the Secretary immediately telephoned three Fighter Stations who had been worrying the life out of her for archery tackle – to tell them it was here and in abundance. I do send you heartfelt thanks for your kindness and your understanding of what it means to those fighter pilots to have tackle for just the one pastime which they can manage when standing by at short notice on their air fields."
As the casualties of the fighting began to mount, the military archery programs were extended to wounded soldiers who were convalescing stateside. Harlan Metcalf, who was the director of the country's physical fitness program during the war, wrote:
"At the present time the Army and the Navy are conducting physical reconditioning programs for their wounded which surpass in range and scope anything ever done for soldiers and sailors anywhere, anytime by any nation. It is my conviction that… archery in all its forms is one of the most important of these activities."
Although the government now seems to have been providing the equipment, the actual instruction was usually done by volunteers from local clubs. Archery clubs also helped to raise funds for the war effort. An insurance company in Milwaukee put on a variety show which used local bowmen to put on a demonstration of their skills and the power of hunting arrows. It was reported to be a great success and netted over 3,000 (1942) dollars.
Some of the bowhunting luminaries of the day also did their part. A late-war copy of Archery Magazine mentions that the famous Howard Hill visited the Santa Ana Army Air base, putting on what was called "a superb exhibition of trick and snap shooting" for the enjoyment of the enlisted men.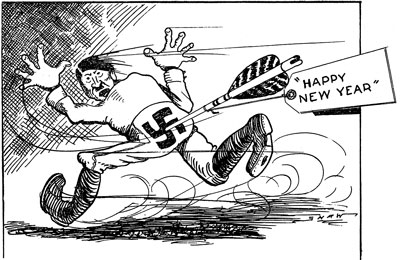 Archery magazines continued to reflect the conflict throughout its course. The July, 1942 issue of Bowman Review features an American flag on the cover, and letters to the editor always ended with the Morse code …- V for victory. Cartoons started to appear in various archery magazines of Axis leaders being skewered by arrows, and field courses began using likenesses of Hitler and Hirohito on their target butts (scores of 9 for the eyes, 3 for face hits and 1 for uniform and ears).
One can find no evidence from contemporary writings that World War II put a damper on the growth of archery during that period other than making travel more difficult due to gas and tire rationing. And considering the number of tournaments held and hunting adventures recorded, even those challenges seem to have had minimal effect on archery and bowhunting.
What the war did do is to bring the archery fraternity closer together through projects to help with the defense effort. It also gave countless young men at training camps and convalescent hospitals their first contact with bows and arrows, and sowed the seeds for the bumper crop of archers that arose after the war.