I grew up hunting gray squirrels in the backwoods of Northern New Jersey, and to this day I look forward to squirrel season every year. Here in Ohio, our season opens a month before deer season, so it's a fun way to get outside and practice with my bow.
For years I would repeat the same two squirrel recipes over and over—fried squirrel or squirrel stew. I can't say that either of them was amazing, but they made a decent meal. A few years ago, I decided that if I were going to continue small game hunting, I would need to come up with a few new recipes delicious enough to make me look forward to stocking my freezer with bushy-tailed critters.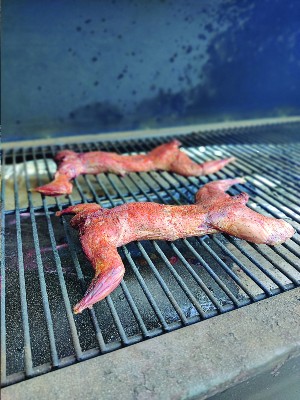 After a bit of research and adding a few changes to make the recipe mine, I managed to put together a wonderful pulled squirrel BBQ that is tender, juicy, and flavorful.
If you aren't a squirrel hunter, this is your wake-up call. They are not only fun to hunt but good to eat! Plus, hunting them will help you brush up on your shooting.
If you own a pellet grill or smoker, that is what I recommend using to cook the squirrels. However, you can use your oven as well and the instructions are the same. You won't get the smoky flavor, but the squirrels will still be tender.
Squirrel Nachos
2-4 whole gray squirrels, cleaned and skinned

Your favorite BBQ dry rub

4 cups broth

Bourbon (optional)

BBQ sauce

1 large white onion (optional)

White corn tortilla chips

2 cups shredded cheddar cheese
You will also need a large aluminum pan, a baking sheet, and aluminum foil.
Wash your squirrels thoroughly, making sure you remove any dirt, grass, or hair that may have stuck to them while skinning.
Pat them dry and liberally apply your favorite dry rub. Whatever you like to put on ribs will work perfectly, but in a pinch you can just dust them with some salt, pepper, paprika, and garlic powder.
Preheat your grill to 250°F. Place the squirrels directly on the grate (if using an oven, you'll want to place them on a baking sheet) and let them cook for one hour.
Remove the squirrels from the heat. They will look rather unappetizing at this point but just stick with me.
If you're a fan of onions, slice a large white onion and layer it in the bottom of your aluminum pan. Add 4 cups of broth and put the squirrels on top. I also like to add a splash of bourbon or whiskey for good measure, but it's definitely optional. Cover the pan with foil and curl the foil around the edges to make it airtight.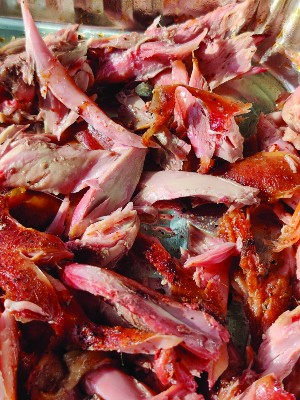 Put it back on the grill for another two hours.
Once you take it off the grill, crank the heat up to 350°F and let it preheat.
Upon opening the foil, beware of the steam! It will be extremely hot. The squirrel should be fall-off-the-bone tender, and the onions will be caramelized.
Allow the squirrels to cool for a few minutes, then discard any remaining liquid in the bottom of the pan. Remove the onions if you added them and use two forks to gently pull the meat from the squirrel. It should shred easily and leave you with nothing but bones. The ribs I usually do by hand as forks tend to pull the tiny bones off with the meat.
Toss the shredded squirrel with a few tablespoons of BBQ sauce and set aside.
Line your baking sheet with aluminum foil. Layer your tortilla chips and top with shredded cheddar cheese. At this point, I like to drizzle BBQ sauce and queso over the cheddar. Lastly, add the shredded squirrel. Put the pan on the grill for 5 minutes or until the cheese is melted. Serve with sour cream, guacamole, and pico de gallo.
This recipe also works well with rabbit! You'll just need to add a half hour when placing them directly on the grill, and a half hour in the aluminum pan. Everything else is the same. If you end up with leftovers, the meat does freeze well, or you can make some killer sandwiches the next day.