When it comes to hunting, I've always been a fan of packing light. There's no point in carrying a full pack around the woods if you're never going to use half of what's in it.
My packs vary depending on what game I'm hunting; turkey hunting has always been the easiest to pack for, in my opinion. I usually stick to DIY hunts close to home here in Ohio. Many of my hunts are on public lands, or small tracts of private land I've gotten permission to hunt. Turkey season here tends to be fairly warm, so there is no need to pack layers. On the contrary, you'll want room in your pack to shed layers as the day warms.
Unlike hunting out west, there is little chance you'll get caught in a snowstorm or stuck on a mountain. Quite honestly, I can't imagine getting lost in the woods here in Ohio. My pack is a day pack, not meant for camping overnight or spending days at a time in the field. Here's what my pack consists of on any given day of Ohio turkey season: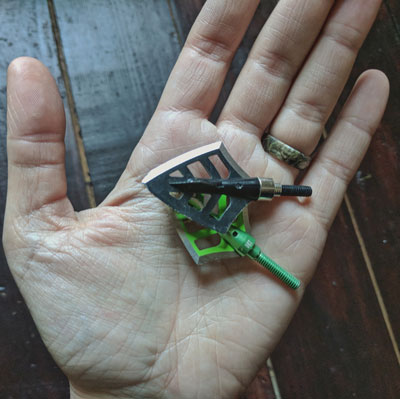 1. Waterproof box. I use this to hold hunting licenses, private property permission slips, some paper towels, pens, Band-Aids, Ziploc bags and extra broadheads. A waterproof container is something I will always have in my pack, no matter what I'm hunting. It's also a great way to store some matches, money, your ID, or a small first aid kit.
2. A folding knife. This one holds sentimental value as it was a birthday gift when I turned 11. I have used it to field dress and skin every game animal I've taken since then.
3. A camo hat with a brim. I'm not a hat person but after the sun comes up I usually wear it to help hide my face.
4. Camo face shield/neck gaiter. I particularly like these on chilly mornings or when I have to go to work after hunting and don't want to bother with face paint.
5. Face paint. On particularly warm hunts, I prefer face paint over a face mask. I've learned over the years that it pays to wear either one or the other when turkey hunting. Turkeys can easily pick out the glow of your face in the dark woods.
6. Range finder. Not something I use very often, as I like my turkeys so close I can see the whites of their eyes so to speak. But, if time allows I range a few spots once I'm set up. With a traditional bow it can help me figure out the farthest shot I'm comfortable with.
7. Measuring tape. I like to measure beard and spurs in the field. I got a Gobbler Gauge a few years ago; a small plastic tube shaped like a shotgun shell that had a spur measuring system built in, as well as a tape measure. It's only about 3″ long and it weighs next to nothing. Plus the bright color makes it difficult to lose.
8. Headlamp or flashlight. I seldom use this, but like to have it in case of emergency.
9. Portable phone charger. I don't use my phone a lot in the woods unless I fill a tag…and then I tend to use up the battery fairly quickly by taking photos and videos. As most of my hunts are solo, I like to take precautions and ensure I can always call someone if needed.
10. Phone holder with a clip on it. This may seem a bit silly, but when it comes to taking photos with a self-timer this is a life saver. I can clip it on a branch or small sapling and set up in front of it for photos.
11. Rope and a carabiner clip. Both make it easier to pack/carry a turkey out if you've walked in a few miles, or if you want to hang the turkey up for photos.
12. Water bottle and Life Straw. The amount of water I bring will vary depending on how long I plan on hunting. The first month of Ohio turkey season you can only hunt half a day so I don't usually run out of water. The Life Straw is something I bring along just in case, as I've been stuck without water on a bowfishing trip and never want to have that problem again. I highly recommend this product to any hunter.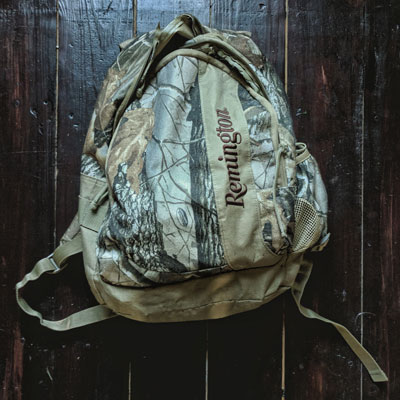 13. Turkey calls…a variety. The reason for carrying these is self explanatory.
14. Extra shooting glove. I've lost and/or forgotten several in the past few years, so always make sure I bring an extra along on a hunt.
15. Extra bowstring. I have yet to need one, but it's better to be safe than sorry.
16. Granola bar or some sort of snack. If you've hiked a ways in, it's nice to have something to snack on to give you another burst of energy.
17. Turkey feather for good luck. So far it's seemed to work.
My pack itself is nothing special; I bought it over 10 years ago and it's held up fairly well. It's large enough to serve as a small game bag, but not large enough to be overkill.
All of these items together don't weigh much, and don't take up a lot of room. If you're carrying a heavy pack, it should be because you filled a tag.