Time in a tree stand is time well spent. There is perhaps no better way to really take in everything nature has to offer. Hiking a mountain ridge to glass for elk at dawn is hard to beat. So is sitting in a duck blind and conversing between flights. But I have never felt as much a part of nature as I have when sitting in a tree stand. And how is it that even though you barely move a muscle one feels like work has been done after spending dawn to dusk in one. It's as if the act of perching oneself high above the forest floor brings out the best virtues of a hunter-patience, determination, reflection- a total communion with the outdoors.
To the avid whitetail hunter the tree stand can be as trusty a companion as their favorite recurve or longbow. Like the bow a tree stand can seem to possess as much good fortune as any other hunting tool. My first one was a Loc-On, the classic original. I still use it. It is as valuable to me as is my Fred Bear Kodiak Magnum. Like my bow it has the signs of being well used yet well cared for. It has seen much in its time-more than I have while it sat unattended between hunting weekends. It is as much at home strapped to the trunk of a bald cypress draped in Spanish moss as it is nestled among cottonwoods along a western river bottom. This tree stand has been a part of my hunting journey. Still in good working order some changes have occurred. The quiet carpet eventually rotted off and had to be replaced. The seat cloth has had to be reinforced with heavy duty fabric but it still accommodates my 195 lb frame. Like the smooth worn areas of the riser on my Kodiak, the frame of the Loc On has its smooth worn parts. But the frame remains as solid as ever. I hope it continues to give me more reliable days afield as well as the next generation of hunters in my family.
This tree stand also serves as a time machine of sorts. Everytime I climb up and strap into it I can be immediately transported back to another place in time. When I was 19, still young and not too smart, I was in a hurry to get on the stand as many young men tend to be and felt I could get by without a safety belt. Not having slept much the night before I soon started to drift off. Who knows how much time had passed after I nodded off but the next time I opened my eyes I was laying on the ground feeling the wind knocked out of me. Over to my side lay my bow and arrow. Miraculously the bow was not broken and even more fortuitous the arrow was not protruding from my body. I never disrespected the tree stand again by not climbing in without a safety belt.
Seeing my first bobcat from the tree stand is one of the most memorable times I've had on it. It was a warm, calm Louisiana afternoon and the sun shone down gently through the mix of hardwoods and cypress. Palmettos blanketed the bottomland floor except for a few breaks near my stand. I could hear wood duck bleats echo from a hidden slough a couple of hundred yards away. While combing the trees with my glass I heard the strangest sound. It sounded like a bird squawking in a high pitched tone. Looking in the direction of the sound I saw it followed by a diminutive spotted feline not making a sound other than that. The bobcat came into the break, stopped and let out the high pitched squawk and pivoted his head immediately in my direction. He knew something was out of place and that was me. Even though he was only two feet on the paw and maybe 20 pounds the look he gave me was distinctively disdainful and arrogant. Arrogant because he walked a few feet further along climbing up onto a fallen tree and lay out like a house cat. I couldn't help but think he'd maybe just finished gorging himself on a wood duck or a big swamp cottontail. The next time I hunted my stand he was there again! He had staked his claim and wasn't going anywhere. Respectfully I let him have his space and moved my stand to another location. I hadn't seen any deer in that spot anyway and just knowing he was around made the woods wilder.
I have arrowed and missed deer from the stand as well. I always felt the stand lucky because the first season I had it I arrowed a deer from it. It was opening weekend of bow season in southwest Mississippi and the weather was warm as it tends to be. The stand was hung in a medium sized oak between the base of a ridge and small creek bottom just behind camp. Deer moved through it fairly often. Some people say shooting a doe with archery tackle is easy compared to a buck and they don't get all flustered. I'm not one of them. For all I knew that doe could have been a half ton bull moose the way my heart started beating upon sighting her. The shot set up couldn't get much better at only 15 yards away as she crossed in front of my stand. Somehow I managed to hold it together as I drew and loosed the arrow. It happened so fast I wasn't sure if I hit her or not. I watched her run off to the creek and drop down out of sight. Upon checking my arrow there was no doubt I hit her. I picked up the blood trail and went maybe 75 yards where she had quickly gone down in the middle of the creek.
Years later with over a decade of bowhunting behind me, I sat in the same tree stand nestled well off the ground in a sturdy cottonwood not far from the Jefferson River near my home in southwest Montana. As I sat there I thought how ironic it was that the water flowing by not far away eventually made its way near the swamps and bottomlands along the southern reaches of the Mississippi where I once hunted in this very stand. It was a comfortably cool and sunny October afternoon. Deep in thought after an hour on the stand I heard the tell tale crunching of dry leaves behind me. I eased my eyes in that direction to see two does heading my way. She was following a dry creek bed snaking through the cottonwoods. It had been a while since drawing down on a whitetail and just like that first doe my heart was once again pounding. It's good to know the excitement level is still the same. If that ever ceases I may as well not hunt anymore. She was busy with her head down feeding and I was able to get to my feet slow and easy. I estimated her to be about 17 yards away. Up close and personal just like the first time. For whatever reason, I could not get my trembling body under control. Then finally after a few deep breaths I regained composure. Again it rarely happens often but I had a perfect shot set up and at close range. Never take anything for granted. At the shot I watched the arrow strike the ground directly under her and she bounded off into the nearest briar thicket unscathed where her escape route lay. Letting out a deep breath I waited a few minutes to see if any more deer might happen by. Stranger things happen and by this time in the p.m. deer continue to move through the area making their way to nearby alfalfa fields.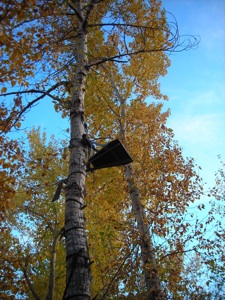 Alas no deer happened by for the next half hour and I always want to make absolutely sure of my shot whether it was a hit or a miss. I made a good mental note of where the doe had been standing when I shot. Upon walking up to where I thought the arrow was I couldn't find the fluorescent yellow fletching protruding from the ground. Then glancing over about five feet away I saw the top quarter section of the arrow with the fletching lying on the ground and broken off from the rest of the arrow. I found the rest of it embedded in the ground near where the doe was standing. Best I could tell I missed her by inches shooting underneath her. Her hindquarters snapped off the top end of the arrow as she bounded away. There was not a trace of blood on the shaft or on the ground.
I looked back up at my tree stand and shook my head. Sorry buddy. Maybe tomorrow. Dusk was closing in and the tree stand was silhouetted against a beautiful fall sky from its perch in the cottonwoods. Just knowing I'd be back on it first thing in the morning was enough to make up for the miss. And now I had a broken arrow with a story to tell. Hopefully I'll be sitting in this same stand somewhere in some tree years from now and be instantly taken back to this moment. That's what a tree stand is good for.
Author Bio
Matt Wemple resides in Three Forks, MT with his wife Lisa, their black lab, and two mini- terrier mutts. When not hunting or fishing he is either writing or reading about it. In addition to Traditional Bowhunter, his work has also appeared in Bugle and Montana Sporting Journal.