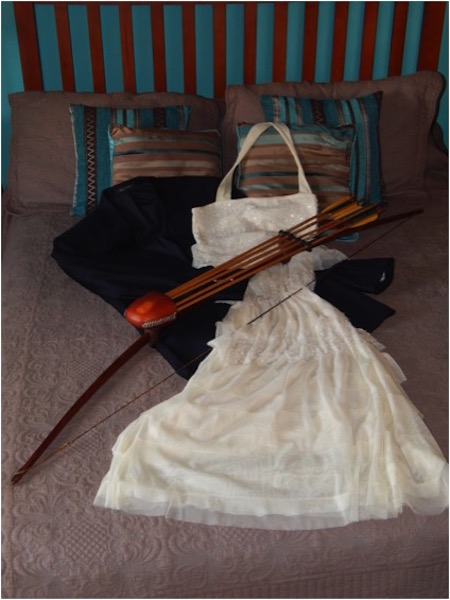 I'm married to John…and with him comes his passion: archery and hunting.
When we started this adventure together, nobody told me about the kind of life I would have with him. For example:

My kitchen is often taken because he has "something" to do on the stove such as: coloring feathers, straightening an arrow shaft or making his magic and stinky glue. This normally happens just before dinnertime, when I have to cook.


The garage is always taken because he has his "atelier" there, so the poor car sleeps in the street.


The decorations of the house should be from the nature.


Maria, our 2 years old baby, plays with bows and arrows (without sharp points, luckily) and is learning to shoot before she knows how to run correctly.




Without considering the several Bibles, the book rack is filled with books about hunting, native Indians, bow and arrow history, bow and arrow catalogs, how to make bows and arrows, battles with bows and arrows…


We can't go shopping to malls or stay in the supermarket too long because he needs the combination of grass and fresh air to be happy.
Don't take this in a wrong way: I love John. I would choose him again…but I really think I should have made him sign a pre-nuptial contract that included some of these points:

From time to time, the man should wear something other than camouflage clothes or buckskins (at least on Sundays to go to church, and NEVER to parties).



Cotton clothes are great, but polyester doesn't need to be ironed. Think about that!


Meat, potatoes and fresh fruit are not the only acceptable foods.


You don't need to carry the huge camouflage backpack everywhere you go. Pants pockets are sufficient for most normal people. The knives, first aid kit, glue, extra clothes, rain coat, wet tissues, polar neck scarf, stone hammer, nails, special metal cup, mini stove, etc. can stay home when you go to look for the kids at the school. Sometimes you can just go out with your keys and the Bible!



Music being played at low volume is also great, and much more relaxing.
The easy point about being married to John is to organize his birthday party:

The archer hunter and his tribe (friends from archery club) eat pizza or hamburgers. We don't need to prepare any sophisticated food.


The archer hunter and his tribe drink beer, juice or water: products from nature. No don't need to buy any expensive wine or champagne because they are not appreciated.


The cake always has to have an arrow as a decoration…or camouflage.



The birthday presents should be something brown, green or camouflage.


Tools and knives are also appreciated as gifts: apparently he keeps on enjoying tools when he receives them, even if the has more than 100 of the same.
It's not easy to be married to John. I guess every archer/hunter wife has the same kind of troubles, but I will never change him. My archer/hunter leads the family and raises our three girls in the respect of God's laws, the love of nature and the need to find solutions by ourselves. What else can I ask? Maybe…wear some blue jeans from time to time?