Kifaru International continues to keep the market on its toes by consistently releasing new, and innovative backpack models. Case in point: the new for 2020, Stryker Cargo Panel. According to Kifaru's President, Aron Snyder: "As of now, the Stryker backpack is the most versatile offering we've ever brought to market. It can be used for multi-day hunts, packing tree stands or ground blinds, and is perfect as a load-hauling day pack."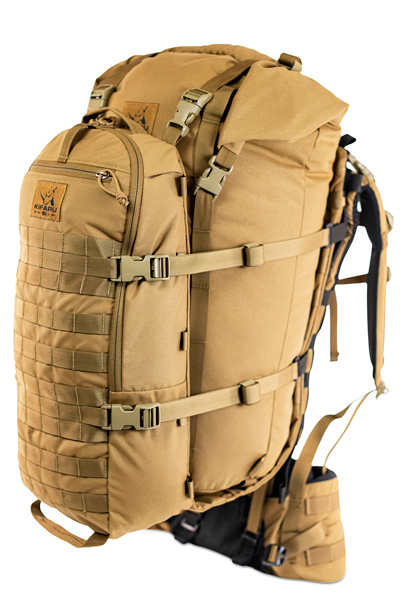 At first glance, it appears to be a very simple, 1,800 ci/29L day pack that's mounted to Kifaru's renowned, load hauling Duplex frame. But really, it's an advancement of their earlier cargo panel packs, that were designed to carry very heavy and awkward loads. In this case, the day pack configuration is just a bonus. A very welcomed bonus. The outside of the pack features a plethora of PALS webbing that are designed to work with any of Kifaru's accessory pockets. This will help customize your organizing needs, and ensure that you head into the field with all of the essentials within easy reach. The 1,800 ci bag is designed to be loosened from its connection at the rear of the frame, and then moved outward and reattached to allow access to the load sling. This not only gives the Stryker the ability to haul heavy and unorthodox loads; but it also enables the transformation from streamlined day pack, to multi-day capability, with the addition of Kifaru's 3,700 ci Camp Bag (or any other duffle-style bag) compressed between the main bag and frame.
Are you primarily a whitetail hunter that occasionally likes to venture outside the wire and head West? Are you a Western hunter, who may find yourself engaging in a variety of hunts, that include single day, and multi-day excursions? Do you ever find the need to transport tree stands, ground blinds, or any other kind of load that falls into the awkward, or unorthodox category? Well, if you've answered yes to any of those questions…you'll want to take a hard look at the new Stryker Cargo Panel, from Kifaru.
Spec sheet:
Dimensions of pack: 21" / 53 cm H x 11" /28 cm W x 4.5" / 11.4 cm D
Volume: 1,800 ci / 29 L
Fabric: 500d DWR coated Cordura
Weight of pack without compression straps: 1.56 lbs. / .7 kg
Weight of pack with compression straps: 2.56 lbs. / 1.16 kg
Complete weight of pack with Duplex Lite frame: 5.56 lbs.
Overall cargo dimensions: 48.5" / 123 cm L x 11" / 28 cm W
Frame Panel dimensions: 16.5" / 42 cm L x 11" / 28 cm W (slot pocket for tripods, trekking poles, or arrows)
Cradle dimensions: 11" / 28 cm x 11" / 28 cm
Pack dimensions: 21" / 53 cm H x 11" / 28 cm W x 4.5" / 11.4 cm D
 Pack internal features:
Hydration sleeve with hang tab
Dual hose ports
Chamber pocket
Pack external features:
Slot pocket with key ring
Multiple grab handles
Multiple tab loops for compression straps
Ample PALS webbing on the pack and frame panel allows for the addition of external pockets
Price, bag only: $220 (Coyote Brown, Wolf Gray, Ranger Green), $250 (Multicam, Highlander)
Price w/ frame: $570 (Duplex Lite frame w/ solid color pack options)