Back around 2005 was when I first took the plunge into bowhunting. Unbeknownst to me, I also became a "traditional archery nerd" at the same time. My father shot a Bear recurve back in his bowhunting days, so of course, I gravitated toward anything adorned with the Bear Archery logo, especially vintage gear. Looking for a hunting bow, I managed to save up enough money for an '80s era Kodiak recurve, but never did commit to spending money on any of the old Bear clamp-on quivers. I did find some online that were in excellent condition, but the sellers always wanted "brand new" prices. I just couldn't convince myself to throw down the cash for something that I was buying more for field use, than something purely for nostalgia or collectability alone.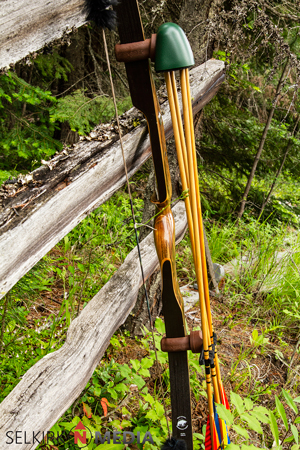 Thankfully that conundrum has been solved! All it took was Bear Archery enthusiast and accomplished bowhunter, Chris Parrino, to have the same thoughts on the matter and actually do something about it. Say hello to the "Grayling" quiver, made by the fine folks at Selway Archery Products. Like I mentioned before, Chris Parrino had the idea of a modern version of the iconic Bear quiver, but wanted something with an improved design. He first had to work out the licensing details with the crew at Bear Archery, and then the work began. The hood utilizes a durable and impact resistant kydex blend, but otherwise was kept to the original Bear specs. For the meat and potatoes of the quiver, he couldn't think of any better design than the quivers from Selway that he'd been using for years. And now, thanks to one passionate bowhunter, the collaboration of an iconic archery company, and one equally respected quiver company, archers like me can have their cake and eat it too!
These beautiful quivers all sport the "Grayling Green" hood, but come with components in either black or brown to better match the limbs of your favorite Bear recurve or longbow. For mounting options, you can choose between slide-on ($112), strap-on ($122), or side mount style ($132). Gripper capacity options are between 3, 4, or 5 arrows, and are interchangeable between right and left hand.
You can purchase these Grayling quivers either directly from Selway Archery Products, or from respected dealers like 3Rivers Archery, The Footed Shaft, and Lost Nation Archery. Whomever you decide to hand your hard-earned money to, be sure to let them know that your friends at Traditional Bowhunter Magazine sent you!