Experience will tell that you that something as simple as a good cup of coffee, can be the difference between "surviving" and thriving while battling the elements. And just because you choose to hunt with simple equipment, enjoy getting away from the trailhead and roughing it, doesn't mean that you have to suffer by drinking terrible coffee.
Let me introduce you to Dark Timber Coffee Company.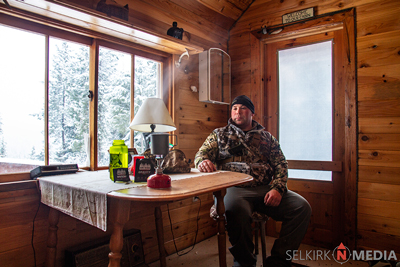 DTCC arrived on the scene in early 2017 as the first hunter-driven coffee company to ever enter the market. And during a recent phone conversation with founder and master roaster Tony Burlison, I asked him if they had a mission statement, or mantra that they went by. After a thoughtful pause, he replied, "All that I can say…is that Dark Timber Coffee is not a hunting industry fad. It's what we do, who we are, what we'll always be. We won't change!" Hunting is so intertwined with their DNA, that they likely are also the first coffee company ever to partner with the non-profit 2% For Conservation. You'll notice that all of the DTCC packaging wears the 2% For Conservation business member badge, which carries the slogan "We give back!"
Being somewhat of a coffee snob, I've always carried some form of instant coffee in my backcountry kit. Until recently, I had thought that Starbucks Via was as good as it gets for a quick and easy coffee fix. But then, after seeing some of DTCC's hunter-centric social media posts, I decided to give them a shot and was very pleased that I did. Since then, I've been using their whole bean coffee regularly, as well as their "Vapor" instant mocha, and "Gravity" pour-over coffee packs. If I really need a pick-me-up while out on the mountain, I'll brew up a Gravity pack, and then add it in while I'm mixing up a Vapor pack on my backpacking stove. I love it!
Being the aforementioned "coffee snob", one aspect of the company that I appreciate very much is that they roast in small batches and exhibit extreme attention to detail with their roasting methods. While this might lengthen their order fulfillment times a touch (I usually have my orders in hand within 10-12 days), it does guarantee the freshest and most consistent batch-to-batch product possible. If you try one of their products once and love it…you will love it just as much the next time, and every other time as you did the first. I've had bad luck with other companies who didn't follow this strategy, and often have ended up frustrated that I bought a 5lb bag of coffee that either didn't taste the same as before, or even worse, was over-roasted and tasted like garbage. Dark Timber has things in the consistency department nailed.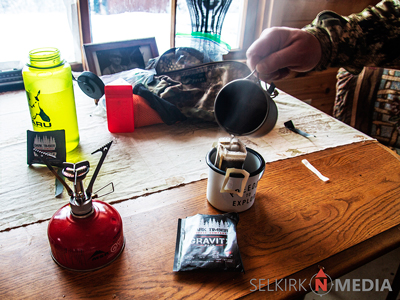 DTCC offers three different bagged coffee blends, in three different sizes (12 oz, 16 oz and 5lb) and in your choice of grind (whole bean, auto-drip, pour-over, French press, and espresso). Being a lover of dark roast coffee, and being told that their Double Barrel blend is the darkest that they offer, I've been a little slow to try the rest of their lineup. I've tried them all except for the Timberline blend, and so far, love the G4 and Double Barrel blends for their own unique characteristics…leaning towards the latter as my favorite. Be that as it may, I do plan to order some of the Timberline blend very soon!
Do yourself a favor and check out Dark Timber Coffee Company. You can enjoy excellent coffee, while feeling good about supporting a pro-hunting company that gives back, both a portion of their profits and time to conservation efforts.