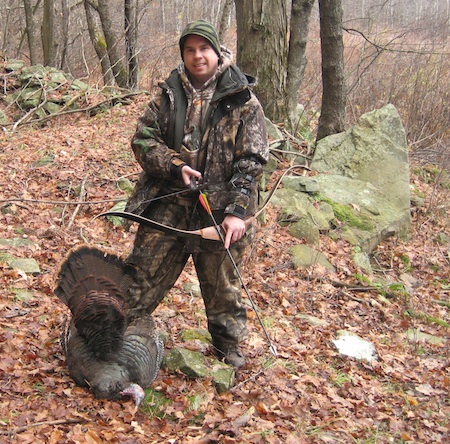 It upsets me when hunters around my age, 30 years old, don't go hunting because they "don't have time." The thing that bothers me most is that almost every one of them hunts with their father when they do hunt. These guys have forgotten that their fathers didn't blow them off when they were boys and wanted to go hunting. The fathers of these young men were bogged down at work, had deadlines to meet, and had lots of things to do, but they made it a priority to take their kid hunting and pass on the traditions that they hold dear. So why is it so easy for their sons, who are now taking on the patriarch role and walking in the old man's shoes (working and starting families), to put their Dads, and the traditions they were taught, at the bottom of their priority list?
When looking at this I have a slightly different perspective than most. I grew up in the projects of New York City, and my parents were divorced when I was young. Soon after the divorce my father met someone else and moved to the suburbs of New Jersey. A handful of times each year he would come by to take my brother and I to spend the weekend at his new house. It was pretty boring at this house in New Jersey, and my brother and I soon wanted our father to buy a Nintendo for us. As cheap as he was, that wasn't going to happen, but he did give us an old recurve bow. Knowing him, he had probably found it in the garbage or paid pennies for it at some yard sale, but we shot that bow until our fingers were raw and bloody, then we sat around, got bored, and shot some more. My father saw that I had taken a liking to the bow, and he would tell me stories about how he and his friends would bow hunt when he was younger. Of course, after hearing this I would relentlessly, year after year, ask him to take me hunting, but whenever I asked he would make up some lame excuses to explain why he couldn't take me that year. My father came around less and less, and soon my little private fresh air excursions ended at about the age of 14 when he stopped calling or coming by at all.
When I was 22 years old I met my wife. We dated on and off for a few years, and when things began to get serious her father Tony, and brother Frank, (who is a year younger than me) invited me to go hunting whitetails with them. They lent me some old gear, brought me to the farm where they hunt, and off we went. As we walked through the woods they pointed out rubs, scrapes, turkey scratches, bedding areas, and everything else that can be found in the woods. At 25 years old this was the first time I was in the woods, and the first time I had ever seen these signs left by deer and turkeys. It actually was the first time I ever heard of such things. As we scouted and hunted that season, what impressed me was not my future father-in-law's knowledge of the woods and animals, but my future brother-in-law's knowledge. Frank is only a year younger than me, and he also grew up in New York City, but at 24 years old he had vast of knowledge of the woods, how the animals were moving, where they were bedding down, what, when and where they were eating, and so on. It was obvious that his father had spent a lot of time with him, and Tony had successfully passed his knowledge of hunting and woodsmanship to his son. Not only had Tony developed an excellent hunter, and passed on a strong sense of pride in the tradition of hunting to his son, but he had also created a very strong bond by doing so, and instilled a passion that they can pursue together.
After that first hunting season I was hooked. I had a great time with Tony and Frank, and I knew hunting was a skill that I would have to perfect and pursue for the rest of my life. As I enthusiastically talked to other guys I worked with, I was surprised to find out how many of them were hunters. After long-winded conversations it seemed most of these guys, when they did hunt, hunted with their fathers. Although all of them had great memories and experiences, only a few of them still hunted. Ironically, most of the guys who didn't hunt any more spewed the same lame excuses my father gave me, "I don't have the time," "Work is crazy," "I will try to make it up there next year," and so on. None of these guys gave any thought to the idea that their father didn't give them these lame excuses when they were boys and wanted to go hunting. They never stopped to think about how important it was to their old man that they continued, and passed on, the traditions that were so important to him, and his fathers before him. It never crossed their minds how much their dads invested in them. They didn't think about how their fathers weren't asking them year after year to go hunting because they needed to harvest that monster buck, but because they want to ensure that sacred father and son traditions were continued, preserved, and passed down to the next generation. Most of all, the old man wants to hunt with his son because he loves being with his children, and those times are good, when the guys are all hunting together as a family.
John Amsterdam is a 30 year old New York City Firefighter who has been hunting with his father-in-law and brother-in-law for the past five years. He uses a 55# Bear Grizzly.