I sat in the cool morning, thinking back to the twenty-plus years ago when in this very spot there had been fifteen hens and three gobblers released to start re-stocking in our area. It had been a struggle at first, protecting and encouraging their population growth, but now they were well populated in our county. My mind wandered to the Indians who lived in the river bottoms at the mouth of Turkey Creek and how it received its' name many years ago. The story went that an early settler was about to shoot a white turkey when a Native American Indian shot it first. The settler was able to ease away and thus it was referred to as Turkey Creek thereafter.
I was focusing on all the early morning sounds, listening intently for the first boss gobbler to announce his presence to an awakening world. My ears strained, and in the distance I could hear the rumble of hooves pounding, coming towards my set-up. At first, I thought my mind had wandered a bit much (thundering hooves–buffalo?). I was hunting in a building blind (a converted salt shed that I would pull from pasture to pasture as needed), located in a field with a turkey decoy out front. A herd of young black angus were very curious about the decoy as they would thunder up, surround the decoy and then run away. As entertaining as this was, opening morning of my hunt wasn't the time for a show.
I was reluctant to leave because this was a proven site for seeing birds and they were near. I figured that sooner or later, the cattle would grow weary. The investigation runs continued. Between their trips, I had a gobbler come by with a hen "spittin' and a drummin'" but it never came into view. I continued hop-scotching from blind to blind as the week progressed, trying to pattern a gobbler. It seemed that I would always hear them right where I had been the day before.
The fifth morning I moved to an old field with a pop-up blind and sat up on a slight rise. My decoy could be seen one hundred yards each way at a funnel of higher weeds that was left there to make a pinch point. Hopefully, this would encourage any turkey traveling through to walk in front of me.
After positioning my blind and hearing gobblers on three sides of me, I realized that I hadn't used my brain setting up because the morning sun was shining brightly through my two open windows. Thus, rather than having a less than ideal ambush, I decided to move. I dreaded this move but I was not happy, so I gave a quick peek around, gathered my gear (chair, bow, cat quiver), stood up on the inside and picked up the blind. I then moved ten yards to the other side, only stopping to reach out a window and spin my decoy around. Finally, I was happy as I was now on the dark side. I grinned to myself thinking of how it must have looked like the Elmer Fudd cartoon where he was always trying to sneak up on Buggs Bunny.
I continued to hear gobbling up until 10 a.m. or so. Nothing responded to my occasional yelps. I was reading and slowly being cooked in my blind when I suddenly heard a purr close by. Trading magazine for bow, I was ready. The first thing I saw was a hen's head and I was just pleased to have a turkey close. However, as she stepped out and turned, I realized she was sporting a beard. I had just a few seconds to decide whether or not to shoot as she began to walk by my second window. In Kentucky, this is a rare but legal opportunity. In the twinkle of an eye I saw green fletching enter her mid-body and she went about ten feet. I had taken my trophy with my recurve and an old green Bear razor head. I was thrilled, but after a moment, questioned myself about taking a hen in the spring, as my nature is to be conservative. I reminded myself there was a sound population of turkey in my area and last fall I had trapped two bobcats that had no doubt been feasting on them. All things considered, I felt good about my prize and proceeded with the fun of taking pictures without being rushed by rain or darkness (which usually is the case).

The hen weighed fourteen pounds with a 7.5 inch beard. I really love bow hunting turkeys because I look at all bow-killed turkeys as trophies. I hadn't turned loose an arrow at game since last September (a big jake from the old salt house) and I really had the itch to have an opportunity. My practice consists of shooting from my blinds at no more than 10 yards. I like shooting at turkey targets and the best dollar value for me is to buy the cheap turkey decoys. I separate them at the seams, use some Great Stuff® foam to fill and stiffen them up, and then attach them to a small cube target.

Another trick I feel helps is to take a scrap piece of plywood and cut a hole out to match my shooting window in my portable blind. I use a hinge and attach a leg to prop it up. I then practice shooting through the hole while I'm sitting down. Enough of this and back to the hunt.
After twelve hunts and no gobbler in front of my blind but birds in the area, it was time to re-think my plan. The birds seemed to pay no attention whatsoever to my calling and I had tried all my calls. I was really doubting my calling ability even though my homemade slate had several dates written on it. All week I had been listening to Mark Baker sing, try, try again (from a CD I had won in a bucket raffle at the P.B.S. meeting in Nashville). I needed a refresher course so I went back to read The Last Hurrah by Neil D. Cost and decided I must go back to Turkey Hunting 101, go to the bird and set up and follow the basic advice in calling.
I had been hunting close (easy) in the fields but that technique sure wasn't getting it done on gobblers this spring. This was the last morning that I would be able to hunt. I started a little extra early so I knew I could be in position, as I felt confident of the roost area. I did my best "who cooks for you" owl hoot and a gobbler thundered back in the darkness. He was closer than I figured he'd be, which caused a slight problem due to the steep area. The only place I could set up was on the old logging road I was traveling. I would have to set up closer than I wanted at a fork in the road. I quickly popped up my blind, placed my decoy at eight yards, and got into my blind. I arranged all my calls, my chair, extra arrow, bow and got everything just right. I let the area calm for about fifteen minutes or so and tried to "go by the book" with very soft calls from my homemade slate/corncob striker call.
My gobbler was hot and thundered at anything that made a noise in the area. I tried to keep him interested and was feeling really good about this until I heard some very soft calling in the trees near me. Then I realized I had some stiff competition. I decided to step up my game some with a fly down with my old hat and leaf scratching and soft clucks. This really tore the old gobbler up and shortly afterwards I could hear him fly down. He began "spitting and drumming" in the road just out of sight about twenty five yards away.
I was ready, knowing the best thing I could do was nothing and just wait it out. Suddenly, over the steep hill in front of my decoy, I heard three very coarse "clucks" and saw a second gobbler's head come into view and slowly step into the log road. I was sure, but couldn't see a beard, as the big jake walked by the first window of my blind. I had a few seconds to think while he was in a blind spot and decided that if I saw a beard I would go with the saying, "a bird in the hand is worth two in the bush." The gobbler then stepped into view and I saw the proof I needed. At eight yards, I sent the old razorhead on it's way. I quickly got a satisfying adrenaline rush as fletching disappeared perfectly behind it's wing butt. I am sure you readers will understand the emotion of working hard for a quality shot, doing it right and also the feeling of blowing a dunk shot. In a flash he was gone out of my vision, but he was pointed up the log road and ran right at the boss in his dying run. I got out of the blind and witnessed quite a show.
The boss wasn't showing any compassion for my jake as he whooped him good. I guess he felt extra tough to do a knock out in one round because I waved and yelled at him and he gobbled back at me. I stood there as he slowly walked away, continuing to gobble. I couldn't help but smile as I wondered which of us should tag the jake. I retrieved my slightly frazzled bird and found my lucky arrow that had scored twice. I gathered my gear and was on my way before 8 a.m. As I came out of the woods, I paused for a moment overlooking the old Indian fields and wondered if there was an understanding smile somewhere looking down on me.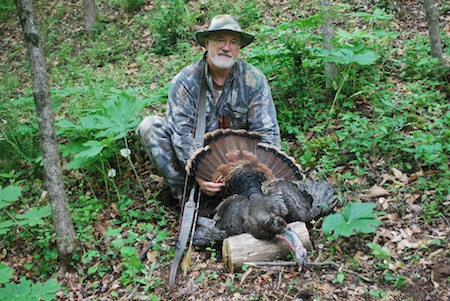 My turkey weighed in at seventeen pounds, and by that afternoon the dark meat was cooking in the crock-pot. I let it simmer for three to four hours, until it fell off the bone, and I made a few dumplings in the broth. This will make you rear back and loosen your belt.
Another great hunting tip: If there is ever a season on Black Angus, you might try using a hen decoy!
Jim Mullins resides in Jackson, KY. What time is not spent working, he enjoys making native American flutes, turkey calls and trapping. He has loved traditional archery since, as a child, an old friend gave him a fiberglass Shakespeare recurve. Little did he know what a fire he had started!
Equipment Note: Jim hunts with a 57 lb, Black Widow MAII , Bear razorheads and Easton Legacy 2020s.
Sidebar: Kentucky had a 2010 Spring Turkey harvest of 36,097 with only .8% female and 379 checked in as archery. In my home county of Breathitt, there were 350 total and 3 archery. The 2010 spring season was April 17th-May 9th, and fall season September 4th-January 17th.
For more details, please check out Kentucky Department of Fish and Wildlife's website at: http://fw.ky.gov . Don't overlook Kentucky's elk quota hunts–and if I ever draw a tag, you will be sure to hear from me!!