The saying, "Don't judge a book by its cover" definitely applies to the South Texas brush country. At first glance it doesn't look like anything could survive in this dusty, dry, cactus-choked wasteland. It doesn't get much better on the second or third glance! However, for this Midwestern traditional bowhunter, I would soon learn that the gnarly tangle of scrub held more for me than just thorns and prickly pear needles.
My 13-year old son Drew and I traveled with four friends to South Texas–near Laredo–for a combination hog and javelina hunt in March of 2011. I had been looking forward to the hunt, but Drew absolutely couldn't wait to go once the plans were made. Spring break finally arrived and we packed up for a long, but entertaining, 24 hour drive from Southeast Indiana to the arid brush country.
Once we arrived, we were greeted by warm temperatures and blue skies; a nice change from the long winter that was refusing to give up its icy grip back home. We took a tour of the 3500 acre ranch that we would be hunting and immediately saw lots of whitetails, javelina, rabbits and quail. Everyone was filled with anticipation for the next morning's hunt and we were looking forward to the next several days. Back at the bunkhouse, a converted construction trailer that we shared with two pleasant Honduran ranch hands, we laid out our plans. Everyone would hunt different areas of the ranch. Drew and I would hunt together, with him being in either a tower stand overlooking an intersection of two dirt roads or stalking on one of the many senderos.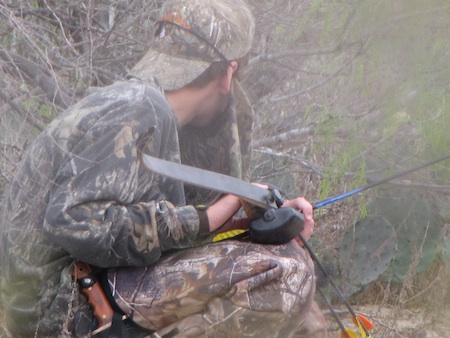 During our time in the brush, I couldn't get over just how thick and inhospitable this country was! It was beautiful in its own right, but everything that grows has thorns, spikes or needles capable of inflicting pain–and lots of it! We quickly learned that tweezers and a magnifying glass were necessities for impromptu cactus needle removal surgery! Add in the hot winds and soaring daytime temperatures, along with the constant dust, and it made for some tough hunting. However, the sheer number of animals more than made up for the rough conditions. Our entire group was into javelina the whole trip, but our main quarry, wild hogs, were few and far between. Our thinking is that the recent dry conditions and lack of easy food had caused the hogs to move to greener pastures, but the quantity of javies more than made up for the lack of pork. Everyone had several stalks and plenty of shot opportunities, some more successful than others.
As much as I had hoped to take my first javelina, I was more interested in seeing Drew get an opportunity. He had several close calls, but we hadn't been able to put everything together. Then, just as luck would have it, his chance came on the last day of our hunt. We had just met up with one of our buddies to help him try and recover a javelina he had arrowed earlier that morning. As we topped a rise along a dirt road, a lone javie was feeding away from us about 150 yards out. The constant breeze was perfect–blowing in our face–and the soft, powdery dirt made for an ideal stalk. I told Drew to grab his bow and see if he could cut the distance between us and the javelina. Each time the javie fed or walked away from us, Drew would trot forward, gaining precious ground with each step. As Drew cut the distance and got closer, we could see him switch into predator mode. His steps were softer, almost tip toeing and cat-like. He was now taking his time and watching his every move along with his quarry's. We stood back and watched the cat and mouse game go on from a distance.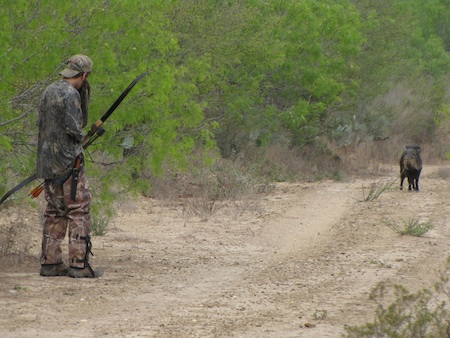 Suddenly, the javie turned unexpectedly towards Drew and then entered the heavy scrub. My heart sank for Drew because I thought his chance had passed him by. But he kept on stalking with his focus now looking toward the tangle of brush. Drew froze, and even from my long vantage point I could see his arm start to tense. He raised his recurve, and once he hit full draw the arrow was on its way. I could tell from his actions that it was a good hit. We hustled up to Drew and he re-played the shot for us and explained where the javie had been and how it reacted to the shot. Drew was certain that it was a lethal hit and in no time, Drew's young eyes had found blood. We gave the animal some time and then the rest of our group arrived to help locate Drew's javelina. The terrain was incredibly thick and the thorns and cactus needles made for a difficult track. Try as we might, we were unable to locate the javelina.
We took a break for lunch and then Drew and I started our search again later that afternoon. We retraced our steps and Drew was able to find some more sign. He was convinced of his shot and knew the javie was lying in the brush. Drew continued to look for blood and I started fighting my way through the thorns, looking under every piece of vegetation in the area. It was tough tracking and the heat was starting to takes its toll on both of us. Just as I was about to throw in the towel, I thought I saw what looked like a tiny hoof sticking out of some brush. Closer examination showed the hoof attached to a javelina leg! I yelled for Drew and he knew from the excitement in my voice that we had found his prize! Drew bulldozed his way through the brush to claim his javelina. After much hugging and congratulations, we pulled the little skunk pig from the brush out to the road. Drew's shot had been perfect and the Magnus took out both lungs and exited in front of the off shoulder. As I snapped photos of Drew and his trophy, a huge sense of pride overwhelmed me and the smile on Drew's face said it all.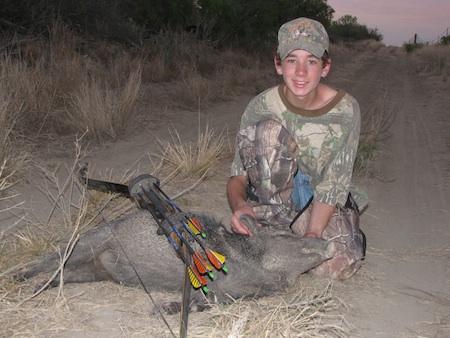 Back at the ranch, the rest of our group congratulated Drew and there was plenty of back slapping and story telling. As I sat back and watched the other guys congratulate my son, time seemed to slow down and I realized my boy was quickly becoming a young man. He stood a little taller and his chest seemed a little broader. I was extremely honored and proud to have been there to share that moment with my son. As we loaded up the next morning to head home and I looked out over the vast brush country, I realized that the tangle of thorns and needles held more than just game, it now held a lifelong memory for Drew and I, and one that I hope we can repeat many times over.