G. Fred Asbell, is well-known for the books he's written on instinctive shooting and stalking or still-hunting, and for his shooting school held every spring at Black Widow Bows in Missouri. He also served as President of the Pope and Young Club for many years. Here are a few books that influenced him over the years.
If the author sells the book directly, the photo will link to the author's website or email. Some of these books are available from your favorite archery supply store, or by doing an internet search for the author. Some may be available as e-books at archerylibrary.com and some are just impossible to find.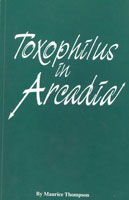 Toxophilus in Arcadia
by Maurice Thompson
This book, per se, was never completed by Thompson. It has been edited and is only, to my knowledge, available from Cliff Huntington; author, archery historian and southern gentleman. It is a first person account of camping and bow shooting shortly after the civil war in the mountains of northern Georgia. It is much like The Witchery of Archery, the first american authored book on shooting the bow and arrow. The Thompson boys hunted birds and sold their skins to museums, etc. I read this small book cover to cover at least once each year for the last several years. Be sure you get a copy.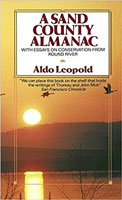 A Sand County Almanac
by Aldo Leopold
I would like to think a copy of this wonderfully written book is in every outdoorsman's library. This is the bible of conservation in America. Leopold is recognized as the father of modern conservation. Leopold was (he died while fighting a grass fire in 1948) a tremendously gifted writer. Much of what he says in this book is still being used, word for word, by the outdoor and conservation community.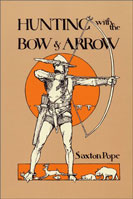 Hunting With the Bow and Arrow
by Saxton Pope
This book begins with the story of Ishi, considered the last wild indian in America, and follows on with Dr. Saxton Pope and Art Young's experience/life with Ishi and his effect on them and on modern bowhunting. Saxton Pope, a gifted writer, walks us through their becoming some of our first bowhunters, the making of the equipment, and the in-depth experimentation and study that went into establishing so much of what today's bowhunter/archers accept as common knowledge. I've read this book a half dozen times and each time I marvel at where this all started and how one man, Ishi, could be given credit for all that we love in traditional archery today. I acquired my first longbow after reading it the first time. I have worn out, lost, and lent out many copies of this book.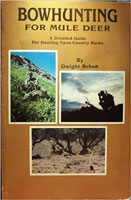 Bowhunting for Mule Deer
by Dwight Schuh
Schuh is a compound shooter, although he wrote this book when he was still hunting some with a recurve, but the book is not about equipment. It is about bowhunting mule deer, mostly in the high desert mountains of the west. It is one of the most complete books I know about mule deer, and the depth of information is better than anything I have read. I bowhunted mule deer hard for many year and I read this book cover to cover every time before I set out, and then daily all through the hunt. There's not a better book about bowhunting deer available.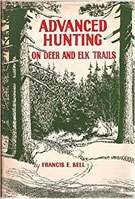 Advanced Hunting on Deer and Elk Trails
by Francis E. Sell
This was one of my first hunting books. It was written in 1954. It's not about bowhunting, but rather about still-hunting in the wilds of the northwest, and it was the first time I'd read about moving quietly, trail watching, and taking big game in their beds. Sell was a common man, an outdoor writer, but never a big name. He wrote about quiet clothing and footwear, and trail watching before I heard anyone else saying those things. You'll enjoy it if you can find a copy.