After 12 hours in the truck it felt good to get out and stretch my legs. I had made it back to Southwest Nebraska for the third year now. I was once again in the pursuit of a spring turkey. Along with me were three of my good friends from work. They were also in pursuit of the elusive spring turkey, but were using shotguns. I often got sideways looks from them as they looked over my recurve bow…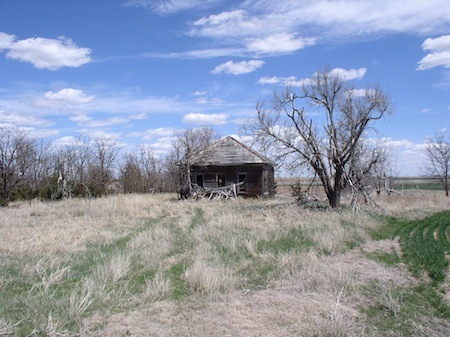 For two years I had made the trek from Chicago to Nebraska. My mother's side of the family is from the North Platte area, and I was hunting on land that has been in the family for over one hundred years. My grandmother is quite proud of that. In fact, she shared an article with me that was written about our family and their land. It seems it is rare in Nebraska for land to stay in a family for that long.
After talking with my grandmother on several occasions I decided that on this trip I would make a point of tracking down the home where she grew up. She told me that it was still standing, and that they were considered one of the richer farmers in the area at that time because they had electricity. To hear her talk and tell her stories boggled, my mind. I was born in 1976; I hardly remember a black and white TV set. I have a hard time wrapping my mind around the idea of not having a light switch or a faucet that works when you simply turn it on.
Whether I was able to kill a turkey or not, I was going to take one of the days and visit a few sites she had told me about. I wanted to see her house, her late husband's grave, the park where they met, and get to know the area where they grew up.
After meeting the land manager he was able to give me some directions. They went something like this: "Go south on 83 for about 8.3 miles. Make a left and go east about 2.6 miles. At the barn turn north and go 6.7 miles, then go back east for another 2.8 miles. Go over a creek and you should find her house on the left side of the road." Well, there are many barns in Nebraska, and the area we were in was quite dry. I saw quite a bit of the country before I found her home.
As I stepped out of the truck I heard the wind blowing and nothing else. The sun was warm and the air was dry. I couldn't help but feel alone, yet I could feel the pull of my heart towards the home in front of me. As I drew closer I could hear, in my imagination, a little girl laughing as she played outside with her brothers and sisters. I could see my great grandfather working the farm and see my great grandmother taking care of the chores. It felt so real, yet I was the only one around.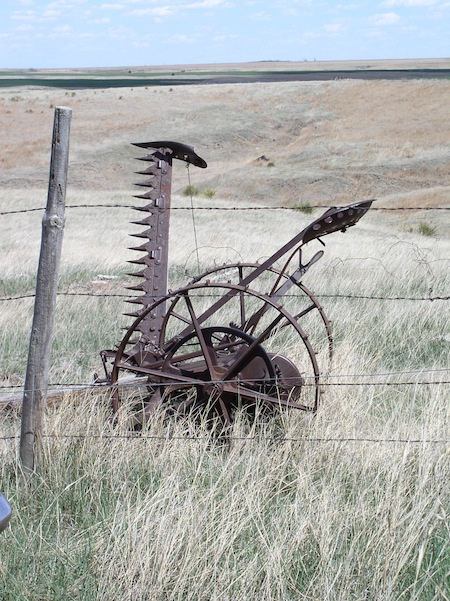 Exploring the home I found it dilapidated, windowless and looking as though it had been ransacked. I found a few remnants of the proud family who came before me. An old, rusty hand pump for water, an old shoe and a spoon were all there was to be seen. Other than that, the house was covered in dust and the attic still had some old newspapers in the rafters. I walked around for several minutes trying to imagine growing up in a place like this. The solitude, the loneliness, and the determination it must have taken to make the farm work; living through the depression, the dust bowl and raising a family in such a harsh landscape.
After a few pictures were taken I returned to the truck with a sense of fullness and peace. I had found where some of my family had come from. I was able to get a glimpse of the hardships they had to go through. I was able to feel a sliver of the uphill struggle and determination they must have had. I was now more appreciative of the gift that I had been given. I was hunting on 320 acres of Nebraska land that was in our family, and this was just one of the many parcels that were out there for me to use. Again, I couldn't wrap my mind around it.
Here I was, using this land for recreation and those who came before me had used it for survival. They had worked it, planted it, cultivated it and made it work for them. My great grandfather had been one of the men who cut the original roads in the county; the very road I was driving on. My mind was swimming with questions, pride and peace.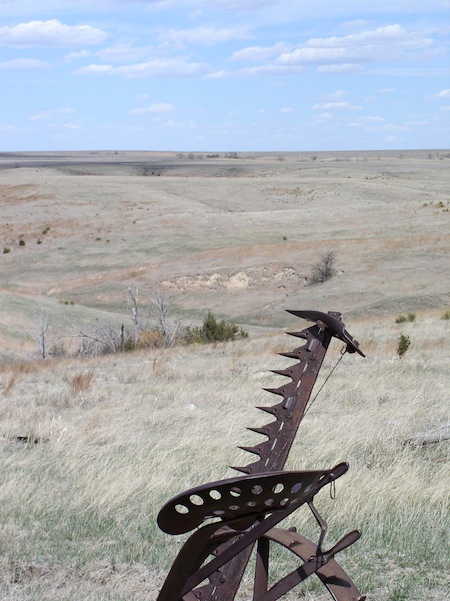 This hunting trip was very satisfying for me. You see, getting back to the beginning of the story, I had killed my first turkey, using traditional tackle to boot.
After that long trip west we took care of our errands. We unpacked at the motel and went to get groceries. Since we had chosen to drive through the night, we had time yet to get out and hunt that afternoon.
We secured the groceries in the motel room and quickly changed from traveling mode to hunting mode. As we were walking from the truck out into the country it felt so good to stretch our legs and to breathe that fresh country air. I was toting a pop-up blind with the anticipation of setting it up for the next morning's hunt. I also had my bow and a quiver full of arrows. I didn't really plan on using them yet, but carried them just in case. Once we had reached a good hill, we paused to glass and found two groups of turkeys. They were in the general area of where I had envisioned setting up my blind.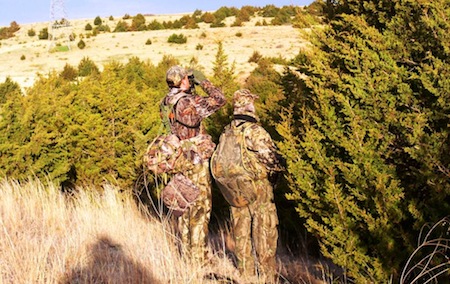 We decided to head that way and set up my blind, again, for the morning. Well, it turns out my friend Terry had a different idea. He had noted their direction of travel and wanted to get ahead of them and wait. I wondered why he was walking so fast. I had to stop him and ask what the rush was. After all, we had driven all night and I was trying to keep up. He explained what he wanted to do and said, "Drop that blind and let's go." What? You can't kill a turkey without a blind.
As we approached the area where Terry thought we needed to be, we slowly climbed to the top of the hill. We found a cedar tree to creep up behind, so as to not skyline ourselves, and gave a few yelps. We stopped and listened for a moment, but we heard no response. Terry let out a few more yelps with a diaphragm call. Still no response.
As we moved down the hill to another cedar tree to get a different viewpoint, Terry let out another few yelps. This time we got a reaction from a tom, and he was close. Terry had made it to the cedar tree and I was stuck in the open. As I turned to move toward the tree we had come from the tom gobbled again. This gave me pause and I turned to look. What I saw made me freeze.
A bright red head was cresting the rise in front of us. As his head disappeared behind a tall yucca plant I was able to kneel and get into a shooting position. Again I had to freeze as the hens he was traveling with were now cresting the hill and crossing from left to right, about 15 yards in front of me. After they passed I was able to nock an arrow and settle myself down. I saw his tail feathers shoot out and heard him spitting and drumming as he came over the crest. He was strutting right at me.
There was no way I could draw and shoot. I was kneeling between two trees, with no cover and my blind might as well have been back in Chicago. This wasn't going to happen, I thought. I watched in awe at the display that I got to see so close. The tom continued to travel my way and at about 10 yards he 'turned and started following the hens. Out of the corner of my eye I could see Terry, stiff as a telephone pole and as wide eyed as a kid on Christmas morning.
I slowly–ever so slowly–drew, reached anchor and let the string slip. I watched as my arrow flew right into the turkey's wing. The arrow buried itself up to the orange fletching and I thought it was all over. What happened next is still hard for me to comprehend. The turkey turned 180 degrees, ran, and flew off the hilltop he had just crested. I got up and ran in his direction, only to see him disappear with my arrow sticking out of him on either side. Had that really just happened?
After giving the tom about 20 minutes we started searching. We looked for about an hour and I was now completely off my high. As I headed back to the hilltop to try starting over from the point of the shot, Terry hollered, "Here he is." Terry had stopped to think it over and heard some flapping. He followed the sound and found my bird under a cedar tree trying to get up. Once again Terry had come through for me. One more arrow into the tom finally finished him, and I had my first traditional turkey. I carried him back to the truck, recovered the blind I thought I had needed, and enjoyed the moment.
The memories of that trip now hang on my wall. I had the turkey mounted and the taxidermist was able to use some of the siding from my grandmother's house. I was able to experience a little bit of those feelings of despair, and accomplishment that were felt by my ancestors. I will never forget those feelings, and I am forever grateful for the gift they have left for me and my family.
Jeremy Holden is a firefighter/paramedic in a suburb of Chicago, where he lives with his wife, son and daughter. He's been bowhunting for nine years with a recurve he made in high school, with the help of his mentor. The bow pulls 53# at 28″ and he used a homemade arrow tipped with a Wensel Woodsman broadhead to take the turkey in this article. Jeremy has hunted whitetails, turkey and pheasant with his recurve.