I am always struggling to keep my arrow on the shelf while hunting, so I came up with this nice looking arrow holder. Cut a piece of feather about 1″-1.75″ long and glue it upright to your arrow shelf as shown in the photos.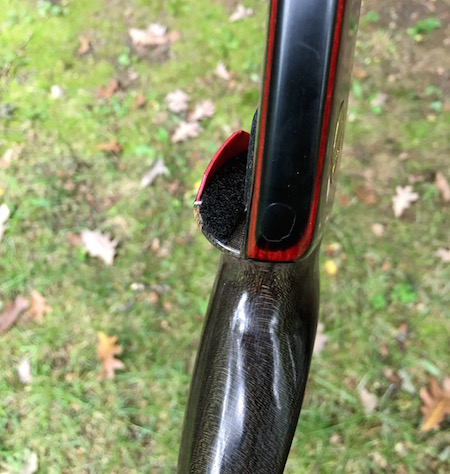 You may need to trim the shelf material slightly to make room for the feather. Attach the feather with double-sided tape or any kind of removable glue that you would use for your arrow shelf material. Place the feather on the shelf so it lies down when your arrow passes by, just like you would a feather rest. Use a right wing feather for a right-handed bow or a left wing feather for a left-handed bow, so the feather curves in toward the riser. You can waterproof the feather rest the same way you would treat your arrow fletching. One feather arrow holder should last the whole season.
Editor's Note: Chad is the owner of Drifter Traditional Archery in Pentwater, Michigan. He carries an interesting assortment of leather goods, books, field guides and much more. Thanks for the tip, Chad!