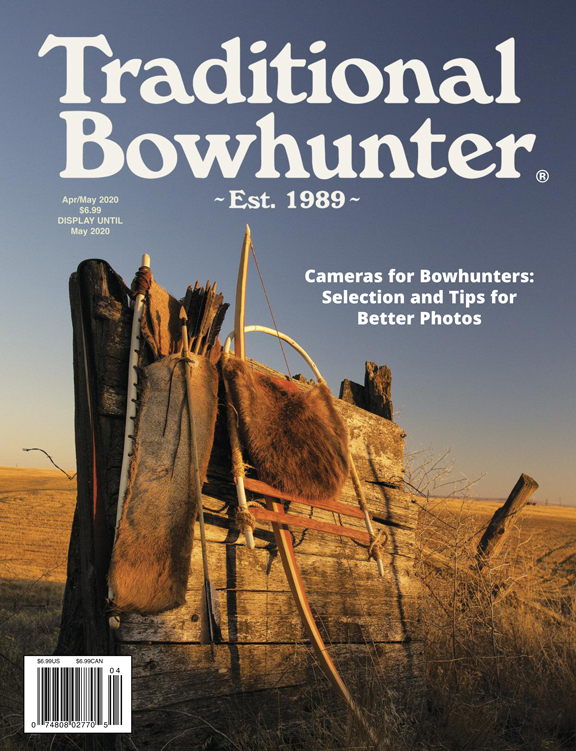 Featured Articles
A Crazy Stalker by Jeff Stonehouse
The Bugles of Spring by Chad Slagle
The Ground Game by Brian Koelzer The Waiting Game
The Hunt From Hell by G. Fred Asbell
Turkeys in Tandem by Nick Viau
Spring Bounty by E. Donnall Thomas, Jr.
Traditional Shooting by Jason R. Wesbrock The Placebo Effect
To Skin a Cat by Various Authors Cameras for Traditional Bowhunters
Interview—A Visit With Tim Mullins by Matt Green Acadian Woods Bows
Primitive Bowhunter by Aaron J. Miller A Promise Kept
The Public and Private Pig by David Tetzlaff
White Tales by Jorge L. Coppen
Traditional Archives by Herb Higgins Hunting with a Twist
Traditional Wisdom by Rick Young Saddle Hunting Explosion
Backcountry by Wayne van Zwoll Leave the Piano!
Book Reviews by David Tetzlaff Bow Building 1, Longbows by Matthias Wiltschko; War Agains the Wolf edited by Rick McIntyre
The Trailhead by John M. DeLisle Sr. The Second Hunt
Campfire Philosopher by Sterling Holbrook A Rich Man's Sport?
Three Free Articles!
Like what you see?
Buy this issue (digital only)
or subscribe below!