David Tetzlaff, our resident book reviewer, reads a lot of archery books so it was hard to pick only a few favorites.
If the author sells the book directly, the photo will link to the author's website. Some of these books are available from your favorite archery supply store, or by doing an internet search for the author. Some may be available as e-books at archerylibrary.com and some are just impossible to find.
Have Bow Will Travel
by E. Donnall Thomas, Jr.
With a deep and respectful nod to his classics (Longbows in the Far North and Longbow Country) this volume is a globe-trotting romp from Africa to Australia to the South Pacific, to his beloved Montana haunts. There is a reason Don's works appeal to both archers and those simply seeking a good adventure story—his enthusiasm for the people, places, and the game generously bleeds through every chapter in any of his books regardless of whether he is chasing Namibian kudu or Maryland nutria. When he does release a successful arrow it is often anti-climatic and perhaps even unnecessary. We've already been well fed long before he drops the string.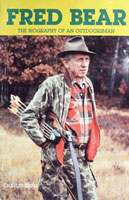 Fred Bear—Biography of an Outdoorsman
by Charles Kroll
With Bear's self-penned Field Notes the reader is gifted with over-the-shoulder hunts that he personally selected to share with his legions of admirers. Here, however, author Kroll delivers the complete Bear story from humble Pennsylvania beginnings to legend status within the sport as bowhunter, inventor/manufacturer, and television celebrity. Bear certainly shared the spotlight with his contemporaries, most notably Howard Hill, yet it was Bear's company and vision that delivered the archery tackle that recruited generations of hunting archers.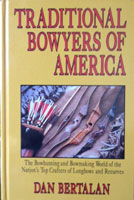 Traditional Bowyers of America 
by Dan Bertalan
The late 1980s was seen by many as a time of resurrection for traditional archery. The importance of Bertalan's book cannot be understated. He introduced hunting archers to thirty bowyers who would capably outfit them with the relative simplicity of longbows and recurves—a grassroots backlash to the ever-growing complicity of compound bows. A forward by the great Jay Massey was certainly a ringing endorsement for Bertalan's efforts.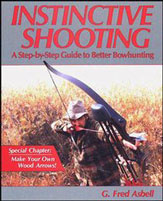 Instinctive Shooting
by G. Fred Asbell
If Dan Bertalan's book helped new shooters select a bow, Asbell was the voice who taught them how to shoot the things. Without doubt there are many methods to shoot a stickbow, all of them effective by practiced bowshooters, yet those archers who employ the natural hand/eye coordination of Asbell's teachings continue to put meat in the freezer and antlers on the wall. Two follow up volumes on the topic demonstrate that even the author continues to explore the subtle nuances of traditional bowshooting. All of the author's books conclude with several hunting stories. The patient instructor spins a good yarn, too.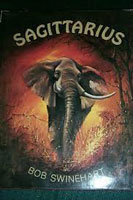 Sagittarius
by Bob Swinehart
Sagittarius is one of the most sought after volumes in archery literature. And for good reason. Swinehart was a Howard Hill protégé who hunted his way across the North American continent but is perhaps best known for his multiple African safaris, being the first archer to take the Big Five. (Texan Bill Negley would be the first to accomplish the feat without a gun back up. Both men could handle bows with 100 pound draw weights.) Most appealing is Swinehart's investment of time to delve into culture, biology, and natural history giving the reader a fully satisfying read. Hill once said Swinehart was the finest big game hunter he had ever been afield with. Sagittarius cements that high praise.
Going Trad
by David Petersen
This book simply demands repeated visits. It's got everything—hunting stories, how-to, philosophy, and just plain good advice from one of our great authors who's worth a hundred hook and bullet writers. Petersen is a hard-core, unapologetic traditionalist. The only "big tent" he camps under is the one he set up himself. Stick your nose in at your own risk. Readers may or may not agree with his stance on every issue, but you're along for the ride and can make up your mind later. Going Trad is a modern classic in the making.