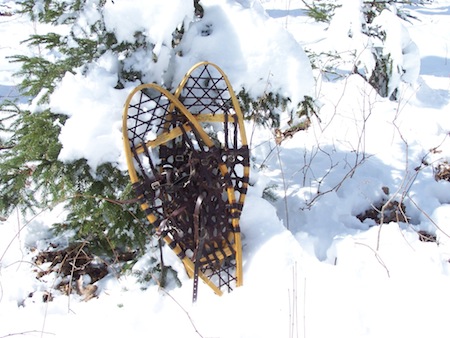 After buckling the last strap on my snowshoes, and closing the back of the truck, I start up the familiar trail to my tree stand. It's 17° and the snow creaks under each step I make. This is my first time on snowshoes this year so I take it slow. The last thing I need is a charley horse. Tree stands and charley horses are a combination for disaster.
Reaching the stand, I lean the snowshoes against a nearby tree and hook into my safety line. Carefully I make my way up the steps and reach the stand. After brushing the snow off the platform and seat, I transfer to the stand, lock in my safety strap and sit down.
Closing my eyes and listening carefully, a woodpecker can be heard tapping on a tree, and a pair of chickadees are singing nearby. The smell of the hemlock trees that surround me reminds me of Christmas. Looking down I can still see where the buck stood when I drew my bow back–but I'm not here to hunt. The late deer season is long over. It's three weeks after New York's late season, and now is the time to take down my last tree stand. Sitting here enjoying the woods I start to think of the journey that got me to this point in my life.

At 21 I killed my first deer with a 50# longbow and cedar arrows–that was 1961. (Gasoline was just over 30¢ a gallon.) My Uncle Henry had started shooting a longbow a few years earlier. When New York State opened a two-week archery-only season before the gun season he needed a hunting partner. Since I was already his fishing partner, he elected me. We hunted on the ground, as there was not much known about tree stands yet. We just kind of snuck around through the woods looking for deer Indian-style.
On one of our weekend hunts I was fortunate enough to get into a small group of deer and arrowed a button buck. Following a short blood trail, I found my deer. I thought, "Well, this isn't so hard." Looking back, I now know it was a classic case of pure luck over skill. The deer was three-quarters of a mile from camp, and never getting one before we didn't know how to get it out of the woods. Having seen a number of African hunting movies, we tied the feet of the deer together, got an 8′ limb, put it between the legs and carried it out safari-style. My shoulder hurt for a week from having the limb rub on it. It wasn't until later we found out most hunters just dragged their deer out of the woods.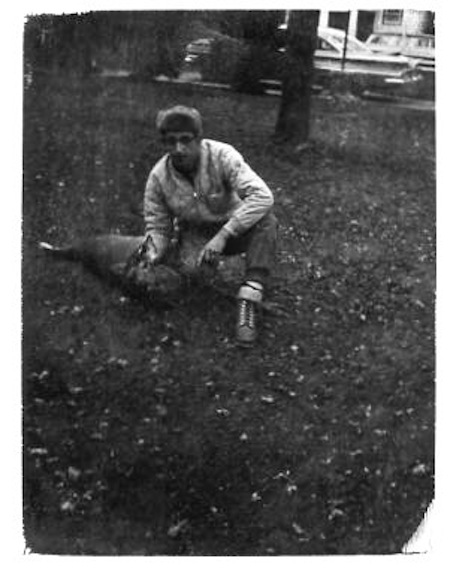 Shortly after that my uncle died from leukemia, and with that I lost my partner and my desire to go archery hunting. Most of my friends were duck hunters, and for the next fifteen years I hunted ducks. Soon the duck population was on the decline and the deer herd was on the upswing. Also, there was a new bow with wheels. Soon I had one and was back shooting arrows. I kept hunting with a compound bow until five years ago when I got a severe case of target panic to go along with tennis elbow and a bad shoulder. I was ready to give up bow hunting altogether.
I have a good friend, Greg Haskell, who has been into traditional archery all his life. He builds his own take-down bows, designs his own camo and has taken many big game animals. Over the years he had said I should try shooting a recurve, as he felt it would give me more satisfaction than the compound. Now he said, "Try shooting a recurve instinctively to overcome the target panic." It seemed to make sense, and since I was desperate, I got a 62″, 36# recurve and gave it a try. I found it easy to shoot and could do it without the target panic, but accuracy was another thing. My tendonitis and bad shoulder only allowed me to shoot about fifteen arrows twice a week, along with some moderate exercise.
Then I moved up to a 43# TradTech Pinnacle. After a year and a half, and a lot of help from Greg, I finally started to improve and gained some much needed confidence, but I will never be Howard Hill. The biggest thing was, I was starting to have more fun than I had had in a number of years.

In the Fall of 2009, just two and a half years after I started shooting the recurve, luck was on my side again and I was able to harvest a doe–one week before my wife rushed me to the hospital in the middle of the night (about wake up time to go deer hunting) for emergency gall bladder surgery. After way too much recovery time, I was chomping at the bit to start practicing and getting ready for the 2010 season. Getting the doe had my enthusiasm at an all-time high and it sure helped my confidence and shooting. As soon as the season started I settled into my routine of hunting–some mornings, some evenings as the wind and weather dictated–from one of my three permanent stands.
The weather had been warm, so the first four times out I never saw a deer, which is not unusual for my hunting area. The deer tend to hang around the homes in this suburban area where there are lots of apple trees and shrubs, plus everyone has a vegetable garden. It's not until the rut that I see much movement. Some days I'll see three or four deer and other days it's back to zero.
The morning of November 8, 2010 I sat in my stand until about 9:45 am and nothing came by, so I decided to get out my rattle bag and grunt call and give a soft series of calls. Fifteen minutes went by and nothing happened. I got them out again, but this time made it a louder series. The wait this time was not long.
Within seven or eight minutes I saw a buck coming from over my left shoulder heading in my direction. He was obviously investigating the sound of my call. It appeared he would end up just out of my range, but when he got within 40 yards he suddenly angled to his right and got to the edge of my self-imposed effective range. Then he stopped as if on my command, looking around for the fighting bucks he knew he had heard. Knowing he would not get any closer and thinking this would probably be my best chance of the season, I slowly brought my bow arm up and kept saying to myself, "Pick a spot, pick a spot."
The next thing I knew, the buck was leaping forward. When he made his second bound I could see the fletching of my arrow sticking out of his side. After about 60 yards he disappeared into the woods. I sat down and listened, but all was quiet.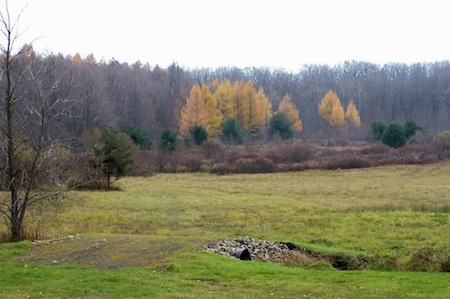 It had all taken place in less than three minutes. I started to ask myself, "Did that really happen?" But looking down at my quiver and seeing the missing arrow I knew it had. Thirty minutes later I headed down to the ground, easing over to where the buck had stood. Looking around carefully the first thing I saw was hair. The first few bounds he had taken were easy to follow with the deep hoof prints in the leaves and now I could find a few spots of blood. Thirty yards later I found my arrow with blood covering the fletching. I knew it must have been pulled through when the Magnus broadhead caught on a bush, but my high hopes of an easy recovery were soon dashed because in another 30 yards the blood trail vanished.
I made several half circles for about another 75 yards in the direction the deer had gone, but was unable to pick up any trail. Knowing the arrow had hit back just a little further than I had intended, and not wanting to bump the deer up if it had bedded, I decided to get out of the woods and return the next day. (When in doubt, back out.)
The next morning I was back in the woods, this time parking at another landowner's house, which was closer to where the buck had headed. Two hours later I was running out of optimism, and then, there he was just outside the woods in an overgrown field, steps away from where I had walked the day before. This time it was persistence, and maybe some dumb luck.
The deer had made it about 190 yards from my stand and the hit was better than I thought. It was high and had passed just under the backbone, which explained the lack of a good blood trail.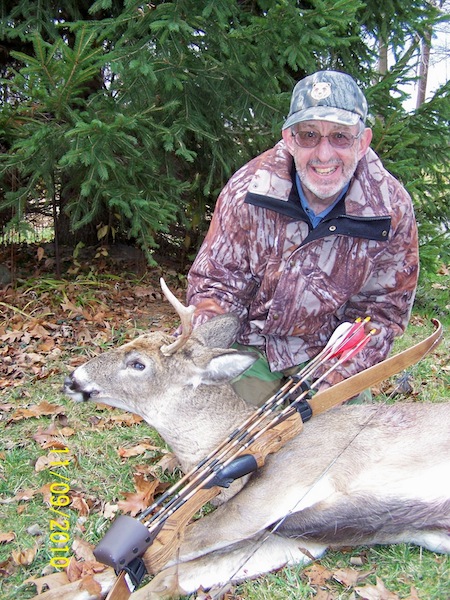 Looking back just a few years, with a bad shoulder and target panic, I thought my archery hunting days were over. But thanks to a good friend and determination, I was able to get back to traditional archery and find something that was way more enjoyable and satisfying than all my years with a compound. Now at 70 years old I'm looking forward to next season more than I ever have. It's great to be back.
David Brown lives in Blasdell, New York, a suburb of Buffalo, with his wife, Sharon. A 70 year old former restaurant manager, David has been hunting since the 1950's. Overcoming physical limitations he has returned to using a traditional bow, hopefully, giving him the ability to continue enjoying his favorite sport for years to come. David uses a TradTech bow, Magnus broadheads and Easton arrows.