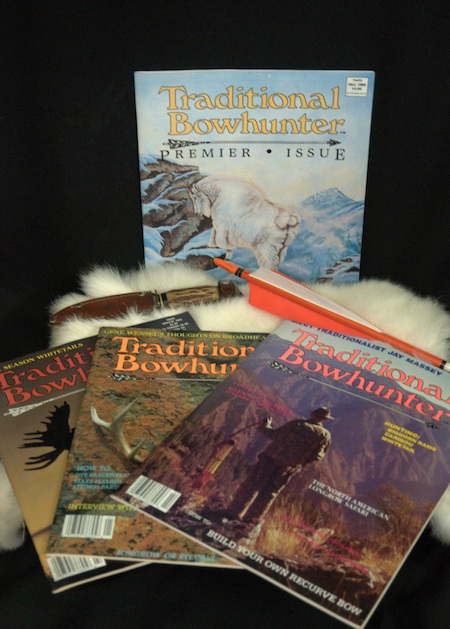 In 1989, a wonderful thing happened to the traditional archery community. A magazine was started by Mr. T.J. Conrads; it has been a huge influence in my life. Now, over twenty years later, the magazine has grown to be one of the premier archery magazines in world.
I started thinking about how much time has passed since that first issue was published, and how many events have come and gone. As I started researching it quickly became clear just how much we forget as time passes by.
Does anyone remember the Berlin Wall? It fell in November of that year. I will never forget the sight of all those people hammering and chipping away at that huge concrete wall in a symbol of freedom. Did I remember the year? Heck no.
How about Pete Rose, one of professional baseballs most recognizable figures? Rose was banned from the game of baseball in August of 1989 for allegedly gambling on the games.
And who could forget Lucille Ball from the famed I Love Lucy show? Mrs. Ball died on April 26 of 1989. Wow, how quick we forget.
All of this reminiscing started to get me thinking about those old issues of Traditional Bowhunter that were stashed down in my basement. How long had it been since I had taken the time to look through those old issues? Ten, maybe fifteen years.
I certainly feel fortunate that I have had the opportunity to acquire the whole collection of Traditional Bowhunter. It took several years and a little luck to track down each of those hard to find issues, but the efforts were well worth it. As I began to thumb through my back issues a thought came to me. I would be willing to bet that there are more than a few people out there who have not had a chance to read all of the issues. What a shame! I wondered if anyone had ever written an article on what was hidden in the pages of some of those old issues.
For a few minutes I thumbed through a few back issues and wondered how one article could be written to describe the whole contents of one issue. Maybe a brief description of each article, or just a general overview. As I continued to ponder, I picked up the Premier issue and started to read through it again. It took me back to a time more than twenty years ago.
A beautiful picture of a mountain goat in a winter setting done by artist Janis E. Wheeler is the first thing that grabs your eye. Janis was the graphic designer for the magazine until about the winter of 1992. The magazine sold on the newsstand for $3.00 an issue and a subscription would run you $11.00 a year. On the back of the issue is a full page color advertisement for Robertson Stykbow, with a beautiful scene of a father and son overlooking a beautiful mountain valley.
Flipping through the pages I noticed almost everything is in black and white except for the cover and back cover, on pages 28 and 29 is a two-page color layout of beautiful animals from Idaho. There are elk, deer, bear, and many more animals showcased with some beautiful photography.
On page 4, there are black and white photos of all the staff with their harvest. Janis Wheeler with a nice forked horned mule deer buck. Our editor T.J. with a beautiful 4 x 4 mule deer he harvested in the winter. Larry O. Fischer our advertisement manager with a scowl on his face and a nice mule deer buck. Wade L. Carstens our assistant editor with a very respectable bull elk. And to round out our staff Jonathan E. Skinner with a huge rabbit that he was able to arrow. I had a feeling right then that these folks knew and lived the hunting lifestyle.
From the very first words we read from our editor in the editor's comments it was, as it still is today, about supporting each other and our traditional values. T.J. reminded everyone that the success of the magazine depended on our support of the magazine and the businesses who advertise with them. I guess after all these years we have done a good job in our supporting role, but I don't think that would surprise anyone involved with traditional archery.
A Taste of History by Gene Wensel, is a great article about a friend of his named Jack. Gene stops in for a short visit with Jack and is shown an array of archery artifacts and can hardly believe his eyes. From an arrow Howard Hill used to shoot a stuntman in the movie Robin Hood, to a bow belonging to the Thompson brothers; what a great article. I think Gene's quote at the end of the article "it's not just a style, it's an attitude," is right on target.
The late Jay Massey wrote a very informative article entitled, Stone Points for Bow Hunting. The beginning of the article starts with a great moose hunting scene being played out. Jay takes a shot at the huge moose only to see his stone point bounce off the animal. But, true to his traditional values Jay is not afraid to admit his failures and more importantly has a never give up attitude toward the use of stone points. The article goes on to describe what makes up a good stone point: sharpness, shape and design, quality and toughness. Once again I feel so blessed to have the opportunity to reread and learn from these old issues.
For Hunter-wise Whitetails, Be Unconventional by Dan Bertalan is very cleverly written. This is a great article that provides some great unconventional tips on outsmarting the wise ol' whitetails; the ol' switcheroo, the peak-a-boo, the leap frog, and out to lunch are all great ideas. I can't remember reading about them when I first read this article years ago, but I am certainly glad to have my memory jogged and plan to incorporate these methods into my hunting this fall.
Vick Haight wrote a thrilling article about his harvest of a Shiras moose. The moose was the first moose to be harvested by a longbow hunter, big enough to be entered into the Idaho state bowhunters record book. Vick does a great job of telling his thrilling story and building it to a great climax. You really must read his article Longbow Moose.
The next article on page 20 is entitled Colorado–Goat Country? Written by Mr. Tom Tietz, the article tells a tale of hunting these majestic animals from a mountain top where you are able to see the city of Denver Colorado. This article has a special meaning to me because it has always been one of my dreams to harvest a beautiful mountain goat. The article has defiantly kept the fire within me burning. Tom had two opportunities to take a nice billy, but was unable to connect. Discouraged he was ready to give up when an unexpected third opportunity presents itself and… You will just have to get a copy for yourself.
Moonlight written by Bryan Pridgeon is a wonderfully detailed article. Bryan paints a picture through his words that you can truly see in detail. Close your eyes and you can almost see those elk in the moonlight and the temptation they present. If only it where the 1800's and Will and Maurice Thompson where there.
G. Fred Asbell is known by almost everyone within the traditional archery community and was the first person to be interviewed for the magazine. Mr. T.J. Conrads had the privilege of interviewing Fred and did a fantastic job. One thing I remember from the first time I read this article was that, "staying clean is more important than cover scents," I will never forget that lesson. Fred also talks about some of the issues the Pope and Young Club where having back then and the stand they took on those issues. In 1966 Fred had the chance to go hunting in Alaska for three months. As Fred tells T.J. "I feel I went there a little boy and came back a man." It just goes to show you, we are always learning and progressing.
Trophy Bulls at Ugashik by Doug Chase is a great article. Follow Doug and Mark on an Alaskan adventure that has it all. From planning an adventure to relating what it will take too mentally, physically and financially prepare. Doug and Mark both take record book animals and have encounters with the weather and bears that will make the hair stand up on the back of your neck. Get yourself a copy and prepare yourself for a very entertaining story.
Neil Russell wrote a nice little article called, First Elk. After a couple of near misses he is granted a third shot from the, "hunting gods," and downs his first elk, a dandy I might add. Some guys have all the luck!
The article Hunting the Land of the Sheepeaters by Mike Schlegel starts right off with action and a bit of a history lesson. This article really gives you a feel for sheep hunting. Up the mountain and down the mountain, it is a real mental and physical test for Mike and Ron. They put in many days of hard hunting. Mike finally connects on a sheep on October 21, and after 16 years the wait was finally over. Interestingly enough Ron draws a tag the next year after putting in for 17 years. Perseverance pays off!
Jerry Peterson gives us a good, "no-nonsense look" at deer calling in his article, Doe Talking Could Change the Way Deer Hunters Call Deer. Jerry's research and knowledge make sense to me. The female voice is what all the boys are looking for and Jerry gives many great tips and tricks as to which tones work best and why. If you're a deer hunter some of these tips may be just what you're looking for this next deer hunting season.
The last page of the premier issue is a short article by Dick Robertson called Now You Know. In a short question and answer section, Dick answers the questions about brace height, arrow flight and hand shock that will help any of us become better archers.
1989 was a great year; I had forgotten many things that had happened in the world and in these pages. I am grateful that I have the opportunity to reread some of these fantastic articles again. I know it is impossible to cover all the information that is contained in one magazine but it was my hope that I could provide just a glimpse of some of the amazing things you have missed. I hope you have the chance to stumble upon some of these rare back issues at flea markets, yard sales, thrift stores or maybe just an old collector that has a few extra copies lying around. The little bit of advice I do have for you would be this, "Take a few minutes out of your busy lives and look back." It's amazing what you will find!
Sidebar Tips
If you are interested in locating back issues of Traditional Bowhunter here are a few ideas that worked for me:

Contact Traditional Bowhunter to see which back issues are still available.
Look at thrift shops, yard sales, or for anyone who might know an old bowhunter.
Call me crazy, but running an ad in a newspaper or magazine works. I belong to Compton Traditional Bowhunters and they allow members one free ad per issue and that is exactly how I completed my collection. I know there are several trade papers around the country that are inexpensive to run ads in and have the potential to reach thousands.
Good luck on your paper hunt!
About the author: Patrick is a lifelong Idahoan and has been married to his wife Julie for twenty-five years. They have two grown children and two grandchildren. Patrick works as a maintenance technician for a semi-conductor plant. In their spare time Pat and Julie enjoy spending time with their family, hunting, camping and hiking the mountains around their home town of Pocatello.
Editor's Note: The Premier issue is still available in print, but the next 10 (or so) are completely sold out. Here is a link to download a list of magazines and whether they are available through TBM. This list might help you check off the issues you have so you know which issues to look for.
We offer a free classified ad section to buy, sell or trade personal items and there is a section for Back Issues. The sold out issues are also available to Premium Members in digital format.