As a traditional bowhunter who hunts a variety of seasons what's in my pack varies greatly, but the pack take into the field for my fall whitetail tree stand hunting basically falls into a pretty simple format.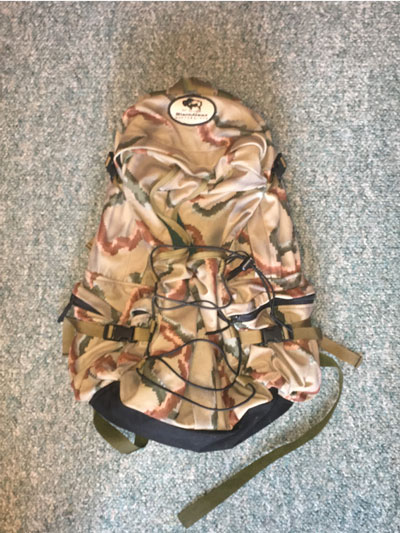 For many years my go to pack has been a Bison Gear Teton backpack that's made out of their Wolfskin material; it's quiet and has plenty of room and also has a space for a hydration bladder, if I choose to take one. This pack has served me quite well for the past ten years, but over the last couple of years I've transitioned into taking a framed pack into the field. I'm currently using a Kuiu Icon Pro 1850 with the frame attached.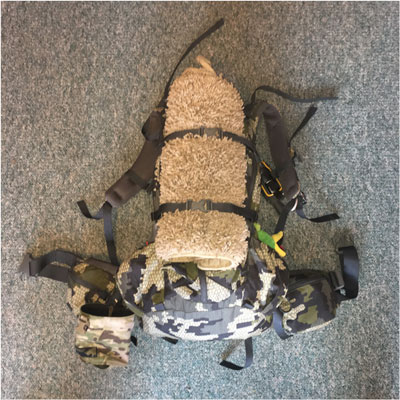 I have a rolled section of carpet strapped to the outside of my pack; I use it for changing into my hunting clothing at the back of my hunting rig, and then when I get into my treestand I place it on the platform to provide a nice soft cushion. It also helps to muffle any noise when I move, prevents my boot lugs from catching on the grate of the platform, and helps to insulate the soles of my feet as the season gets colder.
In the hip pockets of my pack I carry a pocketknife, a couple bow hanger hooks, a Clif Bar, and my compass. I also carry a Nalgene bottle in the water bottle pocket as well. My GPS is a Garmin 64s and is hooked to my right shoulder strap and hangs out of the way; I prefer this model because it is not touch screen and it is easier to use while wearing gloves. In the left lower stuff pocket I keep my scents, and in the right pocket rides my good luck charm, Slappy. He was given to me by my daughters to remember them when I'm hunting; and we certainly had an adventurous year!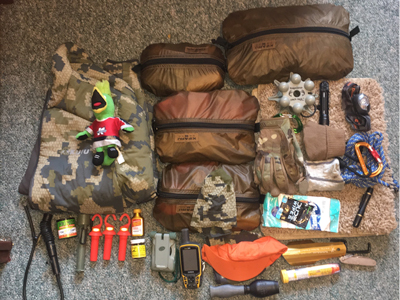 Inside my pack I've started to implement something that I picked up through backpacking; keeping different gear organized in small bags or pods for easy access. I prefer Kifaru's Ultralite pullouts due to their durability. There are four pods in my pack and the rest of the items pictured above are in the pockets of the main bag. I have a puffy coat, a pair of Mechanix gloves, a lightweight pair of merino wool gloves, fingerless wool gloves, my tree rope, a lens pen to clean my binoculars, a lightweight merino hat, a heavier soft shelled beanie, a blaze orange billed beanie that I use when dressing game, one of two Epipens, a trowel, and backcountry money (toilet paper/wipes).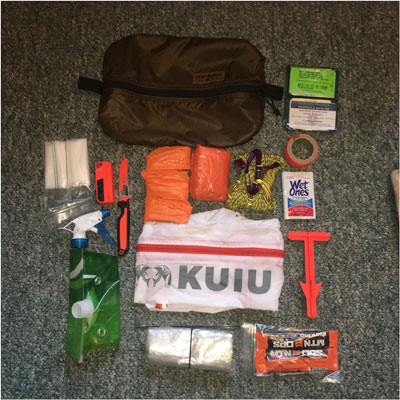 One pod I carry is a kill kit. It contains one or two of Kuiu's boned out meat bags, a Hunters Specialties butt-out tool, a replaceable blade knife (I prefer the Gerber Vital fixed blade for its ease of clean up), extra blades, a pair or two of shoulder length field dressing gloves, a couple pairs of nitrile gloves, three carabiners attached to two fifty foot lengths of utility cord (this is actually a carry over from western hunting; it can be used to make an improvised pulley system if I need to hang meat or move a larger animal), a collapsible spray bottle with premeasured citric acid for spraying down boned out meat or quarters to assist with keeping flies off, some preworkout packets (in case I'm going to debone and pack out meat), flagging tape, a couple Wet Ones for clean up, a 5'x8' sheet of polycro that I can use to set quarters on and debone meat, a couple of zip ties, and my tags.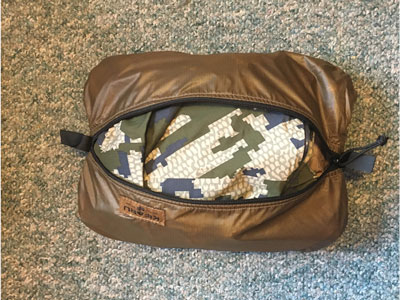 In another pod I carry my rain gear. I carry my rain gear with me at all times as it helps to break the wind on long sits, and then I am prepared for any pop up showers.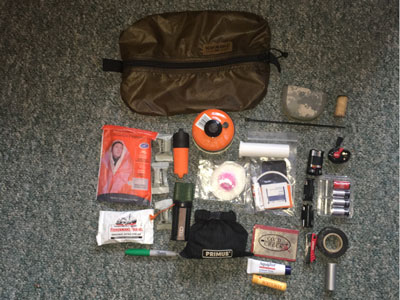 The third pod is my possibles pouch. This has the things I need to make simple gear repairs as well as emergency supplies. It contains a survival blanket, matches, a lighter, fire starter, Goretex patches, Tenacious tape, a small sewing kit, electrician's tape, a small roll of duct tape, a spare head lamp, extra batteries, extra mantles, a Gerber Dime multi tool, natural cork used for face paint, chapstick, cough drops, a Sharpie, a small diamond sharpener, a Primus Micron lantern, and a 110g isobutane cartridge.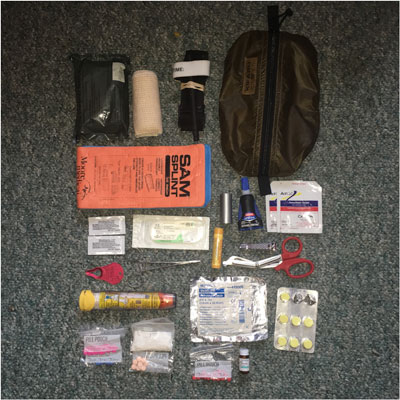 The fourth and final pod is my medical kit. As a paramedic I have a solid foundation to handle most basic to moderate emergencies in the field. In this pod I keep an Israeli bandage (this is a pressure dressing for bleeding control), an ace wrap, a C.A.T. Tourniquet, a SAM Splint, a small roll of duct tape and super glue (most lacerations can be closed with these two things), a couple small pieces of hemostatic gauze, antibiotic ointment, a suture kit and needle driver, chapstick, nail clippers, a small pair of trauma sheers, a tickout key (which is the best thing I've found for tick removal), some Vaseline gauze for chest wounds, my second Epipen, and a few other medications I or someone I run into may need. The one thing that is missing from my medical kit is the roll of Leuko tape I use for blisters; I left it with Kerri when she started developing some hot spots during her first hunt.
As the season progresses and the rut sets in I will replace certain pieces of gear in my main pack. I might add a set of rattling antlers or pack-rack, since they don't take up a lot of space. I also carry at least one grunt tube, sometimes two, and a bleat can; I've used Primos "The Can" for about fifteen years now. I also carry some liquid or gel estrus attractant. I prefer James Valley Scents when I can get my hands on them; Wallhanger and Full Rut are my favorites and have served me well. I normally use a drag for those, and put a couple scent wicks out around my stand as well.
I don't carry spare pieces for my bow or arrows in my pack as I keep my archery tacklebox in my hunting rig during the season. If I need to replace a string, a broadhead, or something along those lines, I can always go back to my rig to do that or wait until the end of my hunt.
I carry my binoculars on my chest in an enclosed harness, so they rarely see the inside of my pack. In my bino harness I carry a small cloth for quick cleaning of the glass, and a bottle of wind indicator.
For longer sits I will occasionally pack a small small stove, like a Jet Boil, and some snacks and possibly a freeze-dried meal that I can heat up while I'm out there. With this setup I will end up bringing at least a 1L Nalgene bottle and possibly fill my 3L hydration bladder as well to have water on the stand.