The December wind spiking off the Gulf of Mexico was a bitter, damp 25 degrees as we waited our turn for the pontoon boat to shuttle us over to legendary Saint Vincent Island. Thanks to the wind chill I've never been colder, since most of my hunting occurs in the heat and humidity of Florida's early bow seasons. However, on the few cold morning hunts we do have, I have picked up a few habits that have added to my overall comfort on stand or when traveling to my hunting spots. A long walk to my stand, even on a frosty morning, is likely to work up a sweat so I carry a beanie stuffed into a pocket. Putting it on is my last chore after cooling down from the walk and before settling in to await shooting light. For sweat absorption on the walk in, I just tie a bandanna around my head. On tree stand hunts, I
always carry an extra beanie. Staring 20 feet down at a dropped beanie is certainly an inconvenient start to the day. I own a number of generic knit beanies, but my go-to is an Under Armour Cold Gear piece (paired with their neck gaiter), which will keep me comfortable on stand for hours.
Before we go further, let's address that elephant in the room—my days of wearing a full head of hair are way, way back in the rearview. For me, a head cover goes far beyond pragmatic fashion statement; it's a necessity. I am fairly certain that we of little hair lose heat faster than our friends who still require their barber's services. We are also far more susceptible to the sun's damaging rays. Those are two solid reasons for always having a head cover at hand.
Prior to a Kodiak Island trip 20 years ago, I bought Cabela's MTO50 rain pants and jacket. The jacket's hood combined with a beanie made it easy to forget the wind, rain, and cold. I still have that set today and it's invaluable for chilly, rainy days. But during a warm Florida pop-up storm, not so much. As a matter of fact, any type of rain gear and hood, when the heat index screams 100 degrees, is an invitation for heat exhaustion. Years ago, my wife, Kelly, gave me a camo umbrella for Christmas. Initially, I assumed this novelty gift would have no practical use in the hunting woods. I could not have been more wrong. Our archery season is also rainy season. So, rather than enduring the sauna-like conditions of a poncho or rain gear while scouting or traveling to my stands, I just pull the umbrella from my pack.
My corrective lens experience is the opposite from that of Don Thomas. I wore contact lenses for 30 years but slowly—and very disappointingly—my eyes began rejecting them. In the field I now wear Wylie X brand prescription sunglasses with various tints. The return to eyeglasses was certainly frustrating as they are not nearly as convenient as contacts (but that being said, I know glasses have protected my eyes from branch slap while tracking feral hogs in thick cover). A ball cap would certainly keep a light rain off my glasses, but I have never quite understood wearing ball caps in hot weather. They are not very washable, and we all know the hunter who cleans all their clothes in scent-free detergent yet will wear the same favorite, sweaty ball cap back into the woods time after time. All that being said, in mild temperatures, I will wear a ball cap but always in the reversed position as the bill on this style of hat interferes with my bow string at full draw. (And that is the flexfit style of ball cap. Worn in reverse, the snapback style creates an odd tan line!) Alternatives to the ball cap are boonie and bucket hats, and several of my southern hunting friends are fond of them. Both styles shade the eyes and are washable, and their soft brims are far more bowstring friendly than other types of headwear.
For years, I was a cotton bandanna guy. Two on every hunt. One to sweat up on the walk in, which was then placed in a Zip-Lok baggie (along with the shirt I also soaked through). A clean bandanna and shirt replaced those as I settled in for the morning. Lately, however, I have found that the synthetic neck gaiters often worn by fisherman are far more comfortable and wick away sweat far better than my old cotton bandanna system. I wear one (do-rag style) on my head and a second one around my neck that I pull up to cover my ears and nose. Most fishing gaiters are not produced in hunter-friendly colors, but I have found the solid gray ones to be very effective. Last fall, hunting from a ground blind and wearing my two-gaiter system and a gray fishing shirt, a whitetail doe just a tad outside of my comfort zone stared through and then past me, and didn't spook.
David Tetzlaff
Hats have long been an important component of outdoor dress. Some (think of Fred Bear's Borsalino) even became iconic. In order to make informed decisions about headgear, it's necessary to think about what problems you want it to address. I'm going to assume that most of us aren't particularly concerned about style or appearance, although I have a few bald friends who won't allow themselves to be photographed unless they can find a hat to wear for the occasion. Here's what I think counts.
Insulation. Most experienced hunters who have spent time outdoors in cold weather appreciate a good hat's contribution to staying warm enough to be comfortable and able to hunt effectively. Because the scalp receives such a rich blood supply, 15% of body heat loss occurs through the head. If you want to stay warm, keep your head warm.
Despite all the innovations in outdoor clothing, I still think an old-fashioned stocking cap provides an excellent return for its light weight and compressibility. In contrast to the hoods that now come as standard accessories on many winter coats, a stocking cap doesn't allow cold air to circulate next to the scalp. A good hood on a heavy winter coat may actually have a higher R-value, but that won't do much good unless you can tighten it down snugly. Thick, heavy hoods can interfere with peripheral vision and make drawing a bow difficult, which shouldn't be a problem with a stocking cap. I still prefer wool for a fabric, and my all-time favorite is made from spun Australian possum fur.
Frostbite and hypothermia are two very different problems, but as temperatures drop below zero the nose and ears become especially vulnerable. Defining a "hat" as whatever you're wearing on your head, a balaclava or ski mask may be a better choice in such conditions. Sitka Gear makes a heavy-duty face mask of synthetic fiber that provides a lot of insulation to these susceptible areas as well as concealment. I wear mine a lot during the November Montana whitetail season.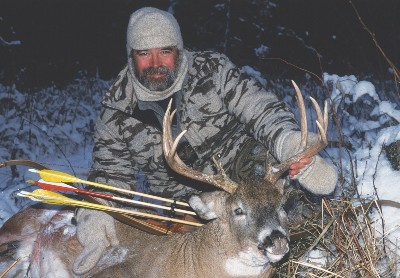 Rain protection. Those of us who still have our hair recognize how quickly rain can turn it from an asset to a liability. Hunters who wear glasses will also appreciate some protection against rain on the lenses, an important reason I switched to contacts when I was living in Alaska. These considerations make a good argument for some type of water-resistant hat, possibly including a brim.A hat to address this need may be as simple as a baseball cap, although most of those we wind up with aren't really waterproof. The hood that comes as part of most good outer rainwear now does a much better job of keeping you dry. My cheap, lightweight, surprisingly durable Frog Toggs raincoat serves me well, and easily compresses to fit into my daypack. If your head really needs protection from rain over a long period of time, such as an extended hunt in Alaska, you'll need something with heavier fabric and a design that keeps water from running down your neck. The Filson Skagit Rain Hat and the Alaskan Hardgear Rain Hat from Duluth Trading are excellent choices for these conditions.
Now for an important personal observation. I have a lot of trouble shooting a bow while wearing a brimmed hat. I find contact between string and hat brim extremely distracting and can remember several occasions in which I spooked game at close range by trying to get my hat off before I took the shot. Perhaps It's just me and my shooting style, but I would advise everyone to practice shooting with whatever hat they've decided to wear to assess this possibility before it really counts.
Concealment. We all know that hands and faces are the most common visual "tells" that get us busted when we're close to game. Those who are comfortable shooting with a billed or brimmed hat can benefit from simply tipping it down to help conceal the face. Light colored hair can be another problem. If Lori isn't wearing some kind of hat, her luxuriant natural blonde hair stands out like a beacon when she's in a tree stand or a duck blind. Although she doesn't particularly like stuffing her hair up into a goofy looking hunting hat, I've managed to convince her of its importance.
Others will certainly make choices that differ from my own, but I encourage everyone to take all of these factors into consideration when choosing their headgear.
Don Thomas
Hats—and head gear in general—have been around for thousands of years, predating the elaborate styles of ancient pharaohs in early Egypt who wore them as a status symbol of their authority. Over the centuries, hats have been worn for religious, spiritual, authoritarian, protection, glamour, and myriad other purposes. As our past bowhunting history has shown, they can also become an iconic trademark for certain individuals.
For warm weather, I prefer a baseball-style hat. Keeping the sun out of my eyes is a necessity, but many baseball hats have too long of a brim; it gets in the way of the bowstring at full draw. However, many manufacturers make small brimmed caps for bowhunters. I have one from 3Rivers Archery that I especially like. It is light, breathable, camo to help blend into the woods, and has a wire sewn into the outer edge of the brim that allows you to shape it to fit and even to bend it down if you are still hitting your string. I also like do-rags, but they do not shade your eyes in the sun as a brimmed hat does.
For many years my go-to hat was a type of Borsalino, much like the one Fred Bear wore. Some were crushable, which was handy when flying to Europe or Africa. I have since bought a Stetson felt hat that I still use much of the time. It has a short 2 3/8" brim, which not only allows me to shoot without hitting the brim with my bowstring, but also provides shade for my eyes and neck, as well as warmth on cold days. It is water repellent and prevents water from dripping down my face and neck if I am caught in a downpour, which happens more times than I care to mention. I keep it handy in my truck and it has served me well for over two decades. In addition, I always have a lightweight hooded poncho, which not only prevents me from getting soaked in an unexpected rain squall, but it also keeps my head dry, even with a hat on.
Cold weather is another area of concern when it comes to head gear. The old myth of losing 40-45% of our body heat—or more—through our heads was the result of a study performed by the U.S. military in the late 1950s and published in a survival manual. We now know that figure can be anywhere between 8-10%, or more depending on how much of our face, neck, and head is exposed to harsh elements. Proper head gear is not only comfortable in extreme weather but prevents or reduces excessive heat loss that could lead to more dire situations, such as disorientation, or worse.
For many years I used wool and fleece bomber hats, most notably those made by King of the Mountain and Sleeping Indian Designs, in extreme cold temperatures. I still have them and use them quite often on late season hunts when temperatures can get down to zero, or below. Another excellent cold weather hat I have is a wool Stormy Kromer cap. It is warm, has pull down wool ear covers, and a short brim that allows excellent eye protection from the sun, and it does not interfere with my bowstring at full draw.
One of the handiest head coverings is the watch cap, or beanie as it is often called. I have several made from synthetic material, 100% wool, or a blend of these and other materials, and always keep one in my hunting pack as an emergency head covering in cold weather. KUIU has several outstanding beanies that contain unique and proprietary materials such Nuyarn, Primeflex polyester, Toray fleece, and other materials including Merino wool beanies, which I use on my head when sleeping out in winter to keep me warm at night. I especially like the Kenai beanie, one of their warmest, which is also water resistant. KUIU also has a new Kenai Bomber hat that adds a brim—a great feature—as well as chin straps for extreme cold conditions.
One item that I use under extreme weather conditions is a balaclava. I have several, from issued military wool to fleece, and one of KUIU's that is lined and water resistant. Not only do these keep your head warm, they also cover much of your face for more concealment, as well as your neck…another place where heat can escape your body. KUIU also has a 100% Merino wool neck gaiter that doubles as a face mask and neck warmer.
As Don mentioned, hooded jackets and parkas will add a layer of protection and warmth in addition to whatever head gear you have on. However, by themselves—like hoodie sweatshirts—they must be drawn down to prevent wind and cold from circulating around your head.
There are many options for bowhunters when it comes to hats and head gear. Protecting your head, face, and neck, whether in extreme heat and sun or Arctic cold conditions, is a wise practice not only for comfort, but for your safety as well.
T.J. Conrads