I clearly remember the purchase of my first Dutch oven. I didn't borrow Dad's; he didn't loan his unless he was there to oversee its use. After he passed I inherited one of his favorite 12-inchers, but I'm still a little miffed at my uncle for getting to the patio closet ahead of me. Collecting cast iron just runs in the family. In my stable of iron I have loaners, non-loaners to be used, and collectibles (not to be used). I don't really understand it, but that is how I do it.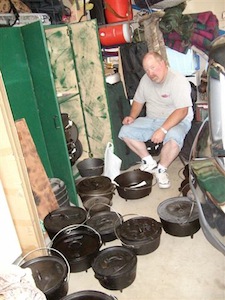 All my iron has matching metal tags attached to the lid and the well (pot). During campouts with multiple cooks, I have gone home with a lid from someone else's pot, and who knows where my lid went. The tags eliminate that confusion and I know I have all my gear. I got the tags at a trophy engraving shop. Just ask the engraver to put your initials on every tag and make two of each number. I have close to 70 sets, so this was the easiest way for me. If you only need a couple sets, the dog tag engraving machine at the pet store is also a good option. Attach the tags with wire or "S" hooks and you're all set.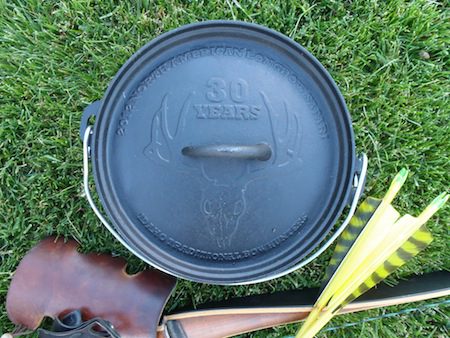 My collectibles are just that–collectible–and I just look at them. Some adorn my archery den, or various places around the house. In 2012 I purchased a 10-inch oven to commemorate the 30th Annual North American Longbow Safari. I guess I really purchased the shoot registration and got the oven for free! I needed another oven like I needed a hole in my head, but hey, it is a Dutch oven directly related to traditional bowhunting. How cool is that? I've fought off the urge to buy most of the recent National Park branded ovens, so this is it, the end, the last purchase of a collectible oven…but I did buy one more NALS oven, just because it deserves to be used in bowhunting camp! It is an illness…really!