Hunting in November during the rut often means having to hunt in cold weather. Of course, a hunter wants to spend as much time as possible in the stand at that time of the year. I have found that a piece of carpet or heavy felt placed on the platform of my stand helps to keep my feet warm. I don't know if the heat loss is due to my boots being in contact with the cold metal or exposure to the cold air, but using the carpet makes a very noticeable difference. It also helps to silence the movement of my feet.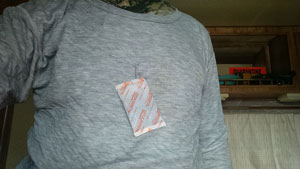 Another trick to staying warm during those all day sits in cold weather is to pin a chemical hand warmer to your second layer of clothing. When it is really cold, I use the larger body warmers; those things really give off the heat! However, do not pin chemical warmers where they contact your skin directly as they may give you a burn.
During those long, cold days in the stand, I have found that having a warm drink is surely nice. The new vacuum coffee cups work well, but there is still a significant amount of heat loss from the plastic cap. Placing a doubled wool sock over the top of the cup helps keep the liquid hot much longer.