Earlier this year I received a message from TJ saying he and Robin were unable to attend the Compton Traditional Bowhunters' 2017 Rendezvous for the first time in seventeen years. He asked that my husband, Jon, and I go in their place this year. Since I have loved going to this shoot since I was in high-school, I was happy to fill in. My husband even sacrificed a few hunting days in order to come with me. What a guy!
Compton Traditional Bowhunters partner with The Berrien Springs Sportsman's Club to put on this event. Compton board members and many volunteers put on the chili feed, novelty shoots, various kids' programs and work with vendors. The Sportsman's Club handles the shooting ranges and camping accommodations. This partnership has worked well for seventeen years now and it's one of the biggest traditional events in the country.
Follow along to see the fun things we were able to do this year at the Compton Rendezvous 2017. Unfortunately, we were unable to attend every event at this shoot, as there are so many things to do! However, we filled up our days with as much fun as we could while throwing in a little bit of work, too.
Friday
Booth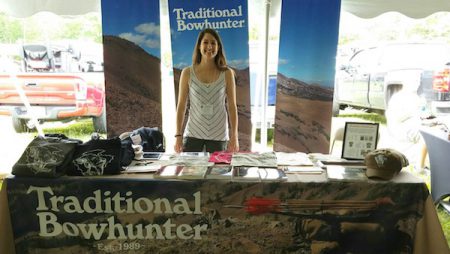 We spruced up the Traditional Bowhunter® booth a little bit this year with some new banners and a giant table cloth.
Due to flying, we have limited inventory at this event, but we try and bring something new each year. This year we had brand new shirt color options that were a huge hit! All shirt options are available on the website. Click HERE
Ladies Skillet Toss!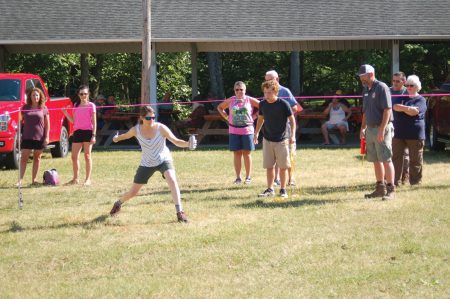 This probably doesn't need much explanation, but let me tell you first hand that throwing a skillet is quite a bit harder than it looks. It doesn't help that the "skillet" was actually a skillet shape cut from a 1″ thick piece of steel, which caused it to be deceptively heavy! There were a few rules; underhand toss only, aim toward a specified target and don't pass the red line.
Here, Gregory Kush snapped a picture of me in my third and final toss, while holding my drink. I was heckled by the crowd to toss with my drink in hand, and who am I to upset an active audience?
To my surprise, this toss got me into the first place setting, if only for a few minutes and I didn't even spill a drop!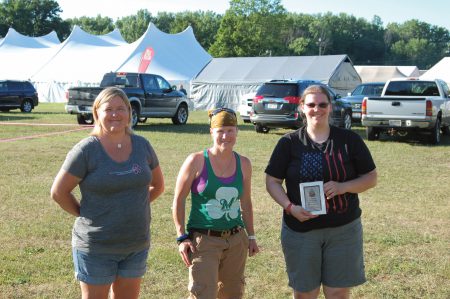 Here are the ladies who won first, second and third. The event went on for some time and a lot of people were in the chili feed line before this event was closed. There were a lot of great participants and everyone was so encouraging. Congratulations to these ladies for mastering the skillet toss!
Chili Feed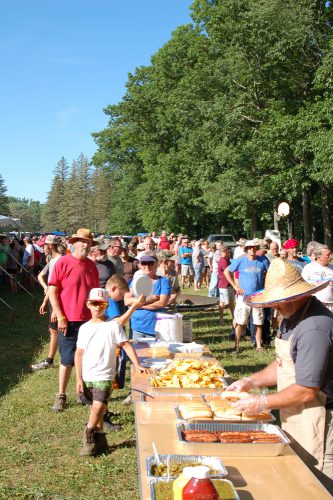 Every year the club puts on a giant chili feed for the shooters, campers and vendors. I was informed that the chili was edible this year because TJ Conrads didn't "help" anyone's chili by adding extra spices!
Here you can see just the beginning of the line for chili, nachos. and hot dogs. It was far too hot and humid for me to stick around for chili, but it sure smelled good!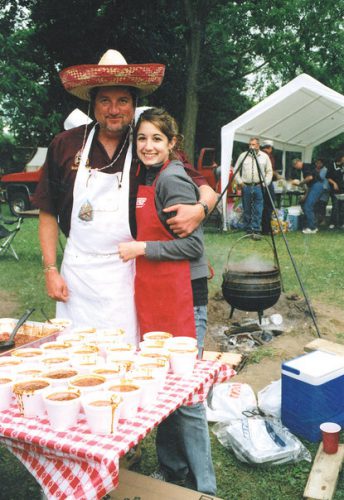 Here is an old picture of TJ and me at the chili feed dinner in 2009. This was one of the years he brought me along after college.
This has been one of my favorite pictures of TJ and I.
Camping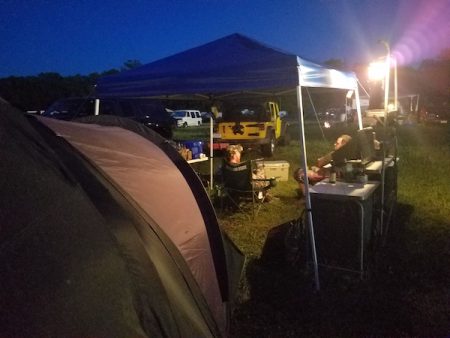 This is the camp where we hung out for our dinners and our host even delivered breakfast to our booth the next day! A lot of people love to camp at this event and there is plenty of room. I saw many large groups of campers cooking and sharing gourmet meals and entertaining the groups with great music. It really was a rendezvous atmosphere.
This was the night that I was re-introduced to fireflies. As an Idahoan who lived a long time in the Pacific Northwest, we don't have fireflies. I tried to take a picture of one to show my kids when we got home, but that did not work out as planned. Instead, we sat and visited with our good friend David Darling while he cooked for us each evening.
Saturday
Shooting the Ranges
Saturday was slow in the vendor tent, so we were able to go out and shoot a little.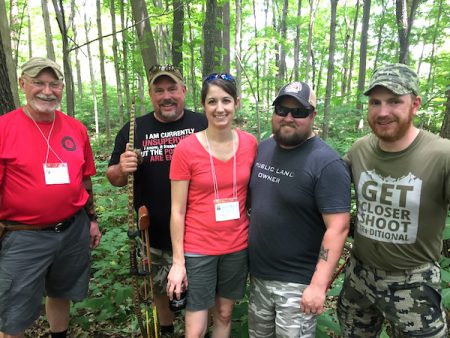 This is a group photo of us on one of the three ranges that I managed to walk through.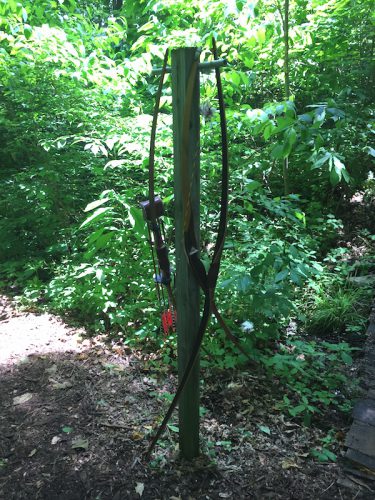 It was nice and cool in the woods while we walked the courses. The humidity is not my favorite part of Michigan, but these trails were a perfect break from the hot vendor tent.
Live Auction
Before the live auction, a 15 minute downpour began, but we were able to take cover under the tent and get a photo of our usual group. It doesn't look right without TJ and Robin Conrads there, but we tried to manage.
Left to right back: Kevin Bahr, Amy Darling, Greg Darling, David Darling, Jon Doyle.
Left to right front: Brian Burkhardt, Kerri Doyle, Jim Eeckhout.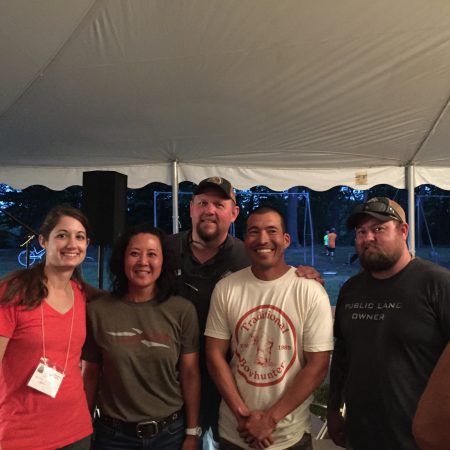 Ryan and Stacy Sanpei were the guest speakers on Saturday night, and they talked about the different hunting opportunities on all of the islands of Hawaii. Who wouldn't want to hunt on Hawaii? Vacationing in the sun AND going bowhunting seems like a great duo to me.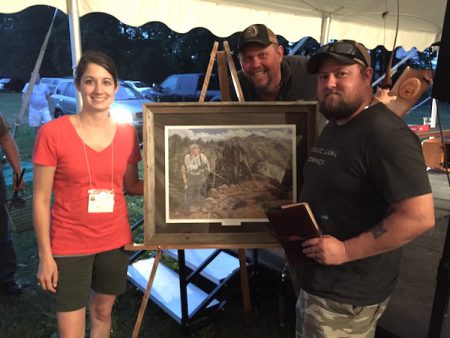 Jon and I also came home with a few goodies from the auction. I bought the nice print of Mark Clyncke for my office, and Jon got a beautiful leather Traditional Bowhunter's Journal made by Art Vincent of Cedar Ridge Leather Works. Money well spent to help support an amazing bowhunting club!
Kerri Doyle, President Dennis Harper and Jon Doyle.
Compton Traditional Bowhunters
I did not get to all the events this shoot puts on, but if you would like more information, please check them out online and on Facebook. Be sure to let them know that Traditional Bowhunter® Magazine sent you!