It was the last hour of our last hunting day. My brother and I were on our way home, and feeling defeated. Here we were, in the forests of our home country of Spain, during the peak of the rut for red and fallow deer, and it looked as if we were going to go home empty-handed.
Despite many stalks and many trophy animals seen over the course of the week, neither my brother nor I could to get within range of our Mahaska recurve bows. But that's the way it goes sometimes, and we were already discussing next year's season when the unmistakable sound of antlers clattering came from a stand of trees below us and reminded us that we were still in the game.
Deer hunting in Europe during the rut is more similar to elk than whitetail hunting. Sometimes you need to be aggressive and move quickly, as the animals can move fast to another place after the fight. However, being quick and cautious at the same time can be difficult. We crept through the forest toward a clearing until there, less than 60 yards away, we made out the shapes of three fallow deer. Two of the bigger animals were in the middle of a shoving match, slamming and twisting and pushing one another, while a smaller seemed to be waiting his turn to get into the fray.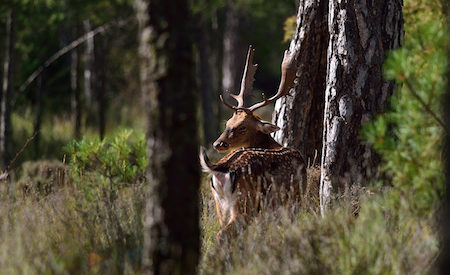 With fallow deer, the mark of a trophy is a high, palmated rack. Trophy fallow deer are barrel-chested, with white dots on its flanks–an exotic looking specimen. In the woods and mountains of central Spain, fallow deer are also free-range animals as common as whitetail deer in America.
The three bucks we were watching were all respectable trophies, but one of the fighters was a real heavy-racked monster. As the two pushed and shoved one another, throwing up dust just 60 yards away, my mind was racing–"Just a little bit closer!"
Finally, my brother decided he would try to make something happen. Moving in as the fight between the stags raged on, he crawled closer and closer, one yard at a time, until it actually began to look as if he might accomplish the impossible. I watched as he rose to one knee, drew his recurve on one of the fighting deer now kicking up dust and grass in the clearing, and released an arrow that flew spectacularly over the nearest buck's back–a perfect miss! The deer scattered, leaving only the memory of how close we had come.
Spain's Red and Fallow Deer Mecca
Located in central Spain, La Sierra de la Madera is a country consisting of large pine forests and good mid-mountain pastures. In addition to holding the highest density of red and fallow deer in all of Spain, the area also has good populations of wild boar, roe deer and even some Spanish ibex that live high in the mountains that tower 5,000 feet over the green valleys and trout streams of the Alto Tajo Park.
My friends, Pablo Garrido and Juancho Requena, manage two of the best hunting properties in the province. With approximately 20,000 acres of free-range forests, they offer exciting and surprisingly inexpensive hunting opportunity for American traditional bowhunters looking for an exotic adventure that won't break the bank.
Bowhunting with Garrido and Requena during the rut (mid September to early October) in the woods of La Sierra de la Madera is an indescribable heaven for bowhunters. During this period, the biggest bucks begin emerging from heavy cover at all times of the day to spar and fight. It is comparable to locating elk or other western species, as a bowhunter does a lot of walking, glassing and listening for the sound of crashing antlers. Once the sound of fighting is heard, the stalk is on as the bowhunter must try to sneak in and close the distance for a shot.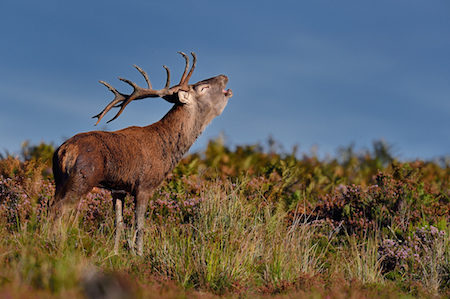 As in hunting whitetails or elk during the rut, if the traditional bowhunter wants to be successful harvesting a trophy male, is very important to use this time well. When it's over, large males disappear, staying confined in small patches of forest and barely moving. Only bucks are available to the bowhunter during the season coinciding with the rut. After the red deer and fallow deer rut season is over, the general bowhunting season opens around October 15th. This also offers bowhunters the opportunity to hunt does and wild hogs as an added bonus. My next trip to the same area was bit later, during the general season. I booked the dates–a long weekend in January–but of course, it did not go as expected. A great snow storm hit the area the day before, leaving everything covered by a foot of snow. This might be normal in North America, but not in Spain. In fact, in this part of Spain, hunting is prohibited under those circumstances. So, after a day of prayers and looking at the sky waiting for the sun without results, I headed back home to the delight of my family. I never took the bow from the case.
Spring Hunting Roe Deer
American hunters look forward to turkey hunting every spring. In Spain, spring arrives, and with it the tiny roe deer season offers a supreme bowhunting challenge. Spring hunting for roe deer means long and sunny days, covering ground on foot, and long hunting journeys after these elusive deer that are increasingly common in the mountain forests of La Sierra de la Madera area.
I bowhunt roe deer in the croplands close to my home in northern Spain; a rural farmland area with moderate animal densities. The hunting is very similar to hunting whitetails, with stand hunting at ambush sites being the most popular tactic for getting a shot. The same methods are used in the mountains. There is also the option of spot and stalk in areas where hunters can glass the roe deer at a distance and formulate a plan for getting close.
Regardless of your preferred method, roe deer hunting is rarely boring. Hunters can expect to see not only the elusive roe deer, but also red and fallow deer with the fawns, wild hogs, foxes and many birds species. Weather in Spain during this time of the year (April and May) is warm, and usually hunters need only wear a t-shirt and a light jacket to hunt comfortably the early morning hours.
Traditional Bowhunters Meeting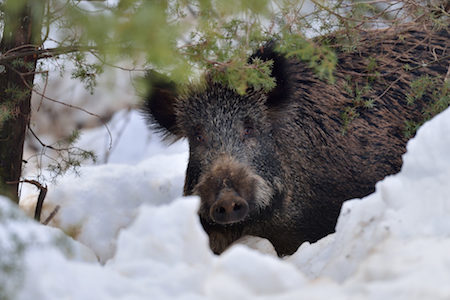 Troubles always come in threes, and that's right. Thanks to bowhunting I have good friends in many places around the world. So, looking for a good excuse to get together, I decided to organize a traditional-only group bowhunt. The response was fantastic! One couple came from Finland and another group of four hunters came from England. There were 16 traditionalists to hunt pigs, fallows and reds. Of course, snow arrived soon and the highest areas (5,500 feet) were impossible to hunt. With temperatures of 10-12F, and winds up to 30 mph, the hunting conditions were terrible. Everybody saw game and had close encounters, but no real shooting opportunities. Two or three guys did get shots, but with no luck, so we had no game on the ground.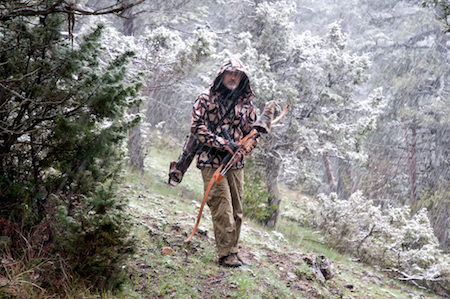 Not having killed any animals with my recurve in this place, I have a good excuse to go back. Who knows, I might even be able to hunt a few days in the real sunny Spain.
 * * *
Photos of the animals were taken by Mario Bregaña
Traveling and Hunting in Spain
Flying to Spain from any major U.S. city is relatively inexpensive. If you book well in advance, roundtrip airfare to Madrid varies from $750 to $900. After you land, the hunting grounds of La Sierra de la Madera is a two hour car ride from Madrid. Your outfitter can also arrange for an airport pickup. If you decide to rent a car to visit the area and see the sights, the weekly car rental rate is roughly $250 for an economy-sized car.
A hunting license in Spain, with the required insurance included, is about $75 and is valid for one year. With valid identification (e.g. passport), American hunters must obtain the license in the Spanish province in which they will be hunting.
Hunting during the rut (September) offers the best action for bowhunters. La Sierra de la Madera is a "free-range area," a rarity in Spain, with excellent trophies and good animal densities. For two hunters, the price is $1,600 per hunter for a six-day hunt (trophy fee for a male animal is included). Outside of the rut, hunting is cheaper and includes the opportunity to hunt wild boar and female red and fallow deer (from October 8th to February). Food and accommodations are included in the cost. For further details, consult the outfitter directly through email found at their website, www.sierradelamadera.com
 * * *
Editor's Note: This article was written a few years ago, so the prices and accommodations listed above may have changed. Please contact the outfitter for current information.