A Traditional Journey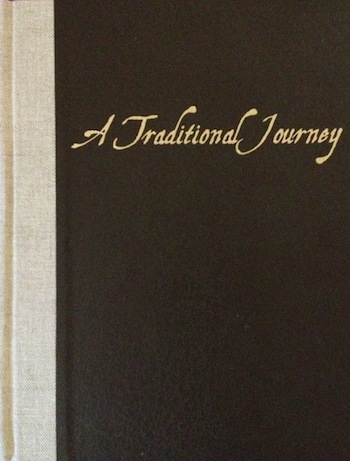 Review by: Manuel S. Cervantes
Published by the
Pope and Young Club
2007
ISBN Number: 0961796650
Price: $32 USD
Let me start by saying that if you are a traditional bowhunter, you need to read this book. It has all the elements a great traditional bowhunting book needs to have. One can only wish every bowhunting story was better than the previous one, and the stories in this book are some of the best I have read anywhere; and one can only wish that all writers put out the same effort every time they submit their work. There are three or so stories in the book that are the absolute best there is. Some of the writers who had the opportunity to ink a story for this book did an outstanding and inspiring job, knowing that they owed it to the Pope and Young Club to do their very best. The book covers philosophy, history, ethics, how to articles, definitions and more.
This book had been sitting in my book shelf for a couple of years, but just like so many of us, we read and read until eventually we get to the next one and the next one; but once I picked up A Traditional Journey, I had a hard time putting it back down.
Also, it is such a beautiful book in its design presentation; the hard cover, the paper and the photography is very classical looking and appealing. The letter size is comfortable to read and very well presented.
I must say that a couple of the articles in it, did not belong in a book of this quality, but the greatness of the good ones far outweighs this small draw back. The reader will figure it out on his or her own and come to their rightful conclusions.
As for the records section, it is interesting to say the least. For example, it is unbelievable to think that only a handful of bowhunters have ever killed an Alaskan Brown Bear with traditional equipment, at the Pope and Young minimum score for acceptance in the book. This is the case with several of the other 28 North American big game species. It is easy to conclude how difficult it is to become proficient at this passion we call traditional bowhunting; one could hardly have picked up a tougher endeavor in life than to become proficient with the bow and arrow in big game hunting situations. Also of great interest are the names and dates. It is wonderful to see names like Fred Bear, Saxton Pope, Art Young and Glenn St. Charles right along with Fred Eichler, Rick Duggan, G. Fred Asbell, T.J. Conrads and many others on all those record book pages. At the same time, I want to say that it is more about the animals than the hunters.
Personally I was very moved and inspired by A Traditional Journey. It definitely is a step in the right direction for the Pope and Young Club, and traditional bowhunting, to differentiate those of us who hunt with a simple traditional bow and arrows, because it is harder and it is worthwhile to take note on behalf of the animals killed and the hunters involved.
Brief Author's Bio: Manuel Sebastian Cervantes is originally from Mexico where he has bowhunted whitetail and other game in the States of Jalisco, Colima, Chihuahua, Durango and Sonora since 1982. In the US he has hunted in New Mexico, Texas, Missouri, Iowa, Kansas and Arkansas. With his wife Carmen and eight year old daughter Anasazi he lives in Northwest Arkansas since 2007; where he works as a tennis professional. When not hitting tennis balls with Junior Players he is out in the woods chasing whitetails. Manuel Sebastian has bowhunted exclusively with recurves and longbows in the 40# to 80# range; and uses only wood arrows, single blade broadheads and stone heads. Manuel Sebastian has a private bow collection of over 50 bows including some primitive ones of his own make; and in his archery library you can find just about everything that has ever been written on classical archery and traditional bowhunting.