Cresting the ridge, we crouched behind a juniper tree. I whispered to my wife Andrea, "We should move up to the next bush and the ram might walk out from between those junipers just beyond." We checked to confirm that the ram was out of sight, and moved as quietly as we could to the next bush.
I am blessed to be married to a woman who enjoys hunting. At this moment, I knew I was experiencing the most memorable experience of my hunting career to date. Watching my wife take an arrow out of her quiver and get ready to draw on a bighorn sheep with her longbow formed a memory I will take to my grave. She appeared calm and steady as the ram walked out at a mere ten yards.
He hesitated but did not stop as he sensed our presence. Inside, I was screaming, "Shoot! Shoot!" She drew back in one fluid motion, held at full draw as she tracked the movement of the ram, and let the string slip from her fingers. The arrow streaked toward the ram, hitting with a dull thud.
Initially the shot placement looked a bit far back. The ram bolted down the ridge into a draw and out of sight. We discussed the shot and agreed that the penetration of the arrow was up to the fletching, but maybe the hit was a bit back…
Our hunt began early in June, while my wife was away visiting her brother on the east coast. I was out of town as well when I called her and asked, "Honey, can you check the Fish Wildlife and Parks website and see if I drew a mountain goat or moose permit?" Pause…
"No you didn't draw goat or moose," she replied. "But I got a bighorn sheep permit!" She had drawn a coveted limited entry bighorn sheep tag in Montana. I felt overjoyed for her and began calling friends and family to tell them the good news. As the excitement grew, so did the questions about what weapon she would use to hunt the sheep.
Drawing a limited entry bighorn sheep tag in Montana is very difficult. It can take a lifetime of applying to overcome the odds—and some never do. Andrea had only been applying for a couple of years, so we were extremely surprised she had been so fortunate.
My wife has been exceptionally understanding about my bowhunting ever since we met. She has bowhunted by my side and managed to harvest a nice antelope. I knew that for her to take a bighorn sheep with a longbow was going to be quite a feat, but after a long discussion she decided she would use her bow.
The bow she was using at the time had a draw weight of about 38 pounds. We felt she should work up to being comfortable with a few more pounds, so I set about making her another bow. She had been asking for a bow made out of purpleheart wood for some time, which I finally completed for her. The first time she shot it she said, "I sure don't like the handle on this bow!"
"I can fix it," I said, and I went to work shaping it a bit differently to fit her hand better. Unfortunately, the bow still didn't shoot well for her.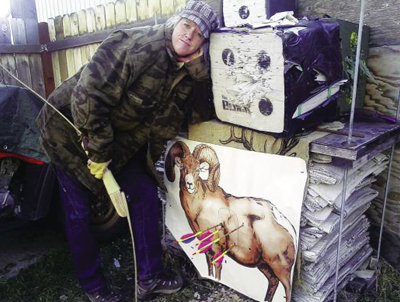 At the time, I happened to have a friend in town making a bow with me. I had messed up calculating the poundage of his bow, and when we ended up with a bow too light for him, I suggested that Andrea shoot it. "I love this bow!" she said the first time she shot it. So now she had her sheep bow. All she had to do was shoot it a bunch and get used to it.
Andrea spent the summer shooting her new bow, working on finding the best-flying arrows, shooting broadheads, and trying out a new quiver a friend made her. As the summer went on, I was impressed by how her shooting was improving. Friends would stop by and watch, and I would text pictures of the day's groups of arrows to family and friends. Excitement was growing.
Early season saw us hunting deer together. We had practiced shooting off our garage roof to simulate shooting out of a treestand. I was hoping she would be able to connect on a deer to build her confidence. Despite a couple of close encounters, the deer remained elusive. She was, however, able to arrow a raccoon, which we agreed was an even harder target than a deer or a sheep.
The area she was to be hunting sheep was familiar to us. I had drawn a sheep tag two years prior for the same area. We spent a couple of days scouting before the season opened, but saved most of our time for the actual hunt.
Each time out we were able to find sheep, but they were mostly ewes and immature rams. We kept telling ourselves that the rut was coming, bigger rams would come out of hiding, and we just needed to be patient. Meanwhile, the days of the season were going by, and tension was increasing to find a nice ram.
The first weekend we hunted in November turned out to be windy and cold. We were hoping the larger rams would come out of the high country looking for ewes. Since our young girls were with us, we stayed fairly close to the roads. We used our binoculars to glass every canyon and mountainside without seeing much at all. The wind and blowing snow were keeping the sheep hunkered down. We did locate some fresh sheep tracks coming off a steep ridge where they crossed the road and headed into a deep canyon. Judging by the size of one of the tracks, we felt sure there was a mature ram in the group. We made several short hikes to glass down into the canyon, but were unable to see any of the sheep. We finally went home, determined to go back as soon as we could.
Throughout the week, Andrea and I anticipated what our next hunt would bring. We decided we should take a day off work and hunt before the weekend. We also decided just the two of us would go and scheduled Andrea's mom to get the girls to school and watch our infant daughter. Having young kids, our time alone together is limited. Looking back over the past few years of our marriage, we have had several dates involving hunting that strengthened our relationship and love for each other. I am a blessed man to have a wife who counts hunting trips as a date!
Friday morning, we were up early. The weather report called for a clear but cold day. We got an early start and arrived at our hunting area as it was getting light. We decided to drive to the northern end of the unit where we had seen ewes in the past and work our way back to the south. We would glass and make short hikes to look at areas we could not see from the road.
Right away, we spotted a group of sheep. They were working their way along a creek and ended up coming 40 yards from us, so we enjoyed quite a show. The group had four small rams butting heads and trying to keep each other away from the ewes. After watching for 20 minutes, we decided to move on. The rutting activity of this group made us think we could find an older ram if we located more ewes.
We headed south toward the canyon we had seen the tracks leading into on our last trip, planning to glass our way back and hopefully turn up some more sheep. At the first stop, I checked a distant hillside where I had seen sheep before. What I saw was not a ram, but a mule deer. This was a nice buck, and when I got the spotting scope on him I was sure I was looking at one of the biggest mule deer I had seen in years. I had brought my bow along for just such an occasion, and with some encouragement from Andrea I shouldered my pack and prepared to make a stalk. Just as I left the truck something inside me said, "Hey we are here to sheep hunt, not deer hunt. You can hunt deer any season. This is your wife's hunt!" I turned around and put my gear back in the truck.
Another mile down, a long ridge paralleled the road. The ridge is at least a mile long and ends up connecting with another ridge that leads up to some high country—the kind of place a ram could spend the summer and not be seen due to dense timber and inaccessible canyons.
We stopped to glass this ridge. I soon saw a sheep that looked like a nice ram, so I told Andrea where to look and reached for my spotting scope. We could tell this was the nicest ram we had seen. Judging by the direction he was going, we thought we could intercept him. He appeared to be headed down the ridge to the lower country to find some ewes.
"I want to try for him," Andrea said, so we hiked up the ridge. The top appeared to be about 50 yards wide and sparsely covered with juniper trees. If we could get to the top before he made it that far, we might have a chance. As I followed Andrea up the ridge we caught an occasional glimpse of the ram. Our hearts were pounding from the exertion of the climb and the realization that the ram was still heading toward us.
The ram walked out and Andrea shot him as described. Both of us were shaking, and I could tell this was a moment we would cherish forever.
We sat down and waited an hour, literally praying that we would find the ram. As doubts crept in, we decided that we should go around to the other side of the canyon and begin to glass back in the direction the sheep had gone. Using our binoculars and spotting scope, we picked the canyon apart without seeing any sign of the sheep. Thinking that he might have made it out of the canyon, we decided to have lunch and give him some more time.
The agony of the unknown made lunch difficult. We discussed all possible outcomes of the shot and did our best to pass the time with small talk.
Finally, we worked our way back to the path the sheep took and started to look for blood. Initially the blood trail was easy to follow, but it proved difficult to stay on as the sheep had run across an area of open ground. After losing the trail, we moved ahead to the spot where the ram had gone over the end of the ridge and peered over.
Almost at once I spotted the ram. When I raised my binoculars and watched him for a minute. I saw that he was finished—his head was down, and he was not moving. He lay against a large cedar bush, which was the reason we had not been able to see him from the other side of the canyon. He had only traveled a couple of hundred yards.
Andrea eagerly headed downhill while I stayed back, wanting her to be the first to lay hands on her ram. Her excitement was tremendous as she lifted his head out from under the bush.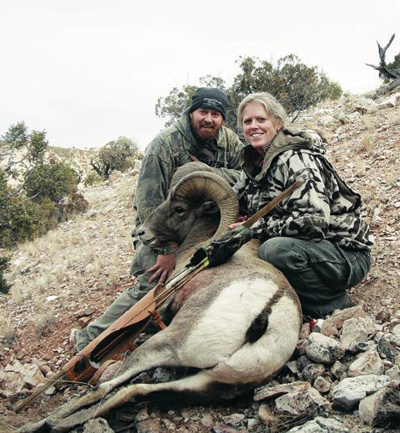 We enthusiastically took pictures, reveling in the excitement of the stalk and recovery. Together we set about caping, quartering, and hauling the ram back up to the top of the ridge. We then hiked back to the truck, hand in hand, to get our game cart. In a few hours we had the ram loaded in the truck, and we departed for home.
News travels fast in our small town in Montana, and friends were waiting to see a sight none of us had ever seen before, or may not ever see again: a lady with a sheep she killed with her longbow.
Andrea's ram was 8 ½ years old, in prime condition, and will make a beautiful mount gracing our living room wall as a reminder of a summer spent shooting, time with loved ones, and determination to work hard at doing what we love to do.
*****
Robb Sager is a third grade teacher from Red Lodge, Montana. He and his wife Andrea love spending time outdoors with their three girls, Isabelle, Genevieve, and Eliza.
*****
A Sheep for Andrea was originally published in the Feb/Mar 2014 issue of Traditional Bowhunter®.