He carefully draws back the bow, and in total concentration he looses the beautifully crested and feathered wood arrow right into the vital spot. This is how I started the day at the North American Longbow Safari. This shoot alternates between the Western US and Canada every year in early July. Longbows and broadheads are used exclusively on the two courses that feature North American and African animals.
How often can you get together with 300 passionate traditional archers and another 300 family members? Well this happened at the 32nd annual North American Longbow Safari held at the Hoodoo Ski Resort, 44 miles west of Bend, Oregon on July 5th & 6th. The Traditional Archers of Oregon (TAO), along with the core group of Nancy Doran, Rich Thompson, Kevin Thompson, and Fred Cliff did a spectacular job of setting up the trails, practice area, novelty shoots, BBQ and raffles.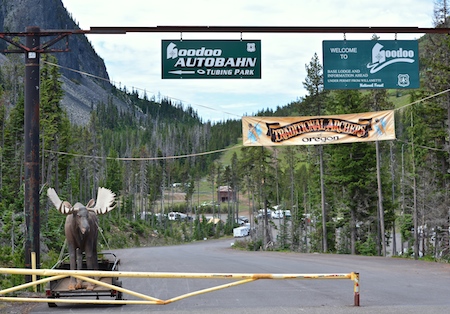 The Hoodoo ski area is nestled between Mt. Washington and Three-fingered Jack, with plush green slopes in July, filled with vibrant wild flowers as far as you can see. And to make it even better, the ski lodge had restrooms with showers. Tent campers really appreciated that!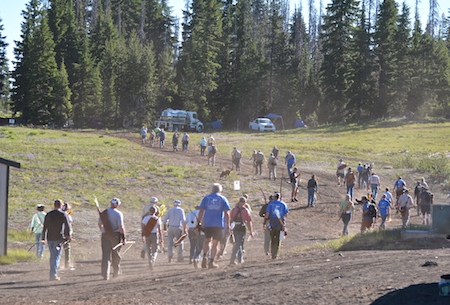 On Saturday morning the anxious shooters–armed with their longbows, wood arrows with broadheads, and leather back quivers–headed up the mountainsides leaving a trail of dust behind them. Some were taken by vehicles to the two courses: North American and African. At nine o'clock the cannon went off with a loud boom, echoing up to start the shoot.
People came from the Bahamas, several U.S. states and many areas of Canada including Saskatchewan. We had the honor of camping by Moe and Doe, who drove 1,100 miles from Saskatchewan. They proudly flew their Canadian flag alongside a USA flag.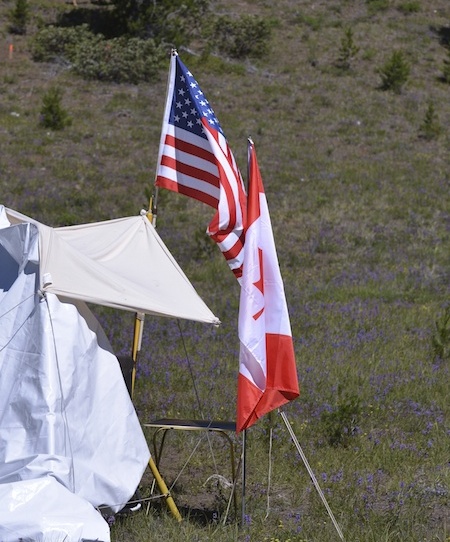 It was our pleasure to have Larry Fischer from Traditional Bowhunter Magazine and his wife, Belinda, at this great gathering of the clan. This is the best time to meet with old and new friends.
After the trail shoot on Saturday, it was time for the novelty shoots; bow-birds with flu-flus, running deer and long distance targets. One archer never missed the running deer, and another never missed the bow-birds. Now that's good shooting! Several others discovered they needed more practice.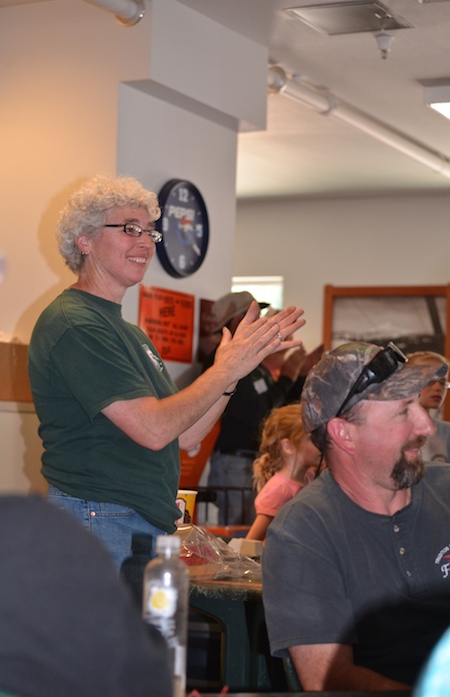 Saturday evening there was a well-attended BBQ with 600 hungry people enjoying tri-tip steaks, chicken, beans, salads, etc. The evening entertainment was the fabulous Pitchfork Revolution playing outstanding bluegrass music. There was a lot of foot stomping going on.
Everyone enjoyed all the vendors, including a mobile van with coffee, tea, smoothies, etc. The highlight of the week for a lucky few was a Self Bow Workshop taught by master self-bowyer John Strunk. This was a four-day workshop before the shoot, and each student made a new bow.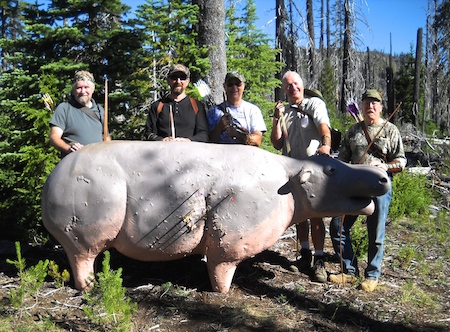 You can't have a big shoot without raffle items! Lots of longbows were donated along with two painted saws and many, many more items.
Besides the main core group of workers making this shoot possible, there were several TAO members who came early to help set up the courses and have the registration and door prizes ready. Chuck & Toni Lynde repainted the 3-D targets, and Rich Thompson helped organize all the volunteers. Thanks go out again to Nancy Doran for all her help and also to Jenny Cliff, Bonnie Cushman and Bob & Kathy Ross for all their help with registration and raffle tickets. It takes a team effort to make something this large work.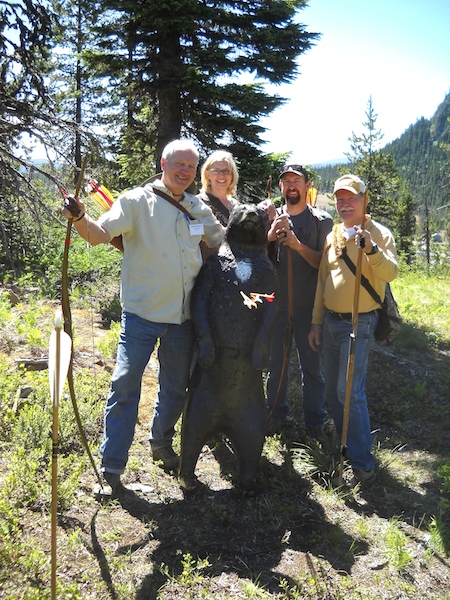 See you at the 33rd North American Longbow Safari, July 4-5, 2015, somewhere near Alberta, Canada. For more information, visit The Rocky Mountain Longbow Association NALS page.