kingwouldbe
October 21, 2009 at 4:09 pm
Post count: 244
Dr. Ed Ashby wrote: Looks like a killer setup David. Structurally that should be a good, tough arrow. With so many variable component parts how hard was it to get the tuning right? It going to be interesting to see how it performs. Have you tried any adverse angle punishment test shots yet?

Ed
My NEW "IF" has only been shot into the target.
My external footed arrow has minor testing, my target, a wall at 45 degrees and a young bull elk.
I have found that the small shaft diameter pays huge dividend as far as having little to no shaft drag, I have kill shots that had no blood on over half of the shaft.
The external footing ads to the shaft diameter and I think it's going in the wrong direction, however I needed more spine in my shaft so, putting 15″ of 1716 over the shaft gave me the spine I needed to fine tune my arrow to handle the EFOC, actually the tuning was easy because I knew what direction I needed to go.
Ed I don't like shooting my arrows into steal and walls at angles 😕 lol
I wanted to do some testing on my bull, but I shot it just before dark and did not get the first loud of meat back to camp till midnight.
Entrance SLIT "NOT"
This is the exit after hitting ribs on both sides, it also went through the foreleg.


He did snap the arrow and I never found the front 3/4 of the arrow.
Shot was around 27 yards, slight quartering away, down hill, 58″ Centaur 60lb @ 28″ arrow 765 grain with grizzly el grandy
I got to through in the hero pic yum! yum! spike.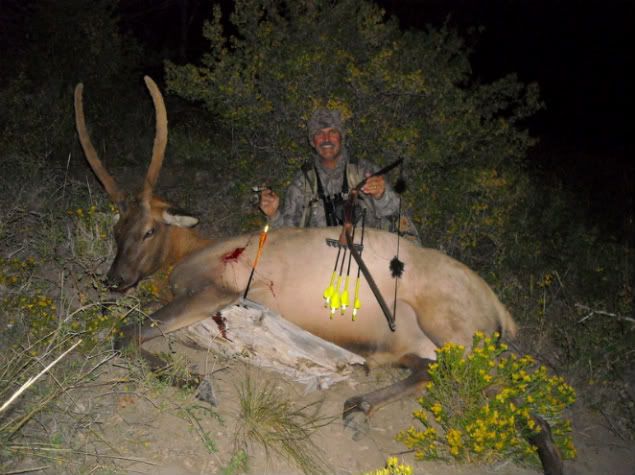 I hope to do a lot of testing this year on hogs, I want to develop an arrow broadhead combo that will consistently penetrate the double bone on the shoulder blade on a big boar, it is this ridge where the knife is sitting.

Not that I want to kill them by going through this double bone, I just want a set up that has the capability to do it.
After reading your study on arrow integrity, I also believe it is the most important ingredient, in cooking up a super deadly arrow.
I think internal footing is going in the right direction, and I look forward to setting up some 35% UEFOC arrows.
Thanks so much for all the work you have so unselfishly shared with us wouldbe's