What is a mentor? According to the Webster dictionary, a mentor is a trusted counselor or guide. Now let me give you my own definition: Someone you have a lot of respect for, who not only will guide you, but will look after you and take care of you. Someone who knows better, who has wisdom. Generally a mentor will be someone much older than you, who has experience doing what you are trying to do. Also one who is willing to share knowledge, time and even resources with you, without limitations. Let me go so far as to say that your mentor will be willing to sacrifice a little of his very dearest self to get you through and teach you. A teacher, a master professor willing to do just about anything to help you get moving forward.
My Dad was a firearms hunter, and he certainly has his place as a hunting mentor. He taught us the love of the outdoors. He was very ethical, and possessed unequaled woodsmanship. He gave me a hard time when I started bowhunting exclusively, because I came back from my hunting adventures empty-handed all the time.
We all needed mentors in traditional bowhunting; especially if you started bowhunting in the late 70s and early 80s. There was not a whole lot going on out there regarding traditional bowhunting. It was hard to even find an archery shop, let alone one that carried traditional bows of any kind, where the owner knew anything about recurves and longbows.
As a kid back in Mexico, during the summers my brother Luis and I would go to the river in Los Sauces, on my Granddad's ranch in northern Jalisco, and collect river cane for arrows. We made our bows out of any branch that was half straight by making some grooves on the tips and stringing it with cotton yarn. The bow did not matter that much, but the arrows had to be semi-straight in order to get them to shoot well. We hunted for frogs and played with our rudimentary bows and arrow and had great times all those years. Those were my first adventures with the bow and arrow. We had no archery mentors, it was just the two of us, and our instincts.
Back in 1979, as a junior in college, I attended Truman University in Northeast Missouri where I was the No. 1 tennis player on the varsity tennis team. Our college vice president, Dale Schatz, had a party for the tennis team out at his house one Saturday afternoon. As we walked in, my eyes immediately caught the two recurve bows hanging across the top of the chimney in his living room. Curiosity and awe got a hold of me. As I was closely inspecting the two beautiful recurves, he approached and, taking one of them down, he said to me "This is what you need if you want to hunt the hard way." He strung it and we went out to his back yard and shot a few arrows. The seed that was already there had been fertilized and watered in my brain. I was 19 years old. You can say Dale Schatz was my first archery mentor, even if it was only for a few minutes.
A few years later, in 1983, I was living in El Paso, Texas, going to graduate school. Out of I nowhere I had the vision that I needed to get into bowhunting. My girlfriend and I found a closed down archery shop in West El Paso–the owner had recently passed away–but there was nothing else. So, I went to the only place I thought there might be someone who would help me find what I needed, The El Paso Gun Exchange Store. They sold mainly guns, but they had some compound bows as well. As I walked in there, the owner immediately tried to sell me a compound, but I had the vision of those recurves on top of the chimney at Mr. Dale Schatz's house. Somewhere I had either heard or read something about Fred Bear and Howard Hill. So I asked the owner about recurve bows or longbows. He said he knew Fred Bear personally. He said Fred was in good health but getting older and still bowhunting. He pulled out a Bear Catalog, which I still have somewhere in my files, and handed it to me. We opened it up and he showed me the beautiful recurve bows.
It was not difficult for me to decide what I wanted. Obviously, it would have to be a Bear Super Kodiak. The Super Kodiaks jumped off the page as if they were real, or as if I possessed it already. So that was the bow we ordered, and it would take them a few weeks to get it. I went for the highest poundage they offered. Obviously, I did not know what I was getting myself into. There was no one to ask back then. The price was about $130. "That was not too bad," I thought.
|pagebreak|

By the way, I have to let you know that my girlfriend actually was buying the bow for me, so price was definitely not an issue. She had what it took to please me, in more ways than one. I could not wait till it came in. A few months later I got my girlfriend a Groves Flame Hunter recurve as a present so we could shoot and hang together more.
When my Super Kodiak finally came in, the fellow at the store had no clue how to string it. He said it took three men to get it strung. So when I got it, I kept it strung and figured that was the way it was supposed to be. The bow stayed that way for two years or so. I would get out in the backyard and shoot a few arrows at old pillows. I was accurate at no more than maybe five yards. I could not figure out how you could possibly hit anything with any degree of accuracy any further than that. So it went for those two years. The bow just hung on the wall, it looked cool, it was strung all the time and I would shoot it once or twice a week. Then I moved to an apartment that had no backyard. I would shoot the bow from the living room into the back of one of the bedrooms. Needless to say I completely destroyed one of the doors, a sofa, and the backstop wall in the bedroom with my Easton Eagle arrows 2117s. There used to be an archery range at Fort Bliss in El Paso. It was run down, and nobody ever went there to shoot, but I loved it. It had 60 big bales of hay with different distances, angles and brush. It was awesome. Unfortunately it went down a few years later.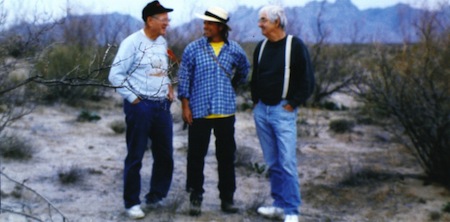 Tired of not really getting anywhere with my Super Kodiak I looked through the yellow pages one day and found two listings in Las Cruces, New Mexico for archery shops. One of them was called Archery Hut, and I called them. An extremely friendly guy answered the phone and gave me the location and shop hours. A couple of days later, my girlfriend and I drove 40 miles to Las Cruces to check it out. The shop was in a small garage in suburban Las Cruces, out in the dessert. It was quite challenging to find, and when we finally got there we saw a small sign outside and a couple of vehicles parked in the dirt driveway. We approached slowly, not knowing what to expect. Dave Smith was the owner of the house, but his friend Terry Edwards was in the business as a partner. They both welcomed us in and we started talking. It was easy to see these two retired fellows just wanted to have fun and share their knowledge and experience in archery. We had the Groves Flame Hunter and the Bear Super Kodiak. First they needed to see how our arrows flew, and they said we needed to tune up the bows. I knew very little about traditional archery then. Both men showed genuine interest in our recurve bows and seemed very willing to help get them to shoot right. They measured our draw lengths, cut the arrows the proper length in a matter of minutes and did some paper tuning with our bows. They gave us a few basic shooting tips. We were probably there for a couple of hours. I was in heaven, and did not want to leave, but it was closing time and we needed to move on. During the next year I returned to this very unique place for arrows and archery gear in general.
Dave got me enrolled in an archery class he taught to the general public at the New Mexico State University gym in Las Cruces. Dave and Terry were seasoned, passionate, lifetime archers in their 60s, and Terry was an avid bowhunter. The first day of class, was all about theory and history. Oh, the history of archery–how romantic–the mysticism of it, the names and the anecdotes. He talked about Genghis Khan, the American Indians, the English longbow and Robin Hood, the Thompson brothers, Will Compton, Saxton Pope and Ishi, and yes off course he also spoke about Art Young and showed us a video where he arrowed a huge bull moose in Alaska. Finally, he talked about Howard Hill and Fred Bear.
There was something magic about this whole archery thing. Here I am 30 years later, still trying to understand archery more in depth, and wanting to know more and more about it, even writing about it. Right there and then I was haunted by the archery ghost forever!
The next classes were all about equipment tuning and shooting technique. From what I recall, most people in the class were shooting compounds, but man, did this Bear Super Kodiak come naturally to me. With a little instruction I got from Dave, and after a little tune up, I could shoot it like a dream out to even 25 yards. All I had to do is look and the arrow was gone into the bull's eye. Dave even tried to talk me into trying Olympic style, but who needed sights if I could do without them, at least under the controlled conditions we were shooting.
Terry showed up to a few of the shooting sessions we had at the gym. Since I was one of two traditionalists there, he stayed with me and gave me all kinds of tips and advice on how to shoot better. Soon we started talking about hunting. I started going to his house, where he had a cardboard press, and we would practice together and talk while drinking coffee for hours at a time.
Terry became my mentor unconditionally. Before his unexpected death late in 2009, he followed up with my archery and bowhunting on almost a daily basis. He continued to offer his advice and encouragement every single time we spoke, either on the phone or in person. Terry and I scouted together for a mule deer hunt back in 1984. We hunted the Monument Canyon area in the Sacramento Mountains, in Lincoln National Forest near Cloudcroft. That was the place where, thanks to him, on my very first bowhunt for deer, I scored on a nice forked horn buck. That story will be told in a later essay.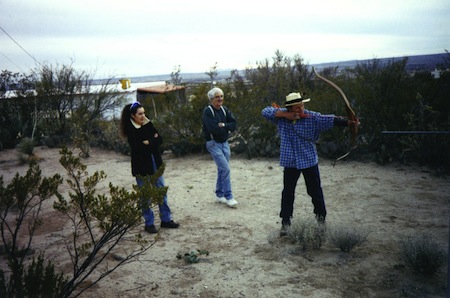 |pagebreak|
A couple of year later, when I moved back to Mexico, Terry and Dave stayed in touch with me through mailings and occasional phone conversations. Sometime in the early 1990s I got into the worst shooting slump I have ever been in, and I have been in many. For over a year I could not hit the side of a barn at five yards. I sent them some footage of me shooting my recurve bow from different positions for them to critique and hopefully find something wrong with what I was doing. Eventually, I figured it out, but they kept coming back with information about shooting techniques that could possibly lead to better results, both for hunting and on targets.
Terry also got me into bow making. Together we made Osage bows. It was a learning experience for both of us Later we made bamboo and hickory bows as well. He also gave me all kinds of tips on arrow making, broadhead sharpening and selection, as well as string making. But his most valuable gift was his friendship and always-positive attitude.
We only hunted together a couple of times. But we did spend a lot of time together shooting arrows and talking archery at the Archery Hut, the local field archery range in suburban Las Cruces and at his house. He introduced me to many other traditional bowhunters in the area. He was very well respected in Las Cruces. Terry got me a reputation as a traditional bowhunter that I did not feel I deserved, but it was fun.
All in all he did more for me as a bowhunter than anyone else. In 1998 we moved to Juarez, Mexico where we lived for 10 years. Juarez is across the border from El Paso. All those years we used his home address to receive mail for personal and work related stuff. We would drive to Las Cruces and he would have boxes of mail waiting for me.
He had several famous bowhunting quotes that he repeatedly said to everyone. Among some of the most resounding ones are:
"More deer have been missed at 30 yards than any other distance."
"Get close, really close. You have to be within 20 yards maximum distance to prevent them from jumping the string."
"The whitetail deer is the toughest, smartest big game animal on the planet."
"Keep´em sharp and shoot´em straight."
"Nothing beats roving (his word for stump shooting) for bowhunting practice."
"Always build a fire at night, it will comfort you and give you good luck."
"You'll have so much meat in the freezer, you won't know what to do with it."
"Keep your mind quiet and your eyes on the spot."
"Make sure to pick a spot."
"Pay attention to wind."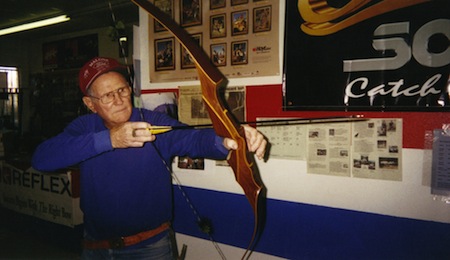 Terry gave me several things from his archery collection; from armguards to arrows, books and bows, to a couple compasses and maps, you name it. Terry had about 30 bows in his traditional archery collection. His favorite one was the Groves Spitfire Hunter, 42 pounds @ 28 inches. He maintained that Groves Bows were the smoothest, swiftest, most efficient bows ever made. A few months before his death, he got himself a custom longbow. It was the first and only custom-made bow he had. He also was very aware of my Grayling Bear Bow collection. He would let me know anytime there was a good deal going down somewhere in the area. The last Bear bow he got for me was a Bear Hunter with the green veneered riser and white overlays, 60 pounds @ 28 inches. He would buy them first, and keep them for a few months to a year, torturing me with the promise that one day he would let them go. Sooner or later he would sell it to me at the same price he paid for it. I got some unbelievable deals from Terry. The one that stands out the most is a Bear Super Kodiak, 70 pounds at 28 inches, I got from him in 1998. It is one of the most beautiful bows in my collection. The bow was his for many years. He let it go for a mere $125. It was a steal, to say the least.
Terry, and his wife Sammie, were like family to me in the broadest sense. They always offered unconditional advice and shelter. Sammie offered to give me one of Terry's bows just a few months ago. She said I could have my pick. I was very moved by her gesture.
Not all bowhunters have what it takes to be a mentor. It takes several very unique attributes, starting with selflessness and humility, followed by a deep sense of respect and love for nature, bowhunting, and other bowhunters. It also takes a well-ingrained set of values and ethics in relation to society and life itself. In my mind, Terry represented all these ideals. Terry mentored several other traditional bowhunters in the Las Cruces, New Mexico area, as well as the Crosbyton, Texas area where he was originally from. He had all kinds of friends. Around 1991, Dave and Terry moved Archery Hut to town in Las Cruces, and in 1996 they sold to Bill Provencio, who really got it to the next level by expanding and carrying a lot more merchandise. Even after they sold the shop, Terry went there to hang out, drink coffee and offer his advice to anyone needing help. He loved to watch other archers sling arrow after arrow at targets, or just walk the 3D shoot trails and offer free coaching to his friends, or anybody in need of some advice.

In many ways I would like to be more like Terry. Some younger bowhunters have come my way for help and information. It has been my privilege to introduce some of them to traditional bowhunting. My unparalleled feelings of respect for Terry, not only as a mentor, but as a friend and a human being, can only be compared to the feelings of love I had for my father.
Obviously, I was heavily influenced by all our founding fathers in many different ways; I have read all their books. In my mind, they all have mentored me in one way or another; Especially Saxton Pope, Fred Bear and Howard Hill. Let me also say that the one book that demystified a lot of stuff was "Instinctive Shooting" by G. Fred Asbell with his unique writing style. Everything G. Fred writes is must reading for me. But my true and personal traditional bowhunting mentor was Terry Edwards. I will always remember him and miss him. When I am bowhunting or shooting my bows, or doing anything related to archery, he seems to always be there, just standing or sitting next to me, watching…
Brief Author's Bio: Manuel Sebastian Cervantes is originally from Mexico where he has bowhunted whitetails and other game in the States of Jalisco, Colima, Chihuahua, Durango and Sonora since 1982. In the US he has hunted in New Mexico, Texas, Missouri, Iowa and Arkansas. He lives in Northwest Arkansas (since 2007), with his wife Carmen, and five year old daughter Anasazi, where he works as a Tennis Professional. When not hitting tennis balls with Junior Players he is out in the woods chasing whitetails. Manuel Sebastian has bowhunted exclusively with recurves and longbows in the 40# to 80# range, and uses wood arrows and single blade broadheads. Manuel Sebastian has a private bow collection of over 40 bows including some primitive ones of his own make; and in his archery library you can find just about everything that has ever been written on classical archery and traditional bowhunting.