"Aim small, miss small…aim small, miss small," was my only thought as I sat on the edge of my seat in my tree stand, my recurve bow laid across my legs. Both hands were in position—my bow fitting perfectly in my right hand, and the three middle fingers of my left hand maintaining the slightest pressure on the bowstring just below the nock. I could tell that my presence made her slightly uncomfortable. She kept her eyes on me from the moment she crested the hill 100 yards to my right, just downwind. I'd seen her two days before but was unable to get a clear shot. I could not believe it. What were the odds that on the last day, the final two hours of our nine-day traditional Canadian black bear hunt, I would get my opportunity?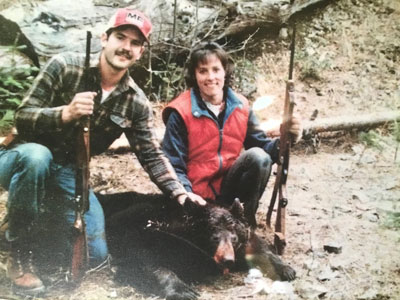 As long as I can remember, the outdoors has been a huge part of who we are as a family and now hold my most cherished memories. And for my family, outdoor activities often entail hunting. Both my parents bow hunt. My dad has forever shot a longbow…and one could argue he lives for hunting season. Mom shoots a compound…and one could argue that she lives for any outdoor activity. Actually, for their honeymoon, they went bear hunting. Growing up in our house absolutely had its quirks…it was totally 'normal' to be woken up by Dad practicing his bull elk call or turkey call; given the time of year of course. And missing a day or two of school to go hunting was totally acceptable. I was about 11 years old when Dad began building custom traditional bows, as a hobby, both longbows and recurve bows. Thomas, my younger brother, was about two years old when Dad made him a longbow to scale, perfectly tailored to his tiny frame. Thomas was three years old when he shot his first rabbit with it. My sister and I always knew to warn any date we may have to answer "yes" to the "do you hunt?" question Dad would inevitably ask.
So as adults, it's only fitting that my brother, sister and I inherited their same passion for hunting and the outdoors. Honestly, I'd credit our combined love for the outdoors for the uniquely close relationships we all have. So naturally, when Dad informed us we would have an opportunity to harvest a black bear on a traditional bow hunt in Canada, it was hard to contain our child-like excitement. When the excitement cleared and we began discussing details, we realized that only two of the six of us had ever hunted with a traditional bow. However, for the four of us that were inexperienced, we were in good hands. Some may consider Dad a professional bowhunter, although he is far too modest to ever classify as such; to us he is. Thomas, the youngest of all three of us, has the same natural ability for all things outdoors. So the idea that Mom, my sister, Mollie, her husband Tanner and myself not only needed to obtain traditional bows but also needed to learn how to shoot them in a short period of time, was not so daunting knowing that we had two of the best teachers readily available to us. Within no time at all Dad had mailed Mollie and Tanner each a longbow he had previously made himself. Thomas traveled to North Carolina from Texas to help them learn how to use their new stick bows. And Mom learned to accurately, comfortably and confidently shoot a recurve.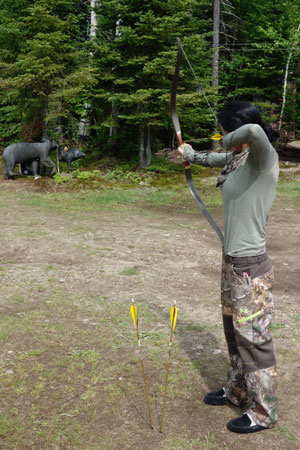 This just left one…me. I'd always secretly admired both my dad and Thomas for their natural ability to use a traditional bow. I suppose it is the simplicity and primitive nature of the traditional bow that has long intrigued and impressed me. When Dad told me that he would like to build me a bow, I was elated and knew exactly what I would like to have in my traditional bow, a takedown recurve. Just like that, the process of building my bow got underway. In just three short months, Dad, with my occasional "help", built the perfect takedown recurve for me. For the next two months, I practiced vigorously, using anything from leaves, tennis balls and eventually full-bodied animal targets to gain the necessary confidence I would need for our hunt.
Finally, June came along and somehow, by the grace of God and Dad's vigorous prepping for all six of us, we were ready. Five of the six of us were using bows that Dad had made. Thomas and I shooting recurves, and Dad, Mollie and Tanner shooting longbows. This was not my first out of state hunt, nor even out of country hunt…but yet I found myself with a sense of excitement and enthusiasm like never before.
After 48 hours of travel from Texas to Canada, we finally arrived in camp on a Saturday morning. Being my first traditional bow hunt and first black bear hunt, I decided to allocate the first day or two of hunting to "bear watch". I'd heard the term "ground shrinkage", which is when one is significantly underwhelmed by the size of the bear they just harvested. I wanted to be sure I was not a victim of this, so I adhered to my two days of watching; I studied their movements, their communication…the times and paths they chose to approach, and much more. After all, I was in their domain.
I took a deep breath and climbed the pine tree to my stand, just as I had done for the six previous days. I went through my mental checklist…it was our last hunt and there was no chance I was going to let anything get in the way of my success. Hilltop, the stand I'd grown comfortable in, was perfect for a lefty. It was a 45-degree incline, zig-zagging, narrow trail to my stand from the boat, and my thighs reminded me that I'd walked it every day. Thomas or Bill had kindly escorted me in every day. I was comfortable in my stand with my arrow nocked, but on the ground, walking in it was a totally different story. Two hundred yards to my left I could just barely make out the lake through the dense trees and shrubs. One hundred yards to my right and still at a 45-degree incline there were three well-traveled trails that came together and lead straight toward the clearing just below me to the right.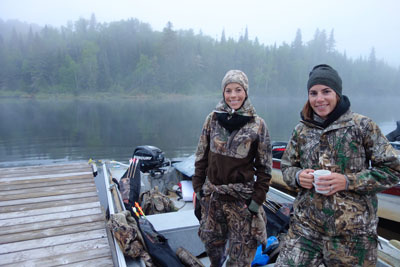 It was 4:00 pm. I'd gotten out a little later this afternoon but only because I'd also gone out this morning to see if a morning hunt would bring me any opportunities. I felt I was really pressing my luck. I'd not sat both morning and evening in one day. But this was it, last day, last hunt… no pressure. At 4pm it was still 85 degrees, hot even for a Texan when the sun has a direct shot at you. But by 10:00 pm, it would be 50 degrees. There I was in my tank top, with a fleece jacket, hat, and gloves close by. I sat impossibly still, straining to hear even the faintest noise that may indicate a bear nearby. I'd seen eight to ten black bears this week and all I needed was one mature bear to turn broadside within 15 yards. By 5:00 pm I was starting to worry that my coming in and out this morning had really messed up my chances. About 6:30 pm, just as the sun went behind the mountain over my right shoulder, I decided to take the opportunity to go ahead and put my jacket and hat on. I hung my bow on the hook to my left, arrow still nocked, and slowly and methodically put on my jacket. Reaching for my fleece hat next, I somehow fumbled it and cringed as I watched it drop to the ground just below me. Panic! Being a true Texan I loathe the cold, so I knew I would absolutely need it. But was it worth potentially scaring something off to climb down and get it? As I sat there debating what to do, time slowly ticked by…at 7:00 pm I decided it was now or never, my hate for the cold and the feeling of exposure had gotten the best of me. I took one quick scan around and slowly, yet with purpose climbed down. 7:05 pm feeling together and concealed again, I slowly glanced up at the point where all three of the main trails converged. As if it were a dream, I saw the faintest silhouette of what appeared to be a mature bear.
As her head breached the top of the hill, her eyes focused on me. She'd been here before. She was the beautiful bear with the white chest that I'd seen two previous times. Suddenly my heart started racing uncontrollably. This was it! I scooted to the edge of my seat, positioned my hands and waited, repeating to myself "aim small…miss small, my leg forward". She took her time coming down the trail, never taking her focus off me. I expected she would come in and face me while eating. Most of the bears I'd seen had, but I also knew she would have to turn broadside to return up the hill. She ate for about eight minutes and then took two steps to her right, turning perfectly broadside, with her near leg forward…I drew back, anchored, released and followed through. She spun and took off through the woods behind me. I'd made a perfect shot, I was sure of it! I could hear her crashing through the woods, 25 yards behind me, 50 yards behind me, 75 yards behind me and then suddenly, all went silent. I stood and scoured the woods behind me, foolishly thinking I would be able to locate her. The next two hours of waiting for Thomas or Bill to come to get me would inevitably be two of the longest hours ever. At 9:00 pm I heard the boat coming for me, and I climbed down and met my ride at the shore.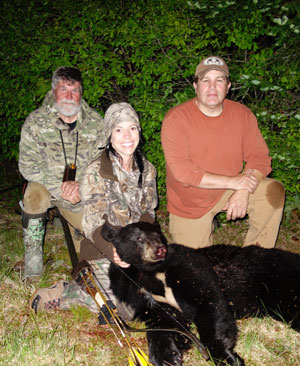 Thomas knew I'd gotten a shot. Perhaps it was the overly cheesy smile on my face or maybe it was his confidence in me. How he knew I'll probably never know, but his excitement for me was just as great as mine. Upon returning back to camp, we decided to go ahead and look for her. I climbed Hilltop one last time, directing Bill and Thomas to where I believed I'd heard her fall, and sure enough there she was. What a hunt! What a memorable few hours. I wanted to absorb it all…the views, the smells and the unforgettable feeling of success in the last two hours. And just like that…I knew I was hooked on traditional bow hunting.
My most sincere thanks and gratitude to…
Dad (Randy Reeves) for all the time, patience, effort and love you put into making this one of the most memorable weeks I imagine any of us will ever have. None…none of it would have happened without you.
Mom (Cindy), Mollie, Thomas and Tanner for the unforgettable memories that we made, and for the unbreakable bond that we all have.
Tom Phillips and Bill Terry for the guidance, knowledge, patience, preparation, tolerance and constant cheering that you showed us all, daily.
Paula Phillips & Paxton: For the unfortunate, unforgettable, yet memorable boat ride.