Well, here we are at Thanksgiving. I am sure that everyone is busy getting things ready for the big feast. Here is a simple dressing recipe that is sure to please even the most finicky member of the family.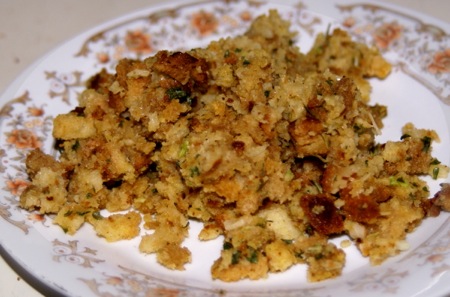 Ingredients:
6 cups cubed, dried bread. Dry it for 30 to 60 minutes in a 220 degree oven until it reaches the desired texture.
1 medium onion, chopped
1/2 cup celery, chopped (I like to use the inside stalks and leaves.)
1/2 cup butter or margarine
1 to 2 teaspoons poultry seasoning (Add more for a stronger flavor.)
1/2 teaspoon sage (Add more for a stronger flavor.)
Salt and pepper
In a large skillet on medium heat add the margarine, poultry seasoning, sage, salt, pepper, onion, and celery. Cook until the onion and celery are tender.
Put the bread cubes in a large bowl. Pour the margarine, onion, and celery over the bread crumbs and mix well.
Add chicken or turkey broth, a little at a time, until the desired moistness is reached.
At this point you can stuff the turkey with the dressing; and when the bird is done the stuffing will be, too. However, if you are planning to deep fry the turkey or if you are not having turkey for dinner, you can cook the stuffing in a 350 degree oven for 20 to 30 minutes. Stir occasionally to ensure even heating.
Have a safe and wonderful holiday and enjoy your Thanksgiving dinner.