History
I had never actually been bowhunting until this season when I went on my first archery hunt. My shotgun has been on a few hikes as I tried to bring down dove and quail over the past few years. My husband picked up the bow quite easily as soon as we got married and has always wanted to go bowhunting as well. Work, life and kids kept us from getting into the woods for a few years. Jon has been able to get out and hunt the past three years but I was home with my littles.
Now that they are a bit older, the grandparents teamed up to watch the kids for 10 days while Jon and I went on our first hunt together, with TJ and our good friend David. I don't see one of us ever skipping a season!
Planning
Living in Idaho, we have access to an amazing collection of big game. Elk, deer, bear, mountain lion and wolves to name a few. We started planning the 2017 Idaho elk hunt over a year prior because David Darling was planning to drive from his home state of Michigan to hunt with us. Honestly, the guys did ALL the planning. From organizing where they wanted to hunt, what they needed to bring and when the best time for everything to line up would be. Jon and David were initially planning to spike camp for an eight day hunt, while I was planning on base camping with TJ. In the end, we all base camped and hiked out each morning. Jon bought a full hunting license package that included elk, bear, deer, mountain lion, and wolf, while I only wanted to go for deer this trip (starting small). TJ Conrads hunts the unit next to where Jon and David had tags and my deer tag allowed me to hunt either unit.
If anything, TJ is a gracious host! Jon and I helped organize his gear a few nights before we all left to see what else we needed to pack. After sitting down and reviewing the camp kitchen, Camp Chef stove, and more, Jon leaned over to me and said, "We are hunting at the Four Seasons, aren't we?" as he helped load up the large Montana Canvas wall tent and additional bag that held the poles. This was the camp set up I was looking forward to, while Jon and David were assuming to spike camp on minimal weight. We all adjusted quickly and made camp our interim home away from home.
.
The Adventure Begins
David trekked his way across the states on his two day drive from Michigan, arriving at the ranch the night before we originally expected him. This made leaving on August 29 a little easier and we loaded up and headed out to meet up with TJ, who went to set up camp a few days earlier. TJ had a few truck issues that delayed him a day, and a scare that had us wondering if his truck was going to make it off the mountain. But instead of dwelling on the unknown, we all decided to focus on the hunt and enjoy our time spent in our own piece of heaven.
Opening Day
After a long night of catching up, we all woke up (way too late), had coffee, got our crisp, fresh hunting clothes on, packed all of our snacks and necessities and headed our separate ways. TJ and I hunted one side of the mountain while Jon and David hunted the other side.
Not even 100 yards from the base camp, I accidentally flushed a grouse. They are a big game bird in these woods and they are also quite dumb, even when arrows fly past them. In the end, TJ traded two arrows with the tree for the grouse and we were back on our way down the mountain.
TJ and I hiked down to the wallows he's hunted on for many years. Along the way he taught me the different animal tracks, and signs and how to age everything based on ground texture, and timing of recent rain patterns. I was like a sponge, trying to absorb as much information as possible while admiring the beautiful surroundings and trying not to over the roots and downed trees. Deer, elk and cattle tracks are all very similar and I was easily fooled by cattle tracks more than anything.
The large wallow looked well used, and we found a nice spot to sit and started making coffee to have with our snacks. We had just poured our coffee when we heard a cow elk go barreling past us. She seemed spooked but didn't run off, even when she spotted us while TJ was attempting to get to his knees from a cross legged position. All three of us froze, waiting for someone to make a move. Finally, the cow started to move and TJ only had one shot opportunity, but didn't make the connection. We excitedly finished our coffee and started to move out to see if we could find more signs of elk without disturbing the wallow, thinking that since we've seen this much action on opening day, we were bound to find more!
We hiked and hiked, then hiked some more and saw beautiful scenery. TJ had stories around every bend from the multiple hunts he's been on, on these exact trails, over the past thirty years. On another little break, he recognized where we were as a place that Weasel (Jerry Gowins) carved a tree. So, since we were right there, we had to go check it out.
Day 2…or Maybe 4
The rest of the trip was almost a blur in my mind and I'm not really sure what happened on what exact day. But that just shows how much fun I was actually having, right?
One morning I spotted a bear walking up a trail next to camp as I was drinking my coffee and TJ was just about to head down the mountain. Being me, I said, "Bear!" louder than I should have and alerted everyone, including the bear. He took a few more steps, looked at us and starting making is way to the ridge line through the trees, instead of the original path he planned on. I helped TJ out of his pack and he set off up the mountain, while Jon went the other direction to help flush him back around. These bears must know that we can't hunt them on the other side of the mountain, because that is where he went, and where all the bears seemed to be.
The next day I went hunting with the Jon and David, just to see what their side of the mountain was all about. Plus they actually had been seeing deer in that area. This was my first time hunting, Jon's first time having me tag along and the first time we got to spend with David outside of Michigan.
This is also where David introduced me to something I never knew I needed in my pack; Dark Timber Coffee Ascent packets. I have had instant coffee many times, but this takes the cake for me. The coffee is actually good and comes in biodegradable tea bags for easy steeping while on the trail. David was known for individual packed everything. We gave him hell for it while enjoying everything he had in his pack.
Another key item I fell in love with were the Heather's Choice Packaroons! (Link's for these items are at the bottom.)
Stay Home Day
A few days into the hunt, I took a day to stay in camp and relax as well as let the guys do their thing without me asking questions or growling at a tree stump I whacked my knee on. Plus, I am not used to hiking that much and I was just plain tuckered out. My time was spent proofreading the upcoming issue as well as reading a book on my phone. Life lesson learned: Bring physical books. I didn't even think about it until I was up there that all I had were my ebooks on my phone. Luckily, we had charging equipment in camp and the proofs kept me busy. This extra time gave me some new, creative ideas.
Camp Life
Camp life is a large part of the fun when hunting. This is where we unwound, reminisced of our journey each day and discussed different ideas for the next day's hunt. We had more food than we needed and never went hungry for long. On top of the combined coolers full of enough food to fill a large fridge, TJ brought a large plastic tote full of kitchen necessities: seasonings of all kinds, utensils (other than the simple stuff) and we ate meals that were as good, if not better than home cooked meals!
Last Day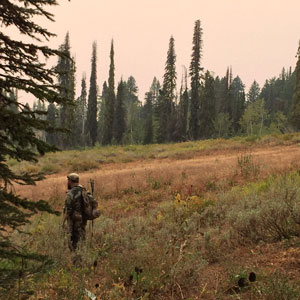 The smoke pushed us out toward the end of our trip. I have asthma, and the combination of smoke and higher altitude was taking its toll. But I was determined to get out one evening, just Jon and I. This meadow screamed "DEER ARE HERE!" and I would burn a hole into a spot, trying to will an animal to show up and present us with even a short glimpse. But we went back to camp empty handed, again.
Living in Idaho, we are hit with wildfires each year. This year was a late start but that didn't slow down the damage. Large portions of Idaho and Montana were on fire during our hunt and a fresh wildfire started near us only a few days into our trip. Luckily, it was far enough away that we were not threatened, but it didn't take long for the smoke to reach us. This image was taken near the ridge line road and was the clearest day since the smoke rolled in.
Other Photos
The moral of the story is that I became an official bowhunter this year, after being a bowhunter's daughter my entire life. We did not pack out anything other than our daily necessities and the occasional trash pickups we came across. I was on trash duty since I had the most room in my pack and I was happy to help in any way.
We may be empty handed but we came home with so many good memories from this hunt, and stories that will be told many years from now, around each turn of the trail.
Links- These are not paid affiliate links. I have put them in my article only because they were a big topic of our hunt and camp conversations. If you order from them, I, nor Traditional Bowhunter® receive any kickbacks from these links. That being said, I personally really enjoyed these items and wanted to share the joy
Dark Timber: Ascent Packs
Heather's Choice:Packaroons